A career as an architect is broad, creative, and skilled. It fuses art and science around design and construction.  Architects are involved with a project from start to finish; from the concept and design to often playing a key role in its construction. Architects may design houses, office buildings, skyscrapers, landscapes, ships, and even entire cities. Depending on the size of the project, an architect may work alone or on a team of architects. Architectural fees are based on the complexity of the project and, for custom homes, may range from 10% to 12% of the total construction costs.
Since the safety of what is being built is at stake, an architect must be professionally licensed to be employed. To become an architect, a bachelor's degree in architecture is needed. In preparation for a bachelor's degree, be sure to take as many math and science courses in high school as possible. It's advisable to follow-up a degree with an internship to gain practical experience in the field. Some architects also choose to obtain a master's degree in architecture.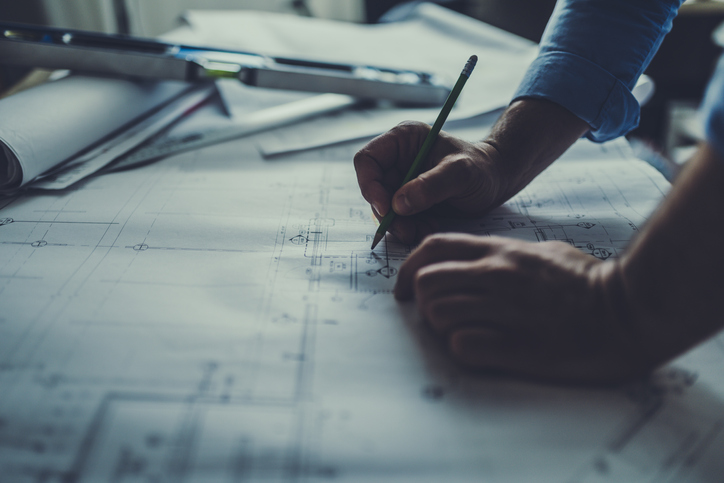 Architect Job Skills
To succeed in architecture there are several skills needed:
First and foremost, design techniques are an architect's greatest asset. They need to be able to creatively blend form and function. Whether using software like building information modeling (BIM) and/or computer-aided design and drafting (CADD) or traditional drafting techniques, an architect must possess artistic skill.
Second, strong mathematical skills are also necessary.  Whether doing calculations, estimations, budgeting, or conversions, an architect must have mastery of algebra and geometry and other advanced math skills may come in handy. They must estimate build costs, the amount of materials needed, and the projected timeframe to complete a build. This requires a knowledge of building and construction along with solid thinking and reasoning skills.
Third, having interpersonal communicate skills is an advantage because architects must work directly with a variety of people like contractors, lawyers, surveyors, structural engineers, local government officials, and construction managers.
Fourth, being fluent in building codes and zoning laws is key to understanding the appropriate parameters of a particular architectural design. Although an architect does rely on a professional surveyor's expertise in the process, understanding legal building requirements will only improve the architect's acumen.
Lastly, understanding basic engineering principles is vital. Just as legal issues will dictate design, the laws of physics and engineering do as well. Working closely with a structural engineer will guide the feasibility of design decisions.
Four States of the Architecture Process
An architect will apply these skills to the four stages of the architecture process:
Schematic Design
During this stage, the architect meets with the client to better understand what they are trying to achieve. They will evaluate the construction site and develop an overall design concept for the project. It's often during this stage that hand-drawing skills are employed. They'll create a detailed model with enough specifications to hopefully bring the client onboard and gain their approval.
Design Development
Next, the architect will fine tune the plan with additional detail. The practical and functional come further into play during this stage. Often, an architect will work with a structural engineer, reviewing project needs such as air conditioning, plumbing and electric. In addition, they'll collaborate with a professional surveyor to verify building codes, environmental regulations, and other ordinances that may be of concern. This stage also involves interior design and landscape design. Client approval is sought during this stage as well before any of these design elements can be implemented.
Construction Documents
After client approval, the plans are then finalized with full construction detail. These plans are used with potential contractors to obtain quotes for building the project. Sometimes the architect will hire the contractor for the project as well.
Construction Administration
An architect's involvement at this stage varies on the firm, local jurisdictional rules and the client's preferences. When it comes to the actual building project, the architect may serve as more of a consultant. They may also directly manage the subcontractors on the project. They are often on hand to check the quality of the construction work. Frequently, changes to the original plan are needed so they make modifications to the documents, acquire new materials for the project or simply answer clarifying questions to make sure the build is a success.
A career as an architect is multi-faceted and utilizes a variety of skills. Both the right and left brain are employed, blending mathematics, art and design, and business into a lucrative career. Therefore, architects must have a degree and be licensed in order to practice architecture. Once obtained, however, one can look forward to a fulfilling career.