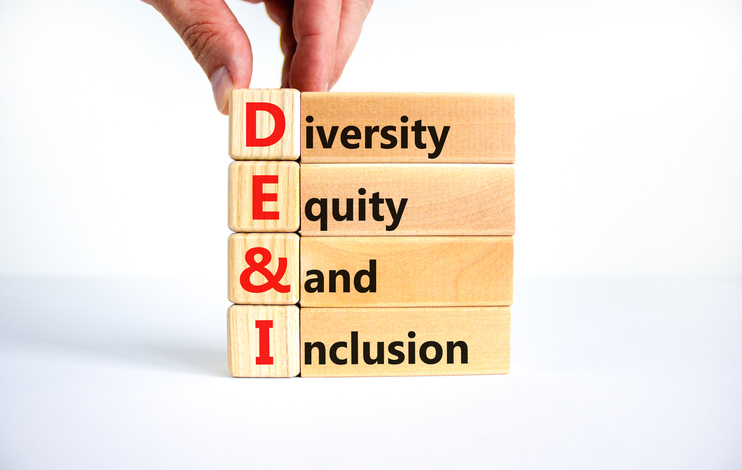 What is diversity, equity and inclusion, and why is it vital to urban planning? Also referred to as DE&I, diversity, equity and inclusion has become a trendy buzz phrase used by businesses, organizations and institutions. It is much more than a buzz phrase, however. In urban planning, DE&I involves a conscious, intentional approach to create significant diversity, fostering equity for underrepresented groups, and fashioning accessible, inclusive environments for all. By using the tools and skills of planning and incorporating the ideals of DE&I, urban planners can strive to produce a more just, equitable society.
DE&I in urban planning may refer to establishing more diversity, equity and inclusion within the planning profession itself, as well as incorporating the ideals of diversity, equity and inclusion when planning spaces within the United States. There are many underrepresented groups and minorities to be considered when considering DE&I.  The American Planning Association (APA), the Planning Accreditation Board (PAB), the Association of Collegiate Schools of Planning (ACSP) and the American Institute of Certified Planners (AICP) have all expressed a commitment to equality and justice. The ACSP created the first ever report on diversity in 1990. In this report, two-thirds of minority and female faculty in planning schools reported experiencing discrimination in their departments. In the ACSP/APA 2020 Diversity Climate Survey, the majority of planners responding reported never experiencing discrimination in the workplace. For those who did experience discrimination, gender discrimination was the most common type.
The APA has created divisions dedicated to equity and race, which will be examined further below. The PAB revised its accreditation standards in 2017, retaining just one standard relating to DE&I that says it all: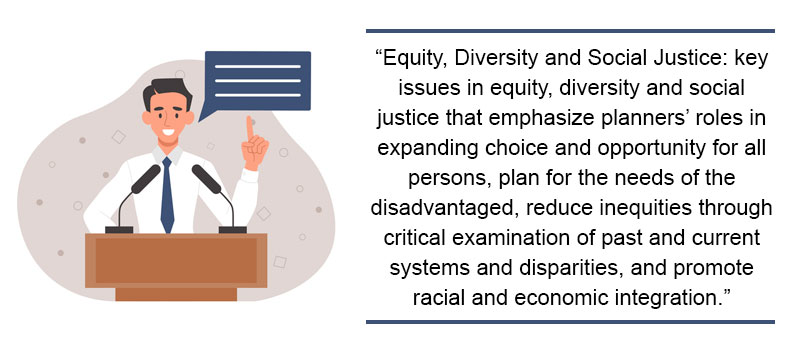 The AICP places DE&I at the center of its Code of Ethics and Professional Conduct, noting that planners must "seek social justice by working to expand choice and opportunity for all persons, recognizing a special responsibility to plan for the needs of the disadvantaged and to promote racial and economic integration." (2005).
Many students from underrepresented populations are not even aware of the urban planning profession. DE&I initiatives by various organizations and schools are striving to change that. Urban planning schools are holding workshops and seminars focused on DE&I to bring more attention to and awareness of their Bachelor's and Masters of Urban Planning degree programs. The only way to make significant differences within urban planning is to recruit, train and employ planners who are better representatives of the communities that they are planning.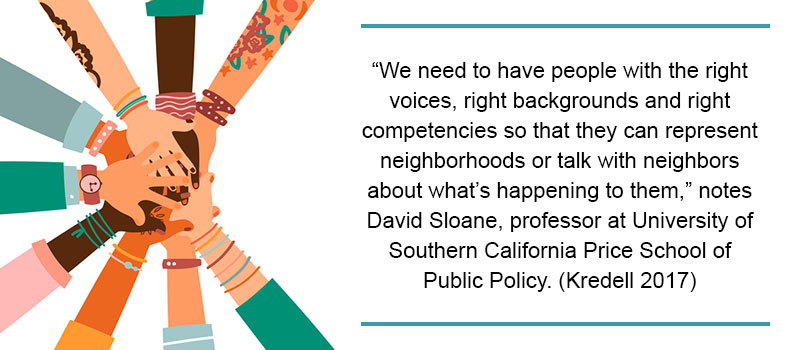 Here, we will list some of the most important DE&I resources applicable to both the profession of urban planning as well as to the work that urban planners do. These resources are intended to help to encourage minorities and underrepresented populations to enter the planning field, as well as to assist urban planners in creating spaces that are free from exclusion, equitable to all, and incorporate diversity.
General DE&I Planning Resources
This volunteer activity for members of the American Planning Association is designed to increase awareness and understanding of the planning profession among all communities, especially among those of diverse ethnic and racial backgrounds. Ambassadors may lead activities within an organization or community partner they choose, to inspire the next generation of planners.
The APA has created 25 divisions within the organization that focus on planning specialty and interest areas. Some of these divisions are dedicated to minority community planning, and are a great way for planning students to learn more about DE&I in urban planning. APA student members can join up to five divisions of the APA for free. These divisions can be found under appropriate headings below.
Planning with Underserved Populations Interest Group
This interest group of the APA is free to join. Its goal is to give a voice to those who are often missing from the planning process and absent when considering the implementation of plans.
The Routledge Companion to Professional Awareness and Diversity in Planning Education
This publication discusses ways in which the urban planning profession is being promoted to youth as a career choice, and highlights challenges in diversity that face urban planning schools when training new urban planners. In her review of this volume, Professor Nancy Odendaal, Director of the School of Architecture Planning and Geomatics at the University of Cape Town, South Africa, writes,
"What the profession is in dire need of, is a diverse cadre of committed professionals that are able to contribute to more inclusive spaces in a variety of settings."
Bringing together professionals from urban planning, law, architecture, social work, design, arts, and cultural and gender studies, Place Lab, in Chicago, provides a space for urban transformation and creative redevelopment. Created in 2014 as a result of a partnership between Arts + Public Life of the University of Chicago Arts and the Harris School of Public Policy, Place Lab strives to display and demonstrate urban ethical redevelopment strategies through art and culture.
San Francisco Bay Area Planning and Urban Research Association (SPUR)
SPUR is a nonprofit public policy organization designed to help solve some of the biggest problems facing cities. Although based in San Francisco, the organization concentrates on using urban policy to advocate for ideas and reforms to ultimately bring about systems change in all cities.
This report by Congress for the New Urbanism outlines 15 of the worst highways in America that have created physical barriers, further separating underrepresented people from the larger community. It is useful for urban planners to study in order to know what not to do when trying to incorporate DE&I into planning processes.
This organization represents public and private sector leaders, including planners, who are dedicated to incorporating equitable principles in planning that put people before highways.
Voices of Equity in Planning Video Series
Produced by the APA, this video series focuses on urban planners who have concentrated their work on equity and improving life for underrepresented individuals in communities nationwide. They feature members of the APA Social Equity Task Force and are available to watch on YouTube.
Planning and Equity: A Commitment to Change
The Philadelphia City Planning Commission has drafted a Commitment to Change statement that its city planners have signed. Planners who sign the statement commit to creating diverse, equitable and accessible communities and promoting the resilience of BIPOC communities in the city of Philadelphia. It is a good example for planners everywhere.
Produced by PolicyLink and the USC Equity Research Institute, the National Equity Atlas is a detailed, up-to-date report on racial and economic equity across the United States. It is a vital resource to which urban planners may refer.
Inclusive Healthy Places Action Guide for Planners
This APA guide focuses on actions that urban planners must take to progress equity and inclusion in the planning process. It is a free guidebook based upon the Inclusive Healthy Places (IHP) Framework of Gehl.
Applying the Inclusive Health Places Framework
This is a more comprehensive site on Gehl's Inclusive Healthy Places Framework that shows how planners can create public spaces that contribute to health equity.
APA Planning for Equity Policy Guide, 2019
This first of its kind guide by the APA features policy recommendations for urban planners to enable them to advocate for equitable policies at all levels of the planning process. It may be downloaded for free.
What Works to Promote Inclusive, Equitable Mixed-Income Communities
Produced by the Jack, Joseph and Morton Manel School of Applied Social Science at Case Western Reserve University, and part of the National Initiative on Mixed-Income Communities, this publication consists of a group of essays discussing mixed-income communities and how they can be used to address segregation, poverty, racial disparities, and other challenges to society.
Metropolitan Planning Council and Elevate Chicago Virtual Workshops
This series of virtual workshops was designed for Chicago planning and community leaders, but is applicable to all planners, in making diversity, equity and inclusion principles in planning a realty. A featured session is "From Ally to Accomplice: How to Actively Use Your Power and Privilege to Improve Diversity, Equity and Inclusion in the Planning Profession," which may be watched on YouTube.
Created by the International Association for Impact Assessment (IAIA), this document identifies the social consequences of planned interventions and any social change processes that those interventions create, with the goal of bringing about a more equitable, sustainable human environment.
APA Equity in Practice Case Studies
These case studies highlight how urban planners are currently applying principles of equity to the entire planning process. They show how planning can create more equitable and just communities.
Underrepresented Community Grant Projects
The Underrepresented Community Grant Program (URC) of the National Park Service aims to diversify nominations submitted to the National Register of Historic Places (NRHP). It funds inventories and surveys and nominations of historic properties that have been underrepresented, such as the LGBTQ historic sites initiatives.
A board member of the Congress for the New Urbanism, Mitch Silver, noted that
"Diversity, equity and inclusion is not something you do, but who you are."
This sums up the CNU's position on equity in planning communities and cities nationwide, to create more inclusive, equitable spaces.
Incremental Development Alliance
This organization works to train developers to help build small-scale real estate projects, helps people develop small buildings in their neighborhoods, and coaches civic leaders in cultivating healthy real estate development at a scale that is accessible and equitable to locals.
Planning Resources for Persons with Disabilities
One underrepresented but often overlooked group when it comes to urban planning is persons with disabilities. As noted by authors Lisa Stafford and Leonor Vanik (2022),
"Exclusion of body-mind diversity is far and wide – disabled people are constantly reminded that 'you don't belong – the world is not built for you."
The following resources are designed to ensure that urban planners keep disability in the forefront of all their plans, policies, and practice.
Disability-Inclusive and Accessible Urban Development Network
Part of Cities for All, this network focuses on non-discrimination, accessibility, and participation in creating inclusive urban plans, policies and programs.
How to Make Cities Accessible and Inclusive
This publication of the Disability-Inclusive and Accessible Urban Development Network is a straightforward guide for planners to use in creating accessible, inclusive cities in which people with disabilities can easily live.
8 Ways to Design for Disabled Joy
This online course by Informal/Function intends to inform planners in designing better, more accessible spaces for disabled persons. It examines actual needs of disabled people and helps planners design spaces beyond Americans with Disabilities Act (ADA) requirements.
Disability Justice for Urban Planners and Designers
Part of the Transportation Data Equity Initiative, this site presents information based upon Sins Invalid's 10 principles of disability justice. It is intended to promote disability justice principles in the planning and design of community spaces.
The Future of Urban Accessibility for People with Disabilities: Data Collection, Analytics, Policy, and Tools
Funded by the National Science Foundation, this project focuses on creating urban accessibility for people with disabilities. A workshop format is also included to help urban planners understand the needs of people with disabilities.
LGBTQ+ Planning Resources
As Christine Ro (2015) writes in her book note for Planning and LGBTQ Communities: The Need for Inclusive Queer Spaces,
"There are many parallels between inclusive queer spaces and ethnic enclaves in cities. In both cases, portions of a city are welcoming to often marginalized groups, which adds to the city's overall diversity."
The following resources focus on increasing equity and inclusion for LGBTQ individuals in the planning process.
This division of the APA is intended for those working in the urban planning profession who identify as part of the LGBTQ community and/or those who have an interest in LGBTQ community planning issues.
Planning and LGBTQ Communities: The Need for Inclusive Queer Spaces
Presented by the International Institute for Environment and Development, this publication addresses how planners have failed the LGBTQ+ community in the past, and focuses on ways in which they can turn this trend around in future planning endeavors.
Cities With Pride: Inclusive Urban Planning With LGBTQ+ People
This article focuses on how LGBTQ+ people have been discriminated against when it comes to urban planning. It presents ideas for changing this trend, including planning for LGBTQ+ citizenship centers, including gender-neutral bathrooms, and raising more awareness of the needs of the LGBTQ+ community.
How to Plan and Design a Gay-Friendly City
This article reflects on how LGBTQ+ people have been marginalized by planners and how this has contributed to mental health problems among the group. It suggests ways in which planners and designers can help to turn the trend around.
LGBTQ Heritage Theme Study: NPS
This publication of the National Park Service studies LGBTQ historic sites across the United States and further delves into the country's LGTBQ history. It also provides a history of the preservation of LGBTQ history in the United States. It can spark interest in a planning career among LGBTQ students who may first become aware of LGBTQ history and heritage and may ultimately realize that the history of their group is being preserved and studied.
Planning Resources Focusing on Women
Cities worldwide have historically been planned by men, for men, with little to no thought to the needs and safety of women. As author Ana Falu (2017) notes,
"The failure to include women in the policy planning for urban development is a form of rendering their specific needs and demands invisible."
The resources below are hoping to change that.
This division of the APA is made up of urban planners who are women, or urban planners who are concerned with planning issues related to women in the community.
Designing Cities That Work for Women
Presented by the United Nations Development Programme, this site studies how cities around the world have historically been planned by men and for men, with little to no thought on the needs or safety of women and girls. It presents ideas for planners to reverse this trend.
Handbook for Gender-Inclusive Urban Planning and Design
Produced by World Bank, this handbook presents practical approaches and guidelines for planners to use in implementing an inclusive planning process that explores the experiences of the perspective of all citizens, including women, men, and sexual and gender minorities.
Women's Right to the City: Reflections on Inclusive Urban Planning
This study on URBANET discusses how urban planner can better incorporate the needs of women into their plans for cities.
Women-Friendly Urban Planning Toolkit
Cities Alliance presents this toolkit for urban planners to use in the planning process, in the hopes that spaces that they design will be more women-friendly.
Planning Resources Focusing on BIPOC and Ethnicity
By 2045, the U.S. Census Bureau estimates that the United States will become a majority-minority country, with ethnic minorities in the majority (Frey, 2018). This will create new challenges and opportunities for planners who need to recognize and preserve the racial, ethnic, and cultural diversity of spaces.
Planning and the Black Community Division
This division of the APA is designed for urban planners who are members of the black community and/or are concerned with planning issues of importance to the black community.
This division of the APA is comprised of urban planners who are members of the Latino community and/or urban planners who are interested in planning issues of importance to the Latino community.
Tribal and Indigenous Planning Division
This division of the APA is designed for urban planners who are members of the tribal and indigenous community or who are concerned with urban planning issues of the tribal and indigenous community.
Asian and Pacific Islander Interest Group
This interest group of the APA is free for members to join. It is intended for Asian and Pacific Islander planners and communities and for those interested in planning issues that affect these communities.
Planning with Diverse Communities
Written by two members of the AICP, this APA publication offers information and tools that planners will need to involve people of color in the planning process and to improve the quality of life within ethnically and racially diverse communities.
This organization is dedicated to increasing the number of black urban planners in the United States. Its website provides mentoring, consulting, career coaching, a podcast, and more items of interest to anyone, particularly those within underrepresented communities, who may be considering the urban planning profession.
Advancing Racial Equity in Inclusionary Housing Programs
This publication of the Jack, Joseph and Morton Manel School of Applied Social Science of Case Western Reserve University is part of the National Initiative on Mixed-Income Communities. It is a great resource for planners who are striving to incorporate racial equity into their plans, policies, and programs.
Journal of Race, Ethnicity & The City
This journal by the Urban Affairs Association (UAA) explores the intersectionality among ethnicity, race, religion, class, and sexuality within the social, political, economic, cultural, and environmental dimensions of urban spaces.
Congressional Black Caucus for New Urbanism, Inc.
This organization was founded to further inclusion in the Congress for the New Urbanism and encourage people of color to actively participate in urbanism and the planning process.