Real Estate Agents, also known as Real Estate Sales Persons and Real Estate Sales Agents, are responsible for helping clients to buy, sell and rent properties. Their jobs usually require working with Real Estate Brokers, who are licensed to manage real estate businesses. A Real Estate Agent can aspire to become a Real Estate Broker and own their own real estate business.
Real Estate Agents work with a variety of clients on different types of properties. Often, Real Estate Agents will specialize in working to help clients buy or sell a certain classification of property, such as commercial or residential. Some will work with both types of properties.
People decide to become Real Estate Agents for many different reasons. One of the major deciding factors, for many, is the flexibility of the job. Being a Real Estate Agent does not tie you to a desk within an office for eight hours a day. Many Real Estate Agents are able to set their own hours and work where they want.
It's not an easy job, however. Being a Real Estate Agent is a job that is perfect for an outgoing person who has some sales experience and really desires working with the public. Here, we will examine the ins and outs of the job of a Real Estate Agent.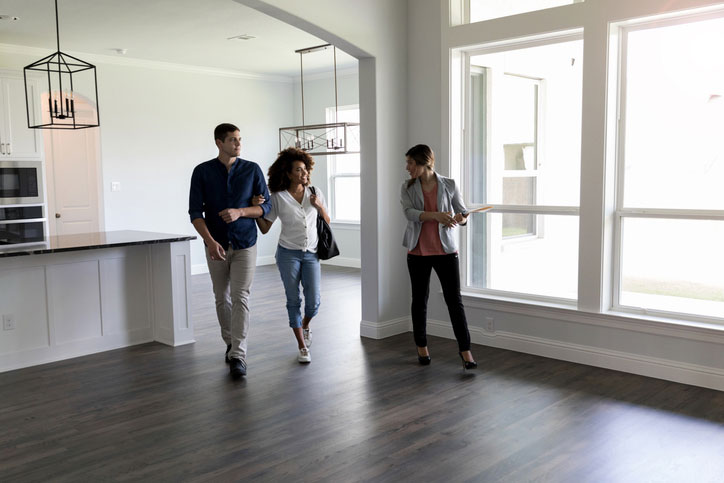 Job Duties of a Real Estate Agent
Real Estate Agents are responsible for:
Delivering outstanding customer service – Real Estate agents work with people every day, and most note that providing the best experience for clients is their number one job responsibility and contributes the most to their success
Generating client leads to buy, sell and rent property
Providing advice to clients on market conditions, prices, mortgages and other financial considerations
Tracking and managing business objectives
Staging and showing properties for sale
Assisting buyers
Presenting purchase offers to sellers
Facilitating negotiations between buyers and sellers
Reviewing purchase contracts to make sure terms are met
Promoting properties through ads, listings, open houses and showings
Drafting and preparing offers and paperwork, including but not limited to contracts, purchase agreements, rental agreements, deeds and other documents
Keeping your real estate license maintained and active
Staying current on real estate knowledge, regulations, codes and laws
Skills a Real Estate Agent Should Possess
Excellent knowledge of the real estate of the local area in which you work
Maintain a real estate license
Remain in good standing with your local Realtor board
Have experience in sales
Have strong interpersonal skills
Good at communication both orally and in writing
Possess a valid driver's license
Work Hours for Real Estate Agents
Real Estate Agents are expected to work whenever clients need them. While they may maintain offices in which they spend time during normal business hours, Real Estate Agents should expect to show properties on evenings, weekends, and whenever clients require their services.
Education for Real Estate Agents
Real Estate Agents typically do not need education past a high school diploma. They will require licensure, however.
Licensure for Real Estate Agents
Real Estate Agents must be licensed in each state in which they wish to help clients buy, rent or sell property. Check here for a list of the regulatory agencies for real estate agents within each state. While each state has its own requirements for licensure, in general, in order to become a licensed Real Estate Agent, you must:
Be at least 18 or 19 years old (each state varies)
Be a legal U.S. resident
Complete required pre-license education
Pass your state's real estate license examination
For example, let's look at the requirements for licensure for Real Estate Salespersons in Connecticut:
Must complete 60 classroom hours of Real Estate Principles and Practices
Must pass the Real Estate Salesperson examination
Must renew your license every year on May 31, and complete 12 hours of continuing education every other year on even years
Settings in Which Real Estate Agents Work
Real Estate Agents typically work for Real Estate Brokers, who own Real Estate Brokerages. The main industries for Real Estate Agents, according to the US Bureau of Labor Statistics, are:
Real Estate
Residential Building Construction
Management of Companies and Enterprises
Federal Executive Branch
Employment Services
The BLS notes that the following states have the highest levels of employment for Real Estate Agents as of May 2019:
Florida
Texas
California
Georgia
Virginia
Salaries for Real Estate Agents
The BLS says that as of May 2019, Real Estate Agents nationwide averaged an annual salary of $62,060. States that pay Real Estate Agents higher than average salaries include:
New York: $111,800
Massachusetts: $84,180
Connecticut: $79,780
Alaska: $79,360
Colorado: $76,850
In addition to salary, Real Estate Agents also earn commissions on properties that they help clients buy and sell. Many Real Estate Agents' salaries are commission-based, so understanding the commission system is important. For example, if you are the buying agent (representing the buyer) for a sale, you and the selling agent will split a six percent commission, each getting three percent. If you represent the buyer and the seller, you will keep the entire six percent commission.
Job Outlook for Real Estate Agents
The BLS notes that the job outlook for Real Estate Agents is expected to be good from 2018 through 2028. Job opportunities for Real Estate Agents are expected to increase by seven percent, faster than the average increase expected for other occupations, during that time.