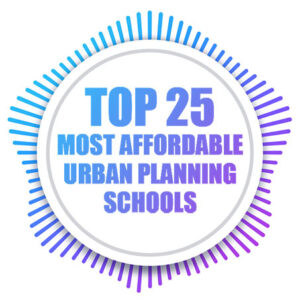 Getting a master's degree in urban planning is the benchmark for those who wish to work in the field. This can be a difficult task if you've already spent money on your undergraduate degree or have student loans to pay off. It is not impossible, however, to find affordable urban planning schools.
Master's degrees can fluctuate in cost from $30,000 to $120,000. The average cost, per Forbes magazine, is $66,340. Remember that this degree can pay off big, however, as the Bureau of Labor Statistics (BLS) notes that urban planners working in the United States average an annual salary of $79,410 (May 2020 figures). It usually takes from one and a half to two years of full-time study to get a master's degree in urban planning. If you go part-time, it could take much longer.
How We Chose the Top 25 Most Affordable Urban Planning Schools
The graduate urban planning degree programs listed below have been chosen based on affordability. Each of these schools offers tuition (based on 2022 figures) that is among the lowest in its state. Tuition rates have been quoted for on campus and online tuition, at in-state and out-of-state rates, when available.
Additionally, all of the schools listed below have received accreditation by an agency recognized by the U.S. Department of Education. Each school has been evaluated and found to offer the highest quality urban planning programs.
Affordable urban planning master's degree programs do not exist in all states. Some states, however, offer more than one affordable urban planning degree program.
Flexible Education Options
Online urban planning degree programs can offer the same quality of education as on campus urban planning degree programs. With today's technology, it is possible to host most, if not all, of a master's degree program's classes in an online format. Some schools listed below offer degree programs that are hosted completely online. Other schools offer only on-campus options. Some offer classes in a hybrid format, with some classes hosted on campus and some offered online.
Internships Offered
Most of the graduate urban planning degree programs listed below offer optional or required internships, studio or field experiences. Having practical experience in urban planning gives students the chance to know that the field of urban planning is right for them prior to graduation. It also allows for networking opportunities.
Instructor Quality
The programs listed below are taught by instructors who have years of experience in urban planning. Some have worked as urban planners in the real world. They bring their unique planning experience and perspectives to the classroom, making them even more valuable to students.
Following, in alphabetical order by state, are 25 of the most affordable urban planning master's degrees.
Alabama
Arizona
California
Colorado
Florida
Idaho
Indiana
Kansas
Louisiana
Maine
Maryland
Michigan
New Mexico
New York
North Carolina
Oregon
Pennsylvania
Tennessee
Texas
Virginia
Washington
Wisconsin