GIS, or Geographic Information System, is a framework for mapping, gathering, analyzing and planning data. It uses spatial location and organizes information into maps and three-dimensional scenes. GIS Planners are responsible for using this GIS information to coordinate with other planners in planning the future of land use or space.
GIS Planners may also be called GIS Analysts. They typically work under the direction of a senior planner, focusing on GIS analysis in contributing to the planning of a jurisdiction. They help to draw and prepare maps, charts and graphs and review submissions for proposed development within a community.
What is so special about GIS in urban planning, you might wonder? Because cities are complex entities, GIS helps to maintain ever-changing spatial information about those cities and their continuous development. It helps planners to solve problems when they have GIS spatial information at hand. GIS helps planners to better understand a city's current needs and then create designs to fill those needs. Especially in densely populated areas, GIS can help planners evaluate development for the present and the future.
By monitoring changes over time, GIS software and technology helps planners to evaluate a proposed project's feasibility and predict how it will affect the environment. It can help to show others what a proposed development will look like through projected visualizations. GIS has many uses in urban planning, and GIS Planners are specialists in using GIS information.
If you want to learn more about the innovative technology of GIS and planners who use it, keep reading.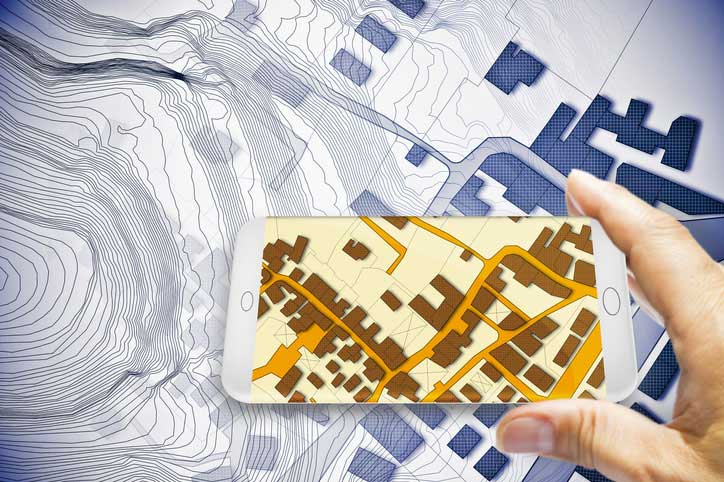 Job Duties of a GIS Planner
GIS Planners usually work within an office, but may also need to visit construction and development sites from time to time. Some job duties of a GIS Planner include:
Coordinating GIS data in supporting planning-related projects
Developing standards and implementing procedures for GIS creation and maintenance of maps
Researching data sources, digitizing data and collecting geospatial information
Consulting with other officials and planners to determine geospatial data needs
Sharing GIS information with others in need within the jurisdiction
Developing graphic representations of geospatial data
Developing written reports of geospatial data
Attending meetings and making public presentations
Assist in preparing and implementing community plans and development projects
Skills a GIS Planner Should Possess
Excellent analytical skills, especially of GIS data
Thorough knowledge of GIS software, including but not limited to ArcGIS, ArcView, Spatial Analyst and Model Builder
Knowledge of federal, state and local laws, codes and regulations in planning
Cartography knowledge
Land surveying techniques
Project management skills
Knowledge of principles and practices of planning including smart growth and sustainability
Good research skills
Excellent communication skills, orally and in writing
Able to work well individually and as part of a team
Work Hours for GIS Planners
Because GIS Planners typically work within municipalities, their working hours are 9 a.m. to 5 p.m., Monday through Friday. They may need to attend meetings in the evenings and on weekends.
Education for GIS Planners
GIS Planners should have a minimum of a bachelor's degree in urban planning, geography or a related field. Many employers also require three years of planning experience.
Certification for GIS Planners
The American Institute of Certified Planners (AICP) of the American Planning Association certifies GIS Planners who have the requisite degree and experience. There are also specialized GIS certifications, including Geographic Information Systems Professional (GISP) by the GIS Certification Institute and Esri Technical Certification. GISP requires four years of full-time GIS experience in addition to meeting educational requirement and contributions to the GIS community, and passing an examination. Esri certification simply requires passing an examination.
Settings in Which GIS Planners Work
GIS Planners are usually found within cities and municipalities. Recent job openings for GIS Planners indicate that the following entities employ GIS Planners:
Town of Bel Air, MD
The Onyx Group, Alexandria, VA
Lawrence County, PA
Biogensys, Princeton, NJ
New York City Housing Authority, NY
Vanasse Hangen Brustlin, Inc., Wethersfield, CT
County of Passaic, Paterson, NJ
National Grid, Syracuse, NY
Salaries for GIS Planners
The U.S. Department of Labor Bureau of Labor Statistics (BLS) classifies GIS Planners under the occupation of Urban and Regional Planners.  This classification's average annual salary is $77,750 (May 2019 figures).
Job Outlook for GIS Planners
GIS Planner jobs, like all urban and regional planning jobs, are expected to increase by 11.1 percent between 2018 and 2028, according to the BLS. Candidates who possess AICP or GIS certification are more likely to earn higher-than-average wages and have greater job opportunities now and in the future.