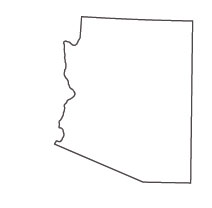 Phoenix, Arizona has received negative comments from officials in the past, who say that the city is the perfect example of urban sprawl and wasted resources. An urban planner and attorney, Grady Gammage, disagrees with this estimation of his city, however, and wrote a book about his thoughts. In The Future of the Suburban City: Lessons from Sustaining Phoenix, Gammage writes that Phoenix is a different type of city from what most people think of when the word "city" comes to mind. One of the ways that he says Phoenix is efficient is with its usage of water. Not only does the city receive less rainfall than most other cities, but it isn't close to a water supply. However, the fact that Phoenix has regulated groundwater use since 1980 means that it has been smart with its use of renewable water supplies.
Gammage also points to the fact that Phoenix is a flat city, a former farming town built upon a grid with wide streets. There is more room for transportation of all types (including public and pedestrian) in Phoenix than in many other cities.
Phoenix consists mainly of single-family homes built on smaller lots, averaging a fifth of an acre, Gammage writes. New subdivisions are still being built in a fairly dense environment, especially when compared to other cities. According to Gammage, "80 percent of people in Phoenix live in a denser situation than 80 percent of people in Portland."
Finally, Gammage notes, cooling and heating costs are much less in Phoenix than in other cities. Solar energy is being used in air conditioning, and, with Phoenix's temperate climate, furnaces and heating are less needed.
Phoenix is, of course, just a microcosm of the entire state of Arizona, but lessons from its urban planners can be extrapolated into the rest of the state. According to DES Population Estimates, from 2000 to 2007, Arizona's population grew from 5.1 million to 6.5 million. It is the second-fastest growing state in the nation, growing at an average rate of 3.8 percent per year since 2000. If you would like to learn how to become an urban planner in Arizona and meet the challenges of cities such as Phoenix, as well as Arizona's suburban and rural areas, read on.
Wages for Arizona's Urban Planners
Per the U.S. Department of Labor's Bureau of Labor Statistics (BLS), urban planners working in Arizona as of May 2019 earned an annual median wage of $66,470. Those working in the following metropolitan areas of Arizona earned wages such as:
Mesa: $71,500
Phoenix: $71,500
Scottsdale: $71,500
Tucson: $61,630
Arizona's Land Use and Planning Legalities
Under Arizona Revised Statutes, all of the state's cities and counties must develop Comprehensive Plans (counties) or General Plans (cities) and implement these plans through enacting zoning regulations. The only activities that are exempt from zoning are railroad, mining, ranching and general agricultural activities. Even land usage on private land must be regulated, through things such as the plans and zoning regulations mentioned above as well as subdivision regulations, international building codes (for construction standards) and other various local ordinances. Community plans, also known as sub-area or neighborhood plans, are tailored for a specific area within a county or city and are designed to replace outdated policies that no longer work for that area.
Arizona's planning process mimics that of most other states, with plans being drawn up and amended, rezoning and zoning amendments occurring as needed, special or conditional usages being considered, and variances made on a case-by-case basis. All of these actions require public hearings and input from the public. Decisions are made by county Boards of Supervisors, City Councils, Planning and Zoning Commissions and Boards of Adjustment (as well as by voters, in the case of referendums).
Rural areas of Arizona must also be planned. Plans for these areas are voluntary and are authorized under Arizona Statutes. It is a way for farmers and ranchers to plan the future usage of their land. Rural plans must take into consideration environmental and open space concerns; viability of ranching and non-ranching activities, and changes to the culture, character and lifestyle of the ranching industry.
Sustainable Development in Arizona
Arizona is also concerned with sustainable development, to protect its natural resources such as water, open space, wildlife habitats, farm lands and grazing lands. Sustainable development means meeting the needs of present generations, but at the same time, not compromising the ability of future generations to meet their own needs. Examples of how Arizona has stressed sustainable development includes:
Transit-oriented development
Increase in public transportation use and access
Reduction in vehicle miles traveled through walkable communities
Stressing mixed-use and high density development
Stressing community design and compact or clustered building
Stressing green building and energy efficiency in all types of structures, including residential, commercial, industrial and municipal
Conservation subdivisions are also used in rural areas of Arizona to preserve landscapes while incorporating clustered building designs, energy efficiency, rainwater harvesting and water conservation standards.
Earning an Education in Urban Planning in Arizona
Get Your Undergraduate Urban Planning Degree in Arizona
Although a graduate degree is your ultimate goal in your journey towards becoming an urban planner in Arizona, your first step is earning an undergraduate degree. There are a few programs from which you can choose, such as:
Arizona State University, Tempe – Bachelor of Science in Planning
Northern Arizona University, Flagstaff – Bachelor of Science in Geographic Science & Community Planning
Get Your Graduate Urban Planning Degree in Arizona
Arizona has the following graduate urban planning degree programs that are accredited by the Planning Accreditation Board (PAB) of the American Planning Association:
Arizona State University – Master of Urban & Environmental Planning
College of Liberal Arts & Sciences, School of Geographical Sciences & Urban Planning
975 S. Myrtle St., P.O. Box 875302
Tempe, AZ 85287-5302
Accreditation through December 31, 2023
Deirdre Pfeiffer, Program Director
480.965.7533; deirdre.pfeiffer@asu.edu
The University of Arizona – Master of Science in Planning
College of Architecture, Planning & Landscape Architecture, School of Landscape Architecture & Planning
1040 N. Olive, P.O. Box 210075
Tucson, AZ 85721
Accreditation through December 31, 2022
Lauri Macmillan Johnson, Director
520.621.8790; ljohnson@email.arizona.edu
Acquiring Urban Planning Professional Certification in Arizona
American Institute of Certified Planners (AICP)
Professional certification for urban planners is attainable through the American Institute of Certified Planners (AICP). You must pass an examination in order to do so. The American Planning Association-Arizona Chapter offers test preparation materials online. Take the exam at one of the following Prometric test centers:
Flagstaff – 306 E. Pine Knoll Drive, Northern Arizona University
Goodyear – 13770 West Van Buren St.
Tucson – W 6th, University of Arizona Testing Office
AICP Certification Maintenance in Arizona
The Certification Maintenance program of the AICP helps you to fulfill the 32 CM credit requirement every 24 months that you must meet to keep your membership current. Check with APA-Arizona for eligible activities.
Supplemental Certifications for Urban Planners in Arizona
Alternate professional urban planning certifications are also available in Arizona, such as:
Landing an Urban Planning Job in Arizona
Preeminent Arizona Urban Planning Projects
There have been some truly outstanding planning projects across the state of Arizona in recent years, like:
99thAvenue Corridor Improvement Study – Sun City, Maricopa County
Transportation System Plan 2040 – Maricopa County
Central Arizona Project
Arizona Strip District – Bureau of Land Management
Colorado River District- Bureau of Land Management
Internships in Urban Planning in Arizona
Your Arizona college should offer you an opportunity for an internship in urban planning. If not, there are some available if you search hard enough, such as:
Transportation Planning Intern – AECOM, Phoenix
Planning Intern – United Technologies Corporation, Phoenix
Planning Intern Land Use – Town of Oro Valley
Urban Planning Positions Within Arizona's Public Sector
Jobs in Arizona's public sector exist at the federal, state and local levels, such as:
Associate Planner – City of Flagstaff
Senior Planner- Town of Chino Valley
Transportation Engineer III – Maricopa Association of Governments, Phoenix
Planner – City of Tucson
Planner – City of Casa Grande
Urban Planning Positions Within Arizona's Private Sector
Jobs in Arizona's private sector might include:
Planner/Project Manager – Rose Law Group, Scottsdale
Assistant Planner – Snell & Wilmer, Phoenix
Zoning Assistant – Gammage & Burnham, Phoenix
Planning Technician – SAFEBuilt, Phoenix
Planning Project Manager – HILGARTWILSON, Phoenix
Outlook for Urban Planners and Real Estate in Arizona
According to Arizona's Governor Doug Ducey, from June 2018 to June 2019 Arizona ranked number two in the nation in terms of job growth (for all occupations, not just real estate and urban planning). Statewide employment grew 2.8 percent during that period. Additionally, Arizona ranked fourth in the nation in GDP growth, second for personal income growth, third for economic momentum and, as mentioned before, fourth for population growth. It is clear that Arizona is continuing to grow, so what does this mean for urban planners wishing to work in the state?
Per chief economist for Freddie Mac, Sam Khater, Arizona's residential housing market is hot, and will continue that trend for the foreseeable future. Mortgage applications were up 15 percent in 2019 over 2018's numbers. Technology is also driving younger Arizonans to buy homes in more creative ways, such as using iBuyer services. As building continues in Arizona, urban planners who plan to work in the state should have no problems finding work.
Added Resources for Urban Planners in Arizona