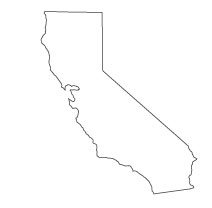 With the fifth largest economy in the world, a geographical mass of 164,000 square miles, a labor population of 19 million workers and a GDP of over $3 trillion per year, California provides the highest range of possibilities for an Urban Planner.  The state's vast array of cities, counties, neighborhoods, urban centers and rural farmlands are experiencing dramatic changes, the effects of which only urban planners, architects and designers can overcome. From Los Angeles' densely populated downtown to the Central Valley's vast farmlands to San Diego County's numerous military bases, Urban Planners have designed nearly every type of development project that exists statewide.
As the largest economy in the U.S. and one of the most geographically diverse states in the country, California presents Urban Planners with a wide variety of different economic and geographic challenges, landscapes and population differences. Urban Planning experiences within the state include:
Urban revitalization, neighborhood improvement, mass transit-oriented development and high-density residential development in large cities such as Los Angeles and San Francisco
Rural sustainable farming and the growth of low-density farming communities of the Central Valley
Mountain and forest regions of the Sierra Nevada and California's numerous state parks
Numerous US Military bases throughout California
Easter desert areas facing extreme summer heat and lack of access to water
Southern border areas with Mexico
California's vast coastal communities affected by climate change
California Urban Planner Salary
Not surprisingly, California has the highest employment level for Urban Planners as of May 2019, employing 7980 planners statewide. According to the U.S. Department of Labor Bureau of Labor Statistics (BLS), the annual median salary for Urban Planners in California is $91,380, making it the second-highest paying state in which Urban Planners work. Notable Urban Planner salaries within the state's major metropolitan areas are as follows:
Bakersfield $100,450
Fresno $  77,660
Los Angeles/Long Beach/Anaheim $  90,390
Napa $101,780
Riverside/Palm Springs/San Bernardino/Ontario$ 95,210
Salinas $  92,920
San Diego/Carlsbad $  86,750
San Francisco/Oakland $106,460
San Jose/Santa Clara $111,160
San Luis Obispo/Paso Robles/Arroyo Grande $ 83,330
Santa Maria/Santa Barbara $101,340
Santa Rosa $100,850
Vallejo/Fairfield $102,320
California Urban Planning Laws and Regulations
While state law is the foundation for local planning in California, each local jurisdiction sets and controls its own regulations and policies. There are 533 incorporated cities and counties statewide, each with its own comprehensive, long-term general plan for physical development. The legislative body of each area adopts its own zoning ordinances to regulate land use within that region. By law, adjoining cities or counties need not have complementary or identical ordinances and plans, which can sometimes cause complications for Urban Planners and other regulators.
Although each region's planning is individual and no two cities or counties have identical land use plans, under state law, all land use plans must address basic issues, such as:
Land use
Circulation
Housing
Conservation
Open Space
Noise
Safety
California Coastal Commission
The California Coastal Commission was established under the state's Proposition 20 in 1972. Its job is to regulate the usage of water and land in the coastal zone of the state (meaning all of the land running along California's coast, from the Oregon border to the Mexico border). Specifically, it controls construction of buildings, divisions of land, and any activities that change public access or the intensity of the usage of land or water. The Coastal Ac addresses the following types of activities through policies:
Public works
Ports
Power plants
Development design
Transportation
Offshore oil/gas development
Water quality
Industrial uses
Commercial fisheries
Agricultural lands
Public access to shoreline
Under the Coastal Zone Management Act (CZMA), the state has regulatory control over federal activities within California's coastal zone. This includes, but is not limited to, activities such as oil and gas leasing, exploration and development; US Fish and Wildlife Service permits; National Park projects; highway improvement projects, and military projects at coastal locations.
California Environmental Quality Act
The California Environmental Quality Act requires that all state and local government agencies inform the public and legislators about the possible environmental impact of any proposed project, and reduce the impact when reasonable. Enacted in 1970, the act was designed to ensure environmental protection statewide.
Selecting an Undergraduate Urban Planning Degree Program in California
The first step in becoming an Urban Planner in California is to obtain a bachelor's degree. While acquiring a graduate degree is the ultimate goal, a bachelor's degree will get you started on the right track to fulfilling your career goals. Completing an internship also provides valuable experience, so if your program offers one be sure to take advantage of it.
When choosing an undergraduate program, be sure to select one that is accredited by the Planning Accreditation Board (PAB). This ensures that the program has met standards that are developed and sponsored by the Association of Collegiate Schools of Planning (ACSP), the American Planning Association (APA), and APA's American Institute of Certified Planners (AICP).  California offers the following accredited undergraduate urban planning degrees:
California Polytechnic State University, San Luis Obispo – BS in City & Regional Planning
California Polytechnic State University, Pomona – BS in Urban & Regional Planning
Choosing an Urban Planning Graduate Degree Program in California
The ultimate goal in a prospective Urban Planner's education is to obtain a graduate degree. In graduate school, you will learn how to plan urban spaces to meet the needs of the target audience, as well as create effective policies. You may also have the opportunity to choose a concentration within your graduate degree, such as community development or environmental planning. Again, choose a graduate program accredited by PAB. In California, these include:
California Polytechnic State University, San Luis Obispo – Master of City & Regional Planning
City & Regional Planning Department
1 Grand Avenue
San Luis Obispo, CA 93407
Accreditation through December 31, 2024
Michael Boswell, Department Head
805.756.1315; mboswell@calpoly.edu
California Polytechnic State University, Pomona – Master of Urban & Regional Planning
College of Environmental Design, Dept. of Urban and Regional Planning
3801 W. Temple Avenue
Pomona, CA 91768-4048
Accreditation through December 31, 2022
Do Kim, Chair
909.869.4656; dohyungkim@cpp.edu
San Diego State University – Master of City Planning
School of Public Affairs
5500 Campanile Drive
San Diego, CA 92182-4505
Accreditation effective January 1, 2020 through December 31, 2026
Sherry Ryan, Director
858.349.5330; sryan@sdsu.edu
San Jose State University – Master of Urban Planning
College of Social Sciences, Dept of Urban & Regional Planning
One Washington Square
San Jose, CA 95192-0185
Accreditation through December 31, 2025
Laxmi Ramasubramanian, Chair
408.924.5589; laxmi.ramasubramanian@sjsu.edu 
University of California, Berkeley – Master of City Planning
College of Environmental Design, Dept. of City & Regional Planning
228 Wurster Hall MC 1850
Berkeley, CA 94720-1850
Accreditation through December 31, 2023
Karen Chapple, Chair
510.642.3258; dcrpchair@berkeley.edu
University of California, Irvine – Master of Urban & Regional Planning
School of Social Ecology, Dept. of Urban Planning & Public Policy
300 Social Ecology 1 Building
Irvine, CA 92697-7075
Accreditation through December 31, 2021
Virginia Parks, Chair
949.824.4384; vparks@uci.edu
University of California, Los Angeles – Master of Urban & Regional Planning
Luskin School of Public Affairs, Dept. of Urban Planning
3250 Public Affairs Building
Los Angeles, CA 90095-1656
Accreditation through December 31, 2026
Vinit Mukhija, Chair
310.794.4478; vmukhija@ucla.edu
University of Southern California – Master of Urban Planning
Sol Price School of Public Policy, Dept. of Urban Planning & Spatial Analysis
Ralph & Goldy Lewis Hall – Room 102
Los Angeles, CA 90089-0626
Accreditation through December 31, 2021
Marlon G. Boarnet, Department Chair
213.740.3696; boarnet@usc.edu
Professional Certification to Become an Urban Planner in California
While not mandated by law, as a California Urban Planner, you may wish to pursue professional certification once you have completed your education. Certification increases your chances of employment and may garner you a higher salary. It shows that you have met certain quality standards of the profession, and have achieved a higher level of recognition. It may also indicate to potential employers that you have a greater understanding of some of the unique laws and scenarios involved within California, such as the state's ever-increasing environmental regulations.
Professional certification for Urban Planners in California may be obtained through agencies such as:
American Institute of Certified Planners (AICP)
The American Planning Association – California Chapter sponsors the most common professional certification for California Urban Planners, the AICP.  This certification is achieved through passing an examination after completing education and experience. Within California, AICP Certification Exams are offered at Prometric testing centers throughout the state, including:
Fresno: 2540 W Shaw Lane
Stockton: 3520 Brookside Road
San Jose: 2665 North First Street
Fair Oaks/Sacramento: 5330 Primrose Drive
Bakersfield: 1800 30thSt, Westchester Corp. Plaza
Alameda: 1141 Harbor Bay Pkwy
San Francisco/San Bruno: 801 Traeger Ave.
San Francisco: 100 California St.
Santa Maria: 222 Carmen Lane
Maintaining Your AICP Membership in California
As a member of the AICP, you must complete 32 mandatory continuing education credits every two years to maintain your credentials. You can take advantage of AICP's Certification Maintenance (CM) program. This will help you network with providers of training opportunities that count for CM credit. Applicable CM activities may be found through CM Search.
Urban Planning Career Paths and Job Opportunities in California
With its varied landscape, non-uniform zoning and land use regulations, and enhanced concern for environmental protection, California is a great place to start your career as an Urban Planner. Jobs are available with the public and private sector. Those holding graduate degrees and professional certification will command higher salaries and be eligible for supervisory positions.
If your graduate degree program included an internship, you might already have a head start in finding a permanent Urban Planner position in California. Students within these internships often get a chance to work on varied projects that look great on a resume. For example:
Students at Cal Poly- San Luis Obispo worked on the Herbert Hoover Elementary/Charleston Complete Corridor Plan in 2017. This included pedestrian and bicycle planning.
In 2016, Cal Poly- San Luis Obispo students worked on the Cal Poly Climate Action Planas well as a Transportation Survey Report.
At University of California-Irvine, students prepare a Capstone Report based upon research and work that they have done. In the past, topics have included Addressing Displacement Through Ethnic Business Cooperatives, Student Housing Issues at the University of California Irvine, and Planning with Nature in the Modern E
Major urban planning projects across the state of California in recent years have included:
The Balboa Reservoirproject in San Francisco – designed with mixed-income housing, open space and community amenities
The Potrero Power Stationproject in the Central Waterfront area of San Francisco- to include housing, offices, laboratories, retail, community facilities, and open space
The Poseidon Desalination Plantin Huntington Beach – the construction of a 50 million gallon per day seawater desalination facility
The MacArthur BART Station Transit Villagein Oakland – a mixed-use development of housing and retail area
Working in California's Public Sector
There are a variety of job opportunities for Urban Planners in California's public sector. These exist at the state, county and city levels. These jobs usually require passing a Civil Service examination prior to employment. Examples of potential employers of and jobs for Urban Planners in the public sector in California include:
Strategic Planning Manager, Downtown Santa Monica, Inc.
Planner Technician, City & County of San Francisco
Associate Planner, City of Palmdale
Planning Manager, City of Ventura
Working in California's Private Sector
California offers scores of possibilities for Urban Planners to work in the private sector as well. From real estate developers to engineering firms, to architecture firms, to universities, to consulting/land planning firms, opportunities abound statewide. A few examples of possible positions for Urban Planners within California's private sector include:
Development Manager, MBK Real Estate Companies, Irvine
Associate Professor in Urban Environmental Planning, USC Sol Price School of Public Policy, Los Angeles
Planning Econ Associate, Lisa Wise Consulting, San Luis Obispo
Assistant Forward Planner, Meritage Homes Corporation, Irvine
Urban Planners who work in the private sector will still have much contact with the public sector. Many real estate developments, re-developments or revitalizations require multiple presentations to government agencies. For instance, in coastal California, a project in a city like Los Angeles may need to present its plan to the neighborhood council, the City of Los Angeles, County of Los Angles, State of California and the California Coastal Commission. Often times, additional agencies such as the Environmental Protection Agency (EPA) or California Environmental Quality Act (CEQA) will require supplemental submissions as well. To navigate this vast group of agencies and submittals, an Urban Planner is needed to guide the development group at each stage and presentation.
The Future of California's Real Estate Industry and Urban Planning
In September 2019, the California Association of Realtors (CAR) released its 2020 California Housing Market forecast. They project that sales of existing single-family homes in the state will increase by a modest 0.8 percent in 2020. Additionally, the median home price in the state is expected to increase 2.5 percent. Buyers in California, as elsewhere, are expected to search for more affordable housing markets, a search which is expected to drive some out of state.
The state's economy is expected to remain strong, and growth is projected to occur statewide. Plans for newer, cutting-edge communities in California are still in the works. Slower growth in Northern California and declining available land in Southern California will continue to push more of the state's population into the San Joaquin Valley. While 95 percent of Californians live in metropolitan areas today, this, too, is expected to change as the landscape changes. All of these factors could change the types of opportunities that will be available for Urban Planners in California, but there will still be plenty of work available.
Additional Urban Planning Resources in California