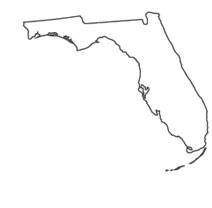 Florida employs the second-highest number of Urban Planners of all the states in the country. With a population of 21.2 million as of 2018, and home to the largest city by area in the United States (Jacksonville), Florida offers Urban Planners many opportunities for career success. The state can also present unique challenges, as elevations are quite low, with most of the Florida's peninsula only 30 feet above sea level and its highest point (Britton Hill, in the Florida Panhandle) being just 345 feet above sea level. Florida has the fourth greatest economy in the United States, with industry including tourism, agriculture, life sciences, aerospace and aviation, and international trade.
Urban Planners have achieved one-of-a-kind results in some of the projects they've tackled throughout Florida. Many ready-made, mixed-use city centers have been built in recent years, including Sunrise, Metropica, City Place Doral, Brickell City Centre, Seaside and Celebration.  Zoning regulations have been relaxed in order to provide these mixed-use developments, allowing residential and commercial properties to exist side-by-side. Future opportunities for Urban Planners in Florida look bright, especially in the North Port/Sarasota/Bradenton metropolitan areas, which has seen an increase of 17.8 percent in job opportunities for Urban Planners since 2014. Sarasota, Orlando, Cape Coral and Lakeland have all seen Urban Planner job growth rates between 15 and 20 percent.
Florida Urban Planner Compensation
As mentioned above, as of May 2019, Florida has the second- highest level of employment for Urban Planners (employing 2880 of them). The Bureau of Labor Statistics (BLS) of the U.S. Department of Labor notes that the yearly median take-home salary for Urban Planners in Florida is $73,600. Salaries for Urban Planners working in some of Florida's most populous cities are:
Cape Coral/Ft. Myers $ 70,960
Jacksonville $ 67,830
Miami/Ft. Lauderdale/West Palm Beach/Hialeah $ 74,820
Orlando/Kissimmee/Sanford $ 70,970
Port St. Lucie $ 58,260
Tallahassee $ 64,210
Tampa/St. Petersburg/Clearwater $ 74,700
Florida Urban Planning Laws and Regulations
As an Urban Planner in Florida, a variety of laws will apply to your work. This is due to Florida's integrated planning system, which allows planning at all levels of government (federal, state and local). The Statewide Comprehensive Plan is Florida's highest-level planning document. After the passing of the Community Planning Act in 2011, the most important and relevant plans in the state became the local government comprehensive plans, which provide a foundation for planning and land use decisions within a local area of Florida. Changes that this act ushered in include:
Greater use of the small-scale amendment process, that does not involve review by state and regional governments
Removal of the limit of processing plan amendments only two times per year
Changes to the Development of Regional Impact process, reducing the number of large projects that are subject to state and regional review
Changes in the Rural Land Stewardship Area and Sector Planning programs, optional for large projects
Repeal of the requirement that local plans are financially feasible
Revised requirements to make sure a development is not required to pay for existing deficiencies in transportation systems
Repeal of the state law that mandated concurrency, to make public facilities adequate
Removal of requirement of establishing a need for additional land to accommodate growth before land use amendments can be approved
Florida Regional Councils Association
The Florida Regional Councils Association is an organization of the state's 10 regional planning councils. They include:
Emerald Coast – includes Holmes, Washington, Bay, Walton, Okaloosa, Santa Rosa and Escambia Counties
Apalachee-serves Wakulla, Leon, Liberty, Jefferson, Jackson, Gulf, Gadsden, Franklin and Calhoun Counties
North Central Florida – includes Union, Taylor, Suwannee, Madison, Levy, Lafayette, Hamilton, Gilchrist, Dixie, Columbia, Bradford and Alachua Counties
Northeast Florida – includes St. Johns, Putnam, Nassau, Flagler, Duval, Clay and Baker Counties
East Central Florida- includes Volusia, Sumter, Seminole, Osceola, Orange, Marion, Lake and Brevard Counties
Tampa Bay- serves Pinellas, Pasco, Manatee, Hillsborough, Hernando and Citrus Counties
Central Florida- includes Polk, Okeechobee, Highlands, Hardee and DeSoto Counties
Treasure Coast- includes Indian River, St. Lucie, Martin and Palm Beach Counties
Southwest Florida – serves Sarasota, Lee, Hendry, Glades, Collier and Charlotte counties
South Florida – serves Miami Dade, Broward, and Monroe Counties
Florida Sector Planning Program
Comprehensive plans in Florida may also include sector plans. These plans are targeted to a large area over 15,000 acres that is located within the local comprehensive area, and focus on protecting significant resources and public facilities within that area. A Florida landowner must consent to having their land included within a sector plan. Some examples of sector plans that have been approved in Florida in recent years include:
Osceola County – Northeast District Sector Plan
Hendry County Rodina Sector Plan
Nassau County (East Nassau County) Sector Plan
Escambia County Sector Plan
City of Bartow (Clear Springs) Sector Plan
Orange County (Horizon West) Sector Plan
Bay County (West Bay Area Vision) Sector Plan
Florida Environmental Land and Water Management Act
Enacted in 1972, the Florida Environmental Land and Water Management Act addresses environmental land and water management as well as coastal planning and management in Florida. It was created in order to protect the natural resources and environment of Florida, especially in areas designated as those of critical state concern. These include:
Areas of the state with a significant impact on natural or environmental resources, such as state environmentally endangered lands, major rivers and estuaries, aquatic preserves, wilderness areas, wildlife refuges, forests, and state or federal parks
Areas that have a significant impact on archaeological or historic resources
Areas with a significant impact on water management projects, energy facilities, airports, ports, and highways
Undergraduate Urban Planning Programs in Florida
Although a graduate degree is necessary for most Urban Planner jobs in Florida, before you obtain that, you must pursue a bachelor's degree. Unfortunately, there are no undergraduate accredited urban planning degree programs in Florida. It is always recommended that you choose a program that has been given accreditation by the  Planning Accreditation Board (PAB), which upholds standards of the  Association of Collegiate Schools of Planning (ACSP), the American Planning Association (APA), and APA's American Institute of Certified Planners (AICP).  However, as Florida has no such undergraduate accredited programs, you may want to consider other undergraduate programs such as:
Florida Atlantic University, Boca Raton – Bachelor of Urban & Regional Planning
New College of Florida, Sarasota – Bachelor of Science in Urban Studies
Graduate Urban Planning Degree Programs in Florida
When it comes to graduate urban planning degree programs in Florida, you have a wide selection of PAB-accredited programs from which to choose.  Most graduate urban planning programs in the state will accept applicants with undergraduate degrees in other major areas, such as engineering, business, social sciences and geography. This gives you an advantage, since Florida has no undergraduate accredited urban planning programs.  Florida's graduate urban planning degree programs will help you learn to improve urban regions, engage with others in different disciplines, use a multitude of systems and activities, and utilize emerging technologies. Accredited graduate urban planning degree programs in Florida include:
Florida Atlantic University, Boca Raton – Master of Urban & Regional Planning
College for Design & Social Inquiry, School of Urban & Regional Planning
777 Glades Road, SO 101
Boca Raton, FL 33431
Accreditation through December 31, 2025
Jesse Saginor, Program Coordinator
561.297.4283; jsaginor@fau.edu
Florida State University, Tallahassee – Master of Science in Planning
College of Social Science & Public Policy, Dept. of Urban & Regional Planning
330 Bellamy Building
Tallahassee, FL 32306-2280
Accreditation through December 31, 2024
Jeff Brown, Chairperson
850.644.8519; jrbrown3@fsu.edu
University of Central Florida, Orlando – Master of Science in Urban & Regional Planning
College of Community Innovation and Education, School of Public Administration
528 W. Livingston St., Suite 446
Orlando, FL 32801
Accreditation through December 31, 2025
Luis Santiago, Director
407.823.2604; Luis.santiago2@ucf.edu
University of Florida, Gainesville – Master of Urban & Regional Planning (on-campus or online)
College of Design, Construction & Planning, School of Landscape Architecture & Planning, Department of Urban & Regional Planning
431A Architecture Building
P.O. Box 115706
Gainesville, FL 32611-5706
Accreditation through December 31, 2026
Kristin Larsen, Director
352.294.1482; klarsen@ufl.edu  
Professional Certification to Become an Urban Planner in Florida
Urban Planners in Florida often seek professional certification after completing their graduate education. This will increase your employment opportunities, as it shows greater commitment to the field and understanding of the intricate laws regarding Florida's communities, coastal areas and environmental protection concerns. There are a variety of certification agencies that offer Urban Planners professional credentials, the most popular being the American Institute of Certified Planners.  They, and others, are listed below:
American Institute of Certified Planners (AICP)
The American Planning Association – Florida Chapter recommends AICP certification for all Urban Planners working statewide. You must complete education and experiential requirement and pass an examination in order to be conferred AICP credentials. Certification examinations are given at Prometric testing centers in Florida, such as:
Tampa: 5410 Mariner Street
Sarasota: 1605 Main Street
Gainesville: 4961 NW 8thAvenue
Daytona Beach: 1530 Cornerstone Blvd.
Jacksonville: 8081 Philips Highway
Tallahassee: 2811 Capital Circle NE
West Palm Beach: 100 South Dixie Highway
Maintaining Your AICP Membership in Florida
The AICP offers a Certification Maintenance (CM) program to its members, to help you retain the most current Urban Planning knowledge necessary for your career aspirations. There are free options offered by the APA to fulfill the requirement of completing 32 credits of continuing education every two years. They consist of convenient online webinars, on topics such as Planning and Land Use Law, Tactical Project Management and Health Impact Assessment with Urban Land Institute.
Florida Urban Planner Jobs and Opportunities
Urban Planners who work in Florida find a large variety of opportunities available. You might start in one sector, for example, public, and then find other opportunities in the private or non-profit sectors. Specialties such as land use planning, environmental planning, economic development planning, transportation planning, and housing and community development planning are all options that may be open to Urban Planners in Florida.
You might have completed an undergraduate or graduate internship as part of your Urban Planning degree program in Florida. This can be quite valuable in helping you to find a position post-graduation. Examples of internships that have been offered to students across the state include:
Landscape Architecture and Urban Design Internship- AECOM, Orlando
Master Planning Internship – Universal Studios, Orlando
Transportation Engineer/Urban Planner – Sarasota County, Sarasota
Urban Planning Internship – Florida Division of Emergency Management, Tallahassee
Recent projects in urban planning in Florida have included:
The Hometown Plan in South Miami, involving the renovation of Southwest 59thAvenue, and revitalization of the commercial Main Street district along Sunset Drive, preserving historic structures, increasing transit options, and improving commercial buildings and streets in the area.
The Town of Tioga neighborhood development in Gainesville, involving preserving natural resources, including trees and ecosystem, while redeveloping farm and historic areas and revitalizing streets and sidewalks.
Babcock Ranch in southwestern Florida, designed to be the first solar community in America
Bike Walk DeFuniak, creating sidewalk pedestrian routes and other improvements to the town of DeFuniak Springs
Working in Florida's Public Sector
The public sector in Florida includes Urban Planning positions at the federal, state and regional levels. There are many options available to qualified Urban Planners, with job titles such as:
Planner II or III, City of Port St. Lucie
Urban Planner, City of Venice
Senior Planner, Urban Design, Walton County
Planner IV, Emerald Coast Regional Council, Destin
City Planner, City of Winter Springs
Working in Florida's Private Sector
Private sector Urban Planner positions in Florida abound. Whether you prefer working within Florida's central areas, or along its coasts, you may be able to find jobs such as these:
Urban/Community Planner, Genesis Halff, Inc., Tampa
Transportation Planner, BCC Engineering, Maitland
Project Planner, Urban Design Kilday Studios, West Palm Beach
Aviation Planning Analyst, Kimley-Horn and Associates, Inc., Tallahassee
The Outlook for Florida's Real Estate and Urban Planning Industries
The real estate industry ties in closely with urban planning and the overall economic forecast in Florida. According to the National Association of Realtors, Florida's real estate industry made up 21.9 percent of the state's gross state product in 2018, generating $227.3 billion.
Many people are drawn to buy or build in Florida because of the access to water. Recent issues with water quality, particularly red tide and other algae toxins, however, have killed much of the state's marine life and has health impacts on humans as well. Researchers are currently working to monitor and eradicate red tide and other harmful algae in Florida's waters so that this will not have too large an impact on the state's real estate industry.
Florida's economy shows strong job growth of 3.3 percent in 2018. State population growth remains at 1.5 percent. The housing market appears strong, with different price tiers appreciating at different rates. Sales of homes up to $200,000 are up by 12 percent, for example, while sales of homes over $600,000 saw less growth. Active inventory of existing single family homes for sale was up 13.3 percent by the end of 2018, although there is a lack of new housing supply, indicating the need for more new construction in the state.
Additional Urban Planning Resources in Florida