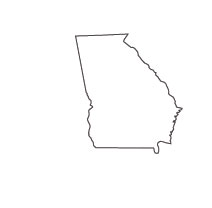 Georgia is the largest state east of the Mississippi River, covering 37.3 million acres. In 2005, its population was nine million, including 7.3 million urban citizens and 1.74 million rural citizens. Four million of Georgia's residents lived in the following ten counties: Rockdale, Henry, Gwinnett, Fulton, Fayette, Douglas, DeKalb, Cobb, Clayton, and Cherokee. The total urban area of Georgia, however, covers just three percent of the state's total land area.
Almost 25 million acres of Georgia's land area is forestland. This forestland is owned primarily by private individuals (72 percent), followed by corporations (21 percent) and government (seven percent). Eleven million acres of Georgia consists of farmland.
Georgia is one of the most biologically diverse states in the country. However, 320 of its native species have such low populations that they are deemed federally and state protected. Conservation of Georgia's natural resources must be foremost in the mind of its land use planners. Land use decisions involve social, environmental and financial sustainability.
If you would like to become an urban planner in Georgia, you will be dealing with the above issues, and more. You will have a major impact on planning for the future of the state. Does this appeal to you? If so, read on to discover how you can become an urban planner in Georgia and mold its future land use.
Take-Home Pay for Georgia's Urban Planners
According to the U.S. Department of Labor's Bureau of Labor Statistics, as of May 2019 urban and regional planners working in the state of Georgia averaged an annual median salary of $58,160. Those working in Georgia's cities earned the following:
Atlanta $64,620
Augusta $56,975
Roswell $64,620
Sandy Springs $64,620
Land Use and Planning Regulations in Georgia
The Georgia Planning Act, passed in 1989, is the basis for all regional, community-level planning in the state. Every local government (city and county) in the state is required to adopt a comprehensive plan to maintain Qualified Local Government status. Comprehensive plans must be updated every five years. As a Home Rule state, local government makes all land use decisions in Georgia. Under Georgia's constitution, the power to zone property is given directly to local governments.
Minimum Standards for Comprehensive Plans in Georgia
Comprehensive plans, created at the local governmental level in Georgia, must live up to certain standards and be able to guide local officials when making decisions about their community's future. All local government comprehensive plans must contain:
Community goals
Needs and opportunities
Community work program
Communities with zoning or land development regulations must include:
Communities that charge impact fees must include in their comprehensive plan:
Communities that are included in Georgia Job Tax Credit Tier 1 must include:
Communities that are included in a Metropolitan Planning Organization must include:
Communities that are entitlement communities and are required to have a Consolidated Plan must include:
Comprehensive plans may also include optional elements, such as (but not limited to):
Infrastructure and community facilities
Community sustainability
Natural resources
Human services
Disaster resilience
Greenspace
Education
Historic and cultural resources
Public safety
Intergovernmental coordination
Solid waste management
Recreation
Education for Georgia Urban Planners
Undergraduate Education in Urban Planning in Georgia
Getting an undergraduate degree is your first goal along the pathway to becoming an urban planner in Georgia.  It is recommended that you choose a program accredited by the Planning Accreditation Board (PAB) of the American Planning Association. As Georgia has no PAB-accredited undergraduate programs, consider the following programs:
Bachelor of Landscape Architecture – University of Georgia
Bachelor of Science in Environmental Science- Savannah State University
Graduate Education in Urban Planning in Georgia
The following Georgia graduate programs in urban planning are accredited by the Planning Accreditation Board (PAB):
University of Georgia – Master of Environmental Planning & Design
College of Environment and Design, Environmental Planning & Design Program
285 S. Jackson St.
Athens, GA 30602
Accreditation through December 31, 2020
Umit Yilmaz, Program Director
706.542.1816; yilmaz@uga.edu
Georgia Institute of Technology- Master of City & Regional Planning
College of Design, School of City & Regional Planning
245 Fourth St. NW, Suite 204
Atlanta, GA 30332-0155
Accreditation through December 31, 2026
Subhrajit Guhathakurta, Chair
404.894.2350; subhro.guha@design.gatech.edu
Profession Certification for Urban Planners in Georgia
American Institute of Certified Planners (AICP)
Once you have graduated with a graduate degree in urban planning and worked in the field for about two years, you should try to become professionally certified. This involves taking an exam sponsored by the American Institute of Certified Planners (AICP). These Prometric  test centers in Georgia offer the exam:
Albany – 2510 Archwood Drive
Athens – 825 S. Lumpkin St., University of Georgia
Atlanta – 5909 Peachtree Dunwoody Rd.
Atlanta – 75 Piedmont Avenue
Augusta – 2743 Perimeter Parkway
Columbus – 4225 University Avenue
Dahlonega – 203B Stewart Student Success Center, University of North Georgia
Macon – 3312 North Side Drive
Savannah – 340 Eisenhower
Smyrna – 2400 Lake Park Drive
Valdosta – 1709 River St.
To help you prepare for success on this examination, there are 2019 and 2018 AICP Exam Reviews from Georgia Tech that are downloadable at the American Planning Association – Georgia Chapter website.
AICP Certification Maintenance in Georgia
The AICP's Certification Maintenance (CM) program will enable you to fulfill the required 32 credits every two years that you must complete to hold your AICP certification. Examples of applicable events for credit listed at the APA-GA website include (but are not limited to):
Transportation Alternatives and Innovations – Northeast Georgia Planning Collective, Athens
Georgia Tech 53rdAnnual Basic Economic Development Course- Atlanta
2020 GPA Spring Conference – Sandy Springs
Georgia Association of Zoning Administrators Summer Conference – Buford
Alternatives or Additions to AICP for Certification in Georgia
You may want to pursue more professional planning certifications, like:
Careers for Urban Planners in Georgia
Urban Planning Projects of Note in Georgia
Outstanding planning projects across the state of Georgia have included:
Livable Centers Initiative – Atlanta Regional Commission
Marietta Multi-Use Trail Map
Atlanta Streetcar Project
Revitalization of Capitol Homes into a mixed-use, mixed-income, mixed-generational community (Atlanta)
Internships in Planning in Georgia
Your college urban planning degree program should offer you the chance to participate in an internship, in which you can put what you've learned in the classroom to practical use in the workplace. If not, consider creating your own opportunities such as:
Transportation Planning Intern – RS&H, Atlanta
Intern- Land Planning – Kimley-Horn, Atlanta
Environmental Planning Intern – WSP, Atlanta
Urban Planning Intern – Jacobs, Atlanta
Ethics & Compliance Intern – UCB, Smyrna
Urban Planning Jobs in Georgia's Public Sector
Jobs at the local, county, state and federal levels in urban planning in Georgia could include:
Planner I- City of Douglasville
Zoning Administrator – City of Riverdale
Planning Manager- Dekalb County Government, Decatur
Community Development Director – Spalding County Board of Commissioners, Griffin
Senior Planner- Hall County Government, Gainesville
Urban Planning Jobs in Georgia's Private Sector
Jobs working in the private sector in urban planning in Georgia might include:
GIS Technician/Planning – ACCGOV, Athens
Environmental Project Manager – Southern Georgia Regional Commission, Valdosta
Transportation Technical Planner – High Street Consulting Group, Atlanta
Land Planner/Landscape Architecture – Falcon Design, Stockbridge
Planner – W&A Engineering, Athens
Future for Urban Planners and the Real Estate Market in Georgia
As the population and economy of Georgia continue to grow, the demand for land grows accordingly. Much of Georgia's land is changing from rural, forest and agricultural uses to urban uses. If left unchecked, this can contribute to urban sprawl. Urban planners are needed in Georgia to promote reasonable land use and help to prevent urban sprawl.
The real estate sector in Georgia is expected to remain strong for the near future. The state's economy remains strong and unemployment is at an 18-year low as of 2019. As more business moves into Georgia, opportunities are created for investors in residential and commercial real estate. Home values in Georgia increased by more than 10 percent from 2017 to 2018, according to Zillow.com. All of this spells great opportunity for investors, and even more work for those seeking urban planning jobs within Georgia.
More Resources for Georgia's Urban Planners