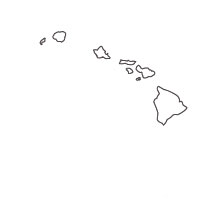 Hawaii offers some unique planning challenges for the Urban Planner. These include, but are not limited to, environmental sustainability, food security, multi-modal transit alternatives, changing urban forms, a post-plantation economy, climate change adaptation, natural hazards, and the resilience and planning of coastal communities. Hawaii provides a model image of interchange between the natural and man-made environment.  With the state's varied landscape including mountains, oceans and volcanoes, Urban Planners working in Hawaii are faced with trials and tests that Urban Planners working in other states do not encounter.
Urban Planners in Hawaii must learn to not only develop but also apply knowledge to many facets of planning within a variety of settings. They may choose to work within community planning organizations, in social policy, on natural resource management and environmental planning, or within urban and regional planning. Whatever you choose to do as an Urban Planner in Hawaii, you can be sure that you will be shaping the future of land use and infrastructure planning in the Aloha State.
Annual Wages for Hawaii Urban Planners
According to CityLab.com, the urban Honolulu, Hawaii area employs the second highest number of urban planners in the nation. The annual median wage for Urban Planners in Hawaii, per the Bureau of Labor Statistics, is $74,180 (May 2019). Urban Planners working in Hawaii's most populated areas make the following average salaries:
Urban Honolulu $73,800
Hawaii/Kauai nonmetropolitan area $75,580
Oahu $72,528
Hawaii Urban Planning Laws and Regulations
Urban planning in Hawaii is driven by the Hawaii State Planning Act, established in 1978. This document sets the foundation for decisions and programs that are created by local agencies. Hawaii's state plan acts as a guide for the state's future long-term development, provides a way to determine the state's priorities and allocating limited resources, improves coordination between agencies at all levels, and establishes a system for program coordination and plan formulation to integrate state and county activities.
General plans are enacted and adopted on a county-by-county basis, as are comprehensive, long-range plans. As the name implies, general plans are designed with input from the general public as well as from state and county agency employees. Under the Hawaii State Planning Act, county plans must address:
What is the area's desired population, and what are the patterns of physical development within the county and its regions?
What are the unique needs and problems of the county and its regions?
What parts of the state plan apply to the county and its regions?
What statewide objectives apply to this county and its regions?
Objectives of the plan must address these areas:

Urban design
Visitor destinations
Water and sewage system locations
Public and community facility locations
Transportation system locations
Land use
Population density
Hawaii Coastal Zone Management Program
The Hawaii Coastal Zone Management Program  is designed to help manage the state's coastal areas and resources, such as ecosystems, historic sites, harbors, sea turtles, whales, open spaces, fish, anchialine ponds, recreational areas, wetlands, marinas, scenic areas, fishponds, and beaches. Hawaii's coastal zone includes land from the shoreline to the seaward limit as well as state forest reserves. There are also two areas, the Special Management Area and the Shoreline Setback Area, that were established for more intensive management by their counties.
Hawaii Legacy Land Conservation Program
The Hawaii Legacy Land Conservation Program  provides funding to acquire land and protect valuable natural resources for the benefit of the public. Grants are given to community organizations and government agencies that work to protect land that houses endangered resources. As of 2019, 30 land acquisition properties have been completed, for a total of 14,211 acres with 15 more pending (covering an additional 11,657 acres).  Some of the land conservation projects include:
Hilo Forest Reserve- 1336 acres
Kahuku Coastal- 3128 acres
Kawaii – 550.9 acres
Kainalu Conservation Easement – 167 acres
Kunia Conservation Easement – 108.2 acres
Honouliuli – 3582 acres
Kalauao Valley – 635 acres
Ka lwi Coast Makua – 181.1 acres
Hawaii Traditional and Customary Gathering Rights Project
Hawaii's native people have long fought the state's Department of Land and Natural Resources for access to their land. In 2002, Phase III of the Native Hawaiian Access Rights Project was completed. This created recommendations and guidelines to assist local counties in determining traditional and customary access rights for Native Hawaiians within the Special Management Area (SMA). This project also will inventory all known traditional cultural properties within the SMA.
Undergraduate Urban Planning Degree in Hawaii
Obtaining an undergraduate degree is your first step towards becoming an Urban Planner in Hawaii. The American Planning Association (APA), Association of Collegiate Schools of Planning (ACSP), and the American Institute of Certified Planners (AICP) of the APA all recommend that you choose an Urban Planning program that is accredited by the   Planning Accreditation Board (PAB). There are no PAB-accredited undergraduate Urban Planning programs in Hawaii, however. Viable alternatives include:
University of Hawaii at Manoa – Bachelor of Science in Global Environmental Science
University of Hawaii at Manoa – Bachelor of Environmental Design
Graduate Urban Planning Degree in Hawaii
Hawaii has one of the most recognized, acclaimed PAB-accredited graduate urban planning degree programs in the country. The University of Hawaii at Manoa's Master of Urban and Regional Planning will teach you professional planning and policy analysis skills. You may specialize in one of four concentrations: Land use, transportation and infrastructure planning; urban and regional planning in Asia and the Pacific; environmental planning and natural resource management; or community planning and social policy.  Upon graduation, you will be prepared to work in public agencies, communities, private firms, international organizations, and community groups. Information on the program is as follows:
University of Hawaii at Manoa – Master of Urban & Regional Planning
College of Social Sciences, Department of Urban & Regional Planning
2424 Maile Way, Room 107
Honolulu, HI 96822
Accreditation through December 31, 2020
Priyam Das, Chair
808.956.2780; priyam@hawaii.edu
Professional Certification to Become an Urban Planner in Hawaii
The American Planning Association- Hawaii Chapter encourages urban planners working in the state to become professionally certified by the American Institute of Certified Planners (AICP). This certification requires completion of education and experiential standards as well as passing of a certification examination. Professional certification will help qualify you for more jobs as well as earn you a higher salary than your uncertified counterparts. According to the Hawaii Chapter of the APA, salaries offered to planners with AICP credentials can be as much as $16,000 a year higher than those offered to non-credentialed planners.
Other certification agencies offer professional credentials for urban planners, including but not limited to:
American Institute of Certified Planners (AICP)
The AICP certification exam is offered at just one Prometric testing center in Hawaii; the one located at 1132 Bishop Street in Honolulu. A study group is also offered in Honolulu. You may receive more information on this by contacting Peter Flachsbart, AICP, Hawaii Chapter Professional Development Officer at flachsba@hawaii.edu. The examination covers the following areas of information and knowledge that you should be quite familiar with by the time you have completed your education:
Fundamental Planning Knowledge – 25 percent of exam:

History of urban planning
Patterns of human settlement
Statutory basis of planning
Foundational legal principles
Theories about planning
Natural, social and economic systems
Core values of planning

Plan Making & Implementation – 30 percent of exam:

Spatial analysis
Conducting research/acquiring knowledge
Social justice
Project/program management
Monitoring and assessment
Plan implementation
Formulating policies and plans
Preparing to plan
Communication
Public engagement

Areas of Practice – 30 percent of exam:

Rural and small town planning
Health planning
Food planning
Institutional planning
Historical and cultural resources planning
Parks, recreation and open space
Housing planning
Urban design
Economic development planning
Environmental and natural resources planning
Hazards, mitigation and resiliency planning
Infrastructure planning
Transportation planning
Sustainability planning
Current planning
Community planning
Comprehensive and sectoral planning

Leadership, Administration and Management – 5 percent of exam:

Technology and related applications
Internal organizational management
Managing external relationships
Leadership

AICP Code of Ethics and Professional Conduct – 10 percent of exam:

Section A: Aspirational principles
Section B: Rules of conduct
Section C, D and E: Procedural provisions
Maintaining Your AICP Membership in Hawaii
The Certification Maintenance (CM) program of the AICP will help you to remain current in planning knowledge and maintain your membership. You must complete 32 credits of continuing education every two years. Contact the Co-Chairs of the Hawaii Chapter for more information:
Careers for Urban Planners in Hawaii
Urban Planners working in Hawaii have many choices in choosing career paths. The public sector (state, local and federal government), private sector and non-profit sector each offer a vast amount of opportunities for educated, trained urban planners to find employment. Hawaii's unique landscape offers many unique challenges for urban planners that aren't present within other states.
While University of Hawaii at Manoa's program in urban planning does not require students to complete an internship, it does mandate that a practicum in planning be completed. This will offer you valuable experience that you can take into any urban planning position you choose after graduation.
Some of Hawaii's urban planning projects that have begun and/or been completed in recent years, statewide, have included:
Lahaina Ferry Pier Improvementsfor the State of Hawaii Department of Land and Natural Resources
West Maui All Hazard Emergency Operations Plan collaborated with federal, county and West Maui agencies
Demolition of Department of Defense, Hawaii Army Guard Buildings 301 and 304 on Oahu
Shoreline Erosion Control/Seawall for AOUO of Hale Kai Condominiums in Maui
Urban Planning Jobs in Hawaii's Public Sector
Recent advertisements for job openings in urban planning in Hawaii's public sector have included:
Planner IV (General City/Urban Planning), City and County of Honolulu
Planner V, State of Hawaii, Oahu
Planner IV (Social Planning), City and County of Honolulu
Assistant Chief Planner, City and County of Honolulu
Community Planner- US Navy, Kaneohe
Interdisciplinary Community Planner, Naval Facilities Engineering Command, Pahoa
Urban Planning Jobs in Hawaii's Private Sector
Private sector positions in urban planning that have been advertised recently include:
Environmental Planner- Tetra Tech Facilities Construction, Honolulu
Senior Urban Planner, ALTRES Technical, Honolulu
Assistant Professor, Urban and Regional Planning, University of Hawaii, Honolulu
Senior Transportation Planner, Oahu MPO, Honolulu
Real Estate and Urban Planning Outlook in Hawaii
The National Association of Realtors notes that in 2018, Hawaii's real estate industry made up $24.5 billion, or 26.6 percent, of the state's gross state product. Reports are that Hawaii's home market has remained flat in 2019, however, with values up only .05 percent from 2018. Zillow reports that the median value of a single-family home in Hawaii is $616,000. That is significantly higher than the median home value in the U.S., which is $229,600.
While opinions are mixed on whether Hawaii's housing market is in trouble, there should still be plenty of work available for the state's urban planners, especially as environmental concerns persist. Hawaii's population continues to increase each year, placing a strain on existing housing and challenging urban planners to find new, creative ways to accommodate them. Maintaining Hawaii's natural balance of flora and fauna, accommodating its increasing human and animal population, and saving and maintaining natural resources are all priorities for urban planners working in Hawaii.
Additional Urban Planning Resources in Hawaii