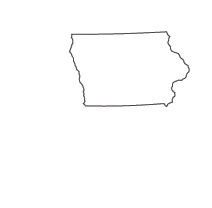 In 1970, the majority of Iowa's land (74 percent) was used to raise crops. Eleven percent of the state's land was designated as pasture land. Seven percent consisted of forest land. Just over four percent of Iowa's total land was urban (including cities, villages and built-up areas of more than 10 acres). By way of comparison, in 2012, 72 percent of Iowa's land consisted of cropland. Eight percent was pasture land. 6.5 percent was forested land. Just over two percent of the total land area of Iowa consisted of urban land, however, as of the 2010 census.
The percentage of prime farmland (defined by the US Department of Agriculture as land with the best combination of chemical and physical characteristics for producing fiber, oilseed, forage and food crops) in Iowa has remained roughly the same from 1977 to 2012. In 1977, 5.55 percent of Iowa's acreage was deemed prime farmland. By 2012, that number had risen to 5.83 percent.
As you can see, the landscape and composition of the state of Iowa has changed somewhat over the past 50 years. As of the 2010 census, the urban population of Iowa was 1.9 million, while the rural population was just over one million. The major land uses in Iowa—cropland, pastureland, and forestland – have remained the same. Conservation efforts in Iowa have therefore focused on preserving the soil, water, air, plant, and animal resources in these three areas.
Urban planners in Iowa learn how to plan for the future and make the most of the present in all types of spaces and land throughout Iowa. It is an interesting and challenging field that is always in motion. If you would like to learn how you can become an urban planner and shape current and future land use in Iowa, keep reading.
How Much Can I Expect to Earn as an Iowa Urban Planner?
The U.S. Department of Labor's Bureau of Labor Statistics (BLS) states that Iowa's urban planners made an annual median wage of $66,340 as of May 2019. Those working in cities across the state earned salaries that varied from this average, as you can see below:
Davenport $70,510
Des Moines $76,880
West Des Moines $76,880
What Are the Major Regulations and Laws for Urban Planning and Land Use in Iowa?
According to researchers from Iowa State University, over 85 percent of Iowans live in counties or cities that have prepared comprehensive plans and have adopted zoning ordinances. While having a comprehensive plan is not necessary within counties or municipalities in Iowa, every municipality has the authority to do so under the state constitution.
How is land use suitability determined in Iowa? As in other areas, much of it has to do with the characteristics of the soil. Soils with a high water table or subject to frequent flooding, for example, are not suitable for a housing development. Steep and rough land is suitable for forestland or pasture but not for cropland or building. Decisions on land use and planning in Iowa are made at the local governmental level with input from the public.
What are Iowa Smart Planning Laws?
The Iowa Smart Planning Act, signed into law in 2010, identified 10 principles to apply to comprehensive plan development and public decision-making on land use; provided a guidance for comprehensive planning for counties and cities, and established the Iowa Smart Planning Task Force. The ten smart planning principles established, by which all comprehensive plans should be created, are:
Collaboration
Efficiency, transparency and consistency
Clean, renewable and efficient energy
Occupational diversity
Revitalization
Housing diversity
Community character
Natural resources and agricultural protection
Sustainable design
Transportation diversity
What are the Elements of a Comprehensive Plan in Iowa?
According to the Iowa Smart Planning Act, 13 elements go into creating a good comprehensive plan for a city or county. They include:
Public participation
Issues and opportunities
Land use
Housing
Public infrastructure and utilities
Transportation
Economic development
Agriculture and natural resources
Community facilities
Community character
Hazards
Intergovernmental collaboration
Implementation
Where Can I Attain an Urban Planning Education in Iowa?
Where Should I Pursue Undergraduate Urban Planning Training in Iowa?
Urban planners in Iowa should ultimately earn a graduate degree, but must, of course, start by obtaining an undergraduate degree. It is highly recommended that you choose degree programs that accredited by the Planning Accreditation Board (PAB) of the American Planning Association. The following undergraduate program in Iowa holds such accreditation:
Bachelor of Science in Community & Regional Planning – Iowa State University, Ames
Where Can I Get My Graduate Urban Planning Degree in Iowa?
Once again, the graduate degree program in urban planning in Iowa that you select should hold accreditation through the Planning Accreditation Board (PAB) of the American Planning Association. Iowa offers two such accredited graduate degree programs:
Iowa State University—Master of Community & Regional Planning
College of Design, Dept. of Community & Regional Planning
146 College of Design
Ames, IA 50011
Accreditation through December 31, 2024
Francis Owusu, Chair
515.294.8958; fowusu@iastate.edu
University of Iowa—Master of Science in Urban & Regional Planning
School of Urban & Regional Planning
347 Jessup Hall
Iowa City, IA 52242-1316
Accreditation through December 31, 2020
Charles Connerly, Director
319.335.0032; charles-connerly@uiowa.edu
Should I Pursue Professional Certification as an Iowa Urban Planner?
What is the American Institute of Certified Planners (AICP)?
The American Institute of Certified Planners (AICP) bills itself as the only nationwide independent verification of an urban planner's qualifications. If you become certified by the AICP, it will show potential employers that you have the highest standards of practice, ethics and professional conduct and that your skills are up-to-date.  This is accomplished when you pass the AICP exam, which is offered at Prometric test centers like:
Bettendorf – 1035 Lincoln Road
Hiawatha – 1089 Longfellow Drive
Sergeant Bluff – 204 First Street
How Do I Maintain My AICP Certification in Iowa?
To keep your certification in the AICP active, you must fulfill the requirement of completing 32 Certification Maintenance (CM) credits every two years. APA Iowa events are listed at the APA Iowa Chapter website, and currently include:
APA Iowa Board Meeting – Ames
How Arts and Culture Strengthen Communities- Des Moines
APA Iowa Chapter – Design Professionals Day on the Hill Legislative Training – Des Moines
ISU Design Career Fair- Ames
Planning for Emerging Mobility in Central Iowa- Des Moines
Are There Other Options for Professional Certification in Iowa?
There are other organizations that offer professional credentials to urban planners in Iowa, such as:
What Are Potential Career Paths for Urban Planners in Iowa?
What are Some Prominent Iowa Urban Planning Projects?
Recently there have been some truly notable planning projects across the state of Iowa, like:
Coralville Arena- Iowa City
Pentacrest Gardens – Iowa City
Linn County Wind Farm
Iowa's Rail Plan
Alice Nizzi Park – City of Waukee
Where Can I Complete an Internship in Urban Planning in Iowa?
Your college urban planning degree program (graduate or undergraduate) should offer you the opportunity to complete an internship, gaining valuable professional experience and networking contacts. If not, you can always pursue your own, such as:
Intern, Planning and Development Services- City of West Des Moines
Planning Intern – Linn County
Planning Intern – Snyder & Associates, Ankeny
Planner Intern, Community Development – City of Cedar Rapids
Planning & Community Services Intern – City of Cedar Falls
Planning Internship – Southeast Iowa Regional Planning Commission, West Burlington
What Types of Urban Planning Jobs Exist in Iowa's Public Sector?
The public sector, including jobs at the federal, state, county and city levels in Iowa, might include job titles such as:
Planner- City of Sioux City
Associate Planner, Community Development – City of Iowa City
Community Planner, Department of Navy – Gruver
Transportation Planner, State of Iowa- Ames
Regional Planner I, Siouxland Interstate Metropolitan Planning Commission – Sioux City
What Types of Urban Planning Jobs Exist in Iowa's Private Sector?
The private sector in Iowa includes nonprofit organizations and private companies. Jobs could include:
Urban Planner–MSA Professional Services, Cedar Rapids, Dubuque, Ankeny and Bettendorf
Project Manager – Snyder & Associates, Ankeny
Associate Planner- Dubuque Housing & Community Development
Senior Occupancy Planner- JLL, Cedar Rapids
Senior Planner- MSA Professional Services, Bettendorf
What Does the Future Hold for Urban Planners and Real Estate Professionals in Iowa?
Home sales and the housing market in Iowa have been on the rise. Prices and sales of homes in Iowa were up by 10 percent in 2019 compared to 2018's numbers. The new year has continued the upward trend, as Iowa's home sales rose 10 percent in January 2020 over January 2019's numbers. This good news within the residential real estate market also spells good news for aspiring urban planners in Iowa. There should be plenty of work available for Iowa's urban planners for years to come.
Where Can I Find More Information on Urban Planning in Iowa?