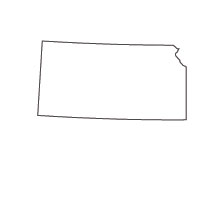 Kansas, whose name comes from the Sioux meaning "people of the south wind," has provided much to the history and culture of the United States. Today, the state is the leader in wheat production in the nation, and the second largest producer of beef cattle (behind Texas). The Geodetic Center of North America lies in Kansas, 40 miles south of the town of Lebanon at a place called Meade's Ranch. It is the beginning point of reference for all land surveying done in North America. This is an especially interesting fact for anyone interested in land use and planning.
With a population of almost three million as of July 2019, Kansas grew about eight percent per decade in the 20thcentury. Some of the population problems facing Kansas today are increasing population concentration in urban areas, increasing population diversity, and an aging population. Rural counties in Kansas today account for less than 0.5 percent of the state's total population.
These facts present interesting and unique challenges for urban planners working in Kansas. They must try to accommodate the urban areas' increasing population while not ignoring the suburban and rural areas of the state. If you would like to become an urban planner in Kansas and take on some of these challenges, read on.
Urban Planning Wages in Kansas
The Bureau of Labor Statistics (BLS) of the U.S. Department of Labor notes that as of May 2019, urban and regional planners working in Kansas earned an annual median wage of $64,000. Planners working in various cities throughout Kansas earned less or more than the median, as seen below:
Topeka: – $55,370
Wichita: – $68,340
Kansas City MO-KS: – $77,150
Urban Planning Regulations and Laws in Kansas
State law in Kansas authorizes cities and counties to draw up comprehensive plans, as well as zoning and planning regulations and laws, for the protection of the welfare, safety and public health of Kansans. Planning commissions in Kansas must review and reconsider comprehensive plans at least once a year.
Likewise, local government bodies in Kansas are authorized to enact and enforce zoning regulations within their city or county. These ordinances may be revised as comprehensive plans are amended. Even if a county or city does not have a local plan to follow, zoning decisions must reasonably reflect local needs and conditions. The Supreme Court of Kansas has stated that zoning decisions must take into consideration the following factors:
The zoning and uses of neighboring property
The character of the neighborhood
The extent to which removal of restrictions would negatively affect neighboring property
The suitability of the property for the uses to which it will be restricted
The length of time that the property has remained vacant as it is currently zoned
The planning process in Kansas is largely shaped by the community, as public input is welcomed by planning and zoning commissions. The local environment must be taken into consideration as well in the planning process. For example, rural areas have different needs than urban areas.
Conservation in Kansas
Kansas has long been a leader in the conservation movement. The dust storms in the 1930s triggered the state to take action. As a result, Congress passed the Soil Conservation Act of 1935, the first soil conservation law in the world's history.  Soon after, conservation districts popped up throughout Kansas. The Labette County Conservation District and the Lyon County Conservation District were the first two to be organized. By 1941, 16 conservation districts had been organized statewide.
Other early conservation efforts in Kansas included the Prairie States Forestry Project, a project intending to plant trees as windbreaks across the Great Plains. Today, 2.2 million acres of Kansas' landscape are forestland. Their economic and natural value is great to the state and the nation.
In more recent years, five Resource Conservation and Development areas were organized in Kansas to develop and carry out programs on economic development and community improvement. The Soil and Water Conservation Act was passed in 1977, and a National Conservation Program was created. Areas in Kansas targeted for federal help under this program were northeastern Kansas, where soil erosion is a problem; and western Kansas, where a decreasing underground water supply makes water management necessary.
Division of Water Resources
In the early 1900s, the Kansas Department of Agriculture created the division of Water Resources to regulate land and natural resource usage in the state. It is responsible for conservation measures, water projects, flood control, levee design, groundwater management, irrigation control, and more. Almost 500 square miles of Kansas are covered in water; and there are more than 10,000 miles of rivers and streams, most of which are privately owned.
Grassland in Kansas
Of the 140 million tallgrass prairie acres originally in North America, only four percent survives today, and 80 percent of that surviving tallgrass is in Kansas. These grasslands are protected as they house natural resources and a host of organisms.
Educational Programs in Urban Planning in Kansas
Undergraduate Programs in Urban Planning in Kansas
The first challenge along the educational path to becoming a Kansas urban planner is to attain an undergraduate degree. If at all possible, the program you choose should hold accreditation through the Planning Accreditation Board (PAB) of the American Planning Association. However, no undergraduate programs in Kansas hold such accreditation. Consider these programs as alternatives:
Bachelor of Science in Real Estate and Community Developemnt – Kansas State University
Bachelor of Arts in Public Administration – University of Kansas
Or consider this PAB-accredited undergraduate program in nearby Missouri:
Bachelor of Arts in Urban Planning & Design – University of Missouri, Kansas City
Graduate Programs in Urban Planning in Kansas
Your second challenge in getting an urban planning education in Kansas is to obtain a graduate degree. Again, it is recommended that you choose one accredited by the Planning Accreditation Board (PAB) of the American Planning Association. These programs in Kansas hold that accreditation:
Kansas State University- Master of Regional & Community Planning
College of Architecture, Planning & Design, Dept. of Landscape Architecture & Regional & Community Planning
1086 Seaton Hall
Manhattan, KS 66506-2909
Accreditation through December 31, 2027
Huston Gibson, Department Head
785.532.5961; hgibson@ksu.edu
University of Kansas- Master of Urban Planning
School of Public Affairs & Administration, Urban Planning Program
1460 Jayhawk Blvd, Room 219 Snow Hall
Lawrence, KS 66045-7614
Accreditation through December 31, 2022
Bonnie J. Johnson, Program Director
785.864.4184; bojojohn@ku.edu
Developing into a Professionally Certified Urban Planner in Kansas
American Institute of Certified Planners (AICP)
The Kansas Chapter of the American Planning Association recommends that you seek professional certification through the American Institute of Certified Planners (AICP) after obtaining your graduate degree and working in the field for two years. Take the test at one of these  Prometric exam centers in Kansas:
Hays – 701 Park Street
Wichita – 8343 East 32nd
Topeka – 2800 Wanamaker, Suite 150
AICP Certification Maintenance in Kansas
The AICP offers its members a Certification Maintenance program to help you to fulfill the requirement of 32 CM credits every two years that is necessary in order to maintain your membership. Kansas' Chapter of the APA sometimes lists eligible events on their Facebook page.
More Certifications for Kansas's Urban Planners
Other professional certifications are available for Kansas's urban planners:
Identifying Urban Planning Jobs in Kansas
Preeminent Urban Planning Projects in Kansas
Planning projects of note in Kansas include:
Aggieville Event Center, Manhattan
Overland Regional Medical Plaza Cancer Center, Lenexa
Kansas State University Self-Guided Tree Walk, Manhattan
Meade Walleye Building Recirculating Aquaculture Facility, Meade
Master Plan of Northeast Kansas City, Kansas
Scoring an Internship in Urban Planning in Kansas
If your college program does not offer you an internship, pursue one yourself, such as:
Analyst Internship – Novogradac & Co., Merriam
Planning Management Trainee- TransAm Trucking, Olathe
Planning Intern- Intouch Solutions, Overland Park
Public Sector Positions for Urban Planners in Kansas
Jobs within the public sector in Kansas that those with urban planning degrees could hold include:
Land Development Coordinator – City of Topeka
Planner/Planner II – City of Manhattan Community Development Dept.
Planner I/II – City of Overland Park
Community Relations Specialist – City of Salina
City Planner- City of Derby
COOP Planner- State of Kansas, Shawnee County
Private Sector Positions for Urban Planners in Kansas
Jobs within the private sector in Kansas that those with urban planning degrees could hold include:
CEI Inspector – H.W. Lochner, Inc., Lenexa
Master Planner- Black & Veatch, Overland Park
Regional Planner- PPM Technical Services, Latham
International Transportation Planner- Koch Industries, Inc., Wichita
Demand Planner- Dairy Farmers of America, Kansas City (KS)
Prognosis for Urban Planners and the Real Estate Industry in Kansas
According to Zillow.com, home prices in Kansas are predicted to grow by four percent through 2021. This equates to a hot housing market. Demand for modestly priced homes is expected to remain strong. Major markets across the state, including Wichita, Topeka, Manhattan, Lawrence and Kansas City, should remain active through the rest of the year.
This points to good news for those wishing to work in urban planning in Kansas. While not all urban planners will be working in residential real estate, the strong housing market will fuel other development in Kansas, surely giving urban planners work for years to come
Supplementary Urban Planning Resources in Kansas