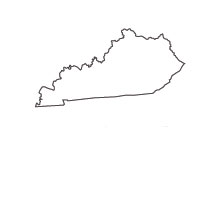 A study conducted by American Farmland Trust found that Kentucky lost 791,000 acres of farmland between 1992 and 2012. Almost forty percent of that loss was due to urban expansion and suburban sprawl. A whopping 63 percent of the loss, however, was because of individual homes that were built on lots ranging from two to ten acres, mainly in rural areas of Kentucky. This is called low-density rural development, and it is an issue not only in Kentucky but nationwide.
This loss has prompted many Kentucky jurisdictions to revise land use laws. For example, in 1999 the Urban County Council in Fayette County (which lost 4700 acres to ten-acre lots between 1990 and 1997) increased the minimum lot size outside the Urban Services Boundary to 40 acres.
More people are moving into Kentucky's urban areas. Northern Kentucky, for example, has 386,000 total residents, but most are concentrated in Florence, Newport and Covington. Many of these urban areas have placed a new focus on walkability, or making their cities more easily accessible to pedestrians. This not only helps with urban planning and development but also cuts down on environmental pollution.
If you would like to become an urban planner and help tackle these and many more dilemmas facing Kentucky, you need specific education, training and experience in order to obtain a job. Keep reading to discover how you can become an urban planner in Kentucky.
Salaries for Kentucky's Urban Planners
Per the Bureau of Labor Statistics (BLS) of the United States Department of Labor, the annual median wage for urban planners in Kentucky, as of May 2019, was $52,450. Throughout the state, salaries can vary from this average, as noted below (some city statistics are from Salary.com):
Bowling Green – $55,237
Lexington – $57,706
Louisville – $51,850
Owensboro – $57,551
South Central nonmetro area – $36,750
Planning and Land Use Laws and Regulations in Kentucky
Chapter 100 of the Kentucky Revised Statutes authorizes local municipalities throughout the state to enact subdivision regulations and zoning ordinances. These regulations and ordinances may vary significantly from one county to the next. For example, in Fayette County, a property owner must have at least 40 acres of land before building a single-family home. In Jessamine County, a neighboring county, however, a single-family home can be built on just one acre.
To make matters even more confusing, Kentucky state law allows for multiple zoning ordinance and subdivision regulations within the same county. To cite an example, the afore-mentioned Jessamine County, with a population of just 3000, has separate zoning ordinances for land that is in the county of Jessamine, in the city limits of Wilmore and in the city limits of Nicholasville.
A total of 55 of Kentucky's 120 counties do have countywide zoning laws that apply to the entire county. However, there are another 41 cities in Kentucky that have zoning laws and are located within counties which have not adopted countywide zoning laws. (As an interesting side note, Kentucky has the third-highest number of counties of any state, following Texas and Georgia).
Comprehensive Plans in Kentucky
If a community within Kentucky has zoning laws, it is required by state law to have a Comprehensive Plan. This Plan acts as a guide to the zoning and rezoning process as well as future development within that jurisdiction. Minimum elements that must be contained within a Comprehensive Plan in Kentucky include:
Statement of goals and objectives
Land use element
Transportation plan element
Community facilities element
Additional elements that may be included but are not mandated include community renewal, flood control, housing, conservation, pollution, historic preservation and natural resources.
Center for Land Use and Environmental Responsibility
The Center for Land Use and Environmental Responsibility (CLUER) was designed to research and recommend ideas and guidelines for governing Kentucky's intersection of land use, environmental conservation, and water resources. They study problems that exist where these three ideas intersect, as well as governing institutions and the impact of their policies on marginalized communities. CLUER also works to engage the community and partner with government agencies in promoting environmental responsibility and responsible stewardship of human and natural environments.
Bluegrass Land Conservancy
The Bluegrass Land Conservancy exists to protect land within Kentucky's Bluegrass Region through conservation easements that are permanent. The Bluegrass Region of Kentucky makes up the northern part of the state, bordered by the cities of Stanford, Richmond, Paris and Frankfort. It is rich in the natural resources of limestone, dolomite and shale. In 2006, the World Monuments Fund identified the Bluegrass Region as one of the 100 most endangered sites in the world.
Education for Kentucky's Urban Planners
Undergraduate Urban Planning Education in Kentucky
Your ultimate goal will be a graduate degree, but before you obtain that, you must attain your undergraduate degree in an urban planning-related area in Kentucky. It is always a good idea, if possible, to select a program that holds accreditation from the Planning Accreditation Board (PAB) of the American Planning Association. Kentucky has no such accredited programs, however. Consider this program instead:
Bachelor of Arts in Sustainability – University of Louisville
Graduate Urban Planning Degree in Kentucky
You should pick an urban planning graduate degree program that is accredited through the Planning Accreditation Board (PAB) of the American Planning Association. There is one such program in Kentucky:
University of Louisville – Master of Urban Planning
College of Arts & Sciences, Department of Urban & Public Affairs
426 W. Bloom St.
Louisville, KY 40208
Accreditation through December 31, 2021
David M. Simpson, Director
502.852.7906; dave.simpson@louisville.edu
AICP Certification for Kentucky Urban Planners
American Institute of Certified Planners (AICP)
The American Institute of Certified Planners (AICP) is the sole independent verification of an urban planner's qualifications available within the United States. AICP certification proves to would-be employers that your practice, professional conduct and ethical standards are of the highest quality. To gain this certification, take the certification test at Prometric test centers in Kentucky such as:
Florence – 500 Technology Way
Lexington – 2573 Richmond Road
Louisville – 2010 South First Street
Louisville – 7400 New La Grange Road
Maintenance of Your AICP Certification in Kentucky
The AICP mandates that you fulfill completion of 32 Certification Maintenance (CM) credits every 24 months. The American Planning Association- Kentucky website offers the Planning Webcast series, in which you can earn over 40 CM credits for free. Check it out at their website.
Alternate Options for Professional Certification for Kentucky Urban Planners
If you would like to pursue additional certification, options include:
Urban Planning Careers in Kentucky
Eminent Kentucky Urban Planning Projects
Outstanding urban planning projects in Kentucky have included:
Bellevue re-development
Waterfront Botanical Gardens in Louisville
East End development in Louisville
Milton, KY to Madison, IN bridge
Urban Planning Internships in Kentucky
If your college urban planning program does not offer you the opportunity to complete an internship, you may wish to seek out your own. Examples of urban planning internships that have occurred in Kentucky include:
Planning, Zoning & Historic Preservation Intern – City of Covington
Urban Design Summer Intern – Skidmore, Owings & Merrill, LLP, Wellington
Planning Intern – Brandstetter Carroll, Inc., Lexington
Public Sector Urban Planning Opportunities in Kentucky
Want to work in Kentucky's public sector, for state, local or federal government agencies? Examples of opportunities in Kentucky's public sector for urban planners include, but are not limited to:
Associate/Principal Planner- Planning and Development Services of Kenton County
Transportation Planner Supervisor – Louisville Metro Government
Planning Technician – Louisville Metro Government
Community Planner – U.S. Navy, Louisville
Private Sector Urban Planning Opportunities in Kentucky
Working within Kentucky's private sector might include opportunities like:
Project Planner – Fischer Homes, Erlanger
Director of Urban Infill – Fischer Homes, Erlanger
Transportation Planner – AECOM, Louisville
Transportation Planner- Stantec, Lexington
Real Estate and Urban Planning Forecast in Kentucky
In 2017, the Kentucky real estate market set new sales records, especially in housing, selling over 53,000 units. The housing market in Louisville was and continues to be especially competitive. In Kentucky, the median home price is much lower than many other states, at just $240,500, making affordability less of a problem. If Kentucky's real estate market continues to remain strong, as it appears to be, urban planners should have no problems finding fulfilling work within the state.
More Urban Planning Resources in Kentucky