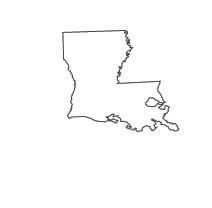 According to the Center for Planning Excellence (CPEX), prior to Hurricanes Rita and Katrina, less than 10 parishes in Louisiana had master plans or hazard mitigation plans. Since that time, plans have been drawn up to deal with these and other threats.  Founded in 2006, CPEX is a non-profit organization in Louisiana that coordinates regional, rural, and urban planning in Louisiana, working with communities and local governments. It has worked statewide with over 30 parishes and cities, helping communities to realize quality neighborhoods, expanding transportation choices, improving resilience of communities, and conducting civic education and engagement activities.
CPEX is just one of the many organizations working throughout Louisiana to improve planning at all levels. Another planning initiative that is designed to improve life for Louisianans is the recent $1.2 billion in federal aid received by the state to fortify communities against future floods. The U.S. Department of Housing and Urban Development granted the money to Louisiana to improve flood mitigation and drainage statewide. It will be distributed among the 46 parishes in the state that have been identified as the most flood-prone communities.
Urban planners help to make flood mitigation, among many other things, possible in Louisiana. They use their education, knowledge and training to help plan the best, most efficient and healthiest communities in which Louisianans can live. If you would like to learn how you can become an urban planner in the Bayou State, keep reading.
Louisiana Urban Planning Wages
The Bureau of Labor Statistics (BLS) of the United States Department of Labor says that as of May 2019, the annual median salary for urban planners in Louisiana was $70,560. Salaries tend to differ depending upon where in the state you work, as illustrated below (some city salary statistics are from Salary.com):
Baton Rouge $50,140
Lafayette $56,301
Metairie $73,350
New Orleans $73,350
Shreveport $56,340
Land Use and Urban Planning Regulations in Louisiana
If you are familiar with Louisiana, you have likely heard the term "parish" before. Louisiana is the only state to have parishes instead of counties. Ever wonder why? Originally, Louisiana was a Roman Catholic state under the rule of Spain and France. Boundaries that divided territories were synonymous with church parishes. The territorial legislature of Louisiana formally adopted the term "parish" in 1807. These civil divisions have been called parishes ever since.
Louisiana is divided into eight planning districts, each of which has roles defined by the state. Each district has a conglomeration of parishes that work together for the good of the people. The eight districts include:
District One- Regional Planning Commission

Plaquemines Parish
Bernard Parish
Tammany Parish
Jefferson Parish
Orleans Parish

District Two – Capital Regional Planning Commission

West Feliciana Parish
West Baton Rouge Parish
Washington Parish
Tangipahoa Parish
Helena Parish
Pointe Coupee Parish
Livingston Parish
Iberville Parish
East Feliciana Parish
East Baton Rouge Parish
Ascension Parish

District Three – South Central Planning & Development Commission

Terrebonne Parish
Mary Parish
John the Baptist Parish
James Parish
Charles Parish
Lafourche Parish
Assumption Parish

District Four – Acadiana Planning Commission

Vermillion Parish
Martin Parish
Landry Parish
Lafayette Parish
Iberia Parish
Evangeline Parish
Acadia Parish

District Five – Imperial Calcasieu Regional Planning & Development District

Jefferson Davis Parish
Cameron Parish
Calcasieu Parish
Beauregard Parish
Allen Parish

District Six – Kisatchie-Delta Regional Planning & Development District

Winn Parish
Vernon Parish
Rapides Parish
LaSalle Parish
Grant Parish
Concordia Parish
Catahoula Parish
Avoyelles Parish

District Seven – Coordinating & Development District

Webster Parish
Sabine Parish
Red River Parish
Natchitoches Parish
Lincoln Parish
DeSoto Parish
Claiborne Parish
Caddo Parish
Bossier Parish
Bienville Parish

District Eight – North Delta Regional Planning & Development District

West Carroll Parish
Union Parish
Tensas Parish
Richland Parish
Ouachita Parish
Morehouse Parish
Madison Parish
Jackson Parish
Franklin Parish
East Carroll Parish
Caldwell Parish
Coastal Wetlands Planning, Protection and Restoration Act
The Coastal Wetlands Planning, Protection and Restoration Act (CWPPRA) is a federal law that was enacted in 1990. Its aim is to identify, prepare, and fund construction of coastal wetlands projects. Since that time, 100,000 acres of Louisiana have benefited from this act.
Louisiana's wetlands are natural resources that are unique to the area and worth conserving. They also act as flood control devices, holding excess floodwaters during heavy rainfall. About 40 percent of all of the coastal wetlands of the lower 48 states are in Louisiana. Even with this act, Louisiana has lost up to 40 square miles of wetlands each year for several decades, enough wetlands to equal the size of the state of Delaware. Planners and conservationists are working to ensure that Louisiana does not lose more of these vital ecological resources. The CWPPRA has worked and continues to work on a variety of projects creating marshes and terracing throughout the state to help preserve the state's wetlands.
Schooling for Urban Planners in Louisiana
Undergraduate Schooling for Urban Planners in Louisiana
If you want to become an urban planner in Louisiana, you will want to get a graduate degree. Before you can attain that, however, you must earn your undergraduate degree. It is recommended that you choose a program that has been accredited by the Planning Accreditation Board (PAB)  of the American Planning Association. Because there are no such accredited programs in Louisiana, however, consider these instead:
Bachelor of Science in Urban Studies and Planning – The University of New Orleans
Bachelor of Landscape Architecture – Louisiana State University
Graduate Schooling for Urban Planners in Louisiana
Louisiana has one graduate urban planning degree program that holds accreditation through the Planning Accreditation Board (PAB) of the American Planning Association:
University of New Orleans – Master of Urban & Regional Planning
Department of Planning & Urban Studies
368 Milneburg Hall
New Orleans, LA 70148-2910
Accreditation through December 31, 2025
Marla Nelson, Program Coordinator
504.280.6277; mnelson@uno.edu
Professional Certification for Louisiana's Urban Planners
American Institute of Certified Planners (AICP)
Why should you seek professional certification as an urban planner in Louisiana? The American Institute of Certified Planners (AICP) provides certification that represents independent verification of an urban planner's qualifications and high standards. It is gained through passing an examination, offered at the following Prometric test centers in Louisiana:
Alexandria:  Louisiana State University at Alexandria
Baton Rouge: 4354 S. Sherwood Forest Blvd.
Bossier City: Bossier Parish Community College
Lake Charles: McNeese State University
Metairie: 2424 Edenborn Ave.
Maintaining Your AICP Certification in Louisiana
As an AICP certified urban planner in Louisiana, you must complete a minimum of 32 Certification Maintenance (CM) credits every two years in order to maintain your credentials. The American Planning Association- Louisiana Chapter offers professional development opportunities, many of which fulfill these requirements.
Other Optional Certifications for Louisiana Urban Planners
The AICP is not the only certification available for Louisiana urban planners- just the most popular. Others include:
Positions in Urban Planning in Louisiana
Noted Louisiana Urban Planning Projects
Notable planning projects throughout Louisiana include:
$1.2 billion anti-flooding plan- statewide through Louisiana Office of Community Development and Louisiana Council of Watershed Management
North Delacroix Marsh Creation and Terracing – St. Bernard Parish
Coastwide Salvinia Weevil Propagation Facility
Point-Aux-Chenes Wildlife Management Area Recreational Use Enhancement Project
Internship Opportunities in Urban Planning in Louisiana
You should pursue all opportunities you can find to work in the field while still studying for your urban planning degree. Examples of urban planning internships in Louisiana include:
Planning Intern – Asakura-Robinson, New Orleans
Environmental Planner Intern – AECOM Technology Corporation, New Orleans
Policy Planner Intern- State of Louisiana
Project Intern – Valero, Meraux
Intern Architect- KSA Engineers, Shreveport
Urban Planning Positions in Louisiana's Public Sector
The public sector includes urban planning jobs at the national, state and local levels, like:
Assistant Planner- Bossier City-Parish Metropolitan Planning Commission
Regional Planner- Acadiana Planning Commission, Lafayette
Planner I – North Delta Regional Planning & Development District, Monroe
Planner III – Jefferson Parish
Housing Specialist – Housing Authority of New Orleans
Urban Planning Positions in Louisiana's Private Sector
Private companies and non-profit organizations also offer urban planning jobs in Louisiana, such as:
Manager of Planning- New Orleans Airport
GIS Specialist – SRSA Commercial Real Estate, Metairie
Master Planner- Aerotek, Metairie
Operations Manager- Bike Easy, New Orleans
Senior Planner- GCR, Inc., New Orleans
Communications Associate- Center for Planning Excellence, Baton Rouge
Predictions for Real Estate and Urban Planning in Louisiana
After emerging through what analysts call a mild recession, Louisiana's housing market bounced back in 2019 as jobs became more plentiful and the state put more money into building and repairing ports and infrastructure. This is good news for aspiring urban planners in the state, who should have plenty of opportunities available for the foreseeable future.
More Urban Planning Resources in Louisiana