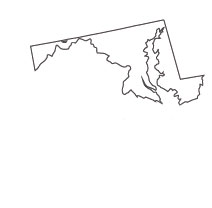 According to the United States Census Bureau, the population of Maryland increased by almost five percent from 2010 to 2019. As of July 1, 2019, Maryland's population was estimated at just over six million residents. The area of Maryland in square miles is 9,707, with 594.8 people per square mile as of 2010.
Just as other states have faced similar problems, Maryland has long dealt with urban sprawl. Projections say that the state's population will increase by a million people over the next 25 years .In 1997, the idea of Smart Growth was adopted in Maryland, and those ideas are still actively pursued today. Preservation Maryland has advocated for a more economically and environmentally sustainable future for all Marylanders.
If you are interested in becoming an Urban Planner in Maryland, you will face many challenges no matter where you work in the state. To discover how to become an Urban Planner in Maryland, keep reading.
Average Wages for Urban Planners in Maryland
Per the U.S. Department of Labor's Bureau of Labor Statistics (BLS), urban planners employed in Maryland in May 2019 earned an annual median wage of $78,280. Planners earning in the 75thpercentile made $96,530 per year. Urban planners earning in Maryland's 90thpercentile made an average of $110,500 annually. Depending upon where in Maryland you work your salary could be lower or higher than these averages, for example:
Baltimore $74,100
Columbia $74,100
Salisbury $58,970
Towson $74,100
Planning Laws and Regulations in Maryland
In Maryland, planning and zoning authority is held by local jurisdictions. The law/regulation that drives planning with each local jurisdiction differs depending upon the categorization of the county. Charter counties are governed by Local Government Article, while non-charter counties/municipalities are governed by Division I, Land Use Article. Prince George's and Montgomery Counties are governed by Division II, Land Use Article. Non-charter counties in Maryland include Somerset, St. Mary's, Calvert, Carroll, Washington and Garrett.
The state of Maryland's legislature must adopt a local comprehensive plan and implement the state's 12 planning visions. They must also make sure to maintain consistency between local land use regulations and the comprehensive plan. The 12 planning visions that the state must include in all planning are:
Quality of life and sustainability
Public participation
Growth areas
Community design
Infrastructure
Transportation
Housing
Economic development
Environmental protection
Resource conservation
Stewardship
Implementation
Resource Conservation in Maryland
Many people think of the Chesapeake Bay when they contemplate Maryland's natural resources. There are many other natural resources that must be protected in the state, however, when it comes to planning and land use. Effective land use planning includes taking into account the environmental effects of storm water and wastewater runoff on rivers, estuaries and streams. Furthermore, it ensures that farmland and forest land is protected, that communities are protected from environmental impacts, that greenhouse gas emissions are reduced, that air pollution is reduced and that solid wastes are minimized and handled properly.
Chesapeake Bay Program
Maryland is part of the Chesapeake Bay Program, a program involving other states and agencies including Pennsylvania, Virginia, District of Columbia, Chesapeake Bay Commission, Environmental Protection Agency, and citizen advisory groups. The Maryland Planning Commission works within the Chesapeake Bay Program to make sure that state and regional policies support smart growth and reflect land use and demographic data and forecasts.
Forest Resource Planning
Planning in Maryland is also concerned with protecting forest lands and trees. Planners designate arrest to protect, decide how to limit development rights in those designated areas, and decide how to preserve trees during development. Planners are also concerned with urban tree canopy planning, which helps to reduce the heat effect in cities and increases property values.
Maryland's Barrier Islands
Just as Virginia has them, Maryland has some small barrier islands off its coast. These barrier islands are long islands made up of unconsolidated sediment. Maryland has fewer than Virginia, with just part of Assateague Island, which is shares with Virginia, and Fenwick Island, which is shared with Delaware. Still, these islands pose unique challenges to urban planners due to their constant movement and shape changing. Maryland's barrier islands are largely protected, but there are parts that are tourist attractions and draw millions of visitors annually.
Maryland's Undergraduate Urban Planning Degree Programs
Although a graduate degree is the ultimate goal for urban planners in Maryland, you must first earn an undergraduate degree in a related area. Examples of potential choices include:
Morgan State University, Baltimore – Bachelor of Science in Architecture & Environmental Design
Coppin State University, Baltimore – Bachelor of Science in Urban Studies
Frostburg State University, Frostburg – Bachelor of Science in Urban & Regional Planning
Salisbury University, Salisbury – Bachelor of Science in Urban & Regional Planning
Maryland's Graduate Urban Planning Degree Programs
There are a variety of accredited urban planning graduate programs in Maryland. You should choose one that is accredited by the   Planning Accreditation Board (PAB) of the American Planning Association, such as:
Morgan State University, Baltimore – Master of City & Regional Planning
Department of Graduate Built Environment Studies, School of Architecture & Planning
1700 E. Cold Spring Lane
CBEIS 104
Baltimore, MD 21251
Accreditation through December 31, 2022
Siddartha Sen, Acting Director
443.885.1864; crep@morgan.edu
University of Maryland at College Park – Master of Community Planning
School of Architecture, Planning & Preservation, Urban Studies & Planning Program
3835 Campus Drive
College Park, MD 20742
Accreditation through December 31, 2020
Casey Dawkins, Director
301.405.2158; dawkins1@umd.edu
Professional Certification for Urban Planners in Maryland
American Institute of Certified Planners (AICP)
The American Planning Association-Maryland Chapter urges Urban Planners in the state to seek professional certification. To do so you must pass an examination administered by the  American Institute of Certified Planners (AICP).  Most planners take this test after earning their graduate degree and working professionally for at least two years. .
The AICP exam is given at Prometric testing centers in Maryland like:
4301 Garden City Drive, Hyattsville
6304 Woodside Court, Columbia
8120 Woodmont Avenue, Bethesda
1501 South Clinton St., Baltimore
AICP Certification Maintenance in Maryland
Every two years, you must complete 32 certification maintenance (CM) credits, including 1.5 CMs in Planning Laws and Planning Ethics.  Use the CM Credit Search on the APA Maryland Chapter's website to find applicable CM activities. They are sponsored by agencies such as:
APA Maryland Chapter
Chesapeake Bay NERR-Maryland
Maryland Association of Counties
Maryland Chapter ASLA
Maryland Department of Planning
Maryland State Bar Association
Preservation Maryland
University of Maryland
Western Maryland Info Exchange
Other Professional Certifications for Urban Planners in Maryland
You may choose to become certified by other planning certification organizations, such as:
Job and Career Prospects for Maryland Urban Planners
In your Maryland graduate urban planning program, you might be given the chance to fulfill an internship requirement. If so, be sure to take advantage of this opportunity, as it can help you to network and build relationships that can be beneficial to finding a job after graduation. Maryland students have interned and conducted research at places such as:
National Center for Smart Growth Research and Education
Program for Action Learning in Sustainability
S. Economic Development Administration University Center
Urban projects that have recently been begun or completed in Maryland include:
Riverfront at West Hyattsville Metro
Project C.O.R.E. in Baltimore
Urban Reconstruction Program statewide
Urban Planning Jobs in Maryland's Public Sector
The following urban planning jobs in Maryland's public sector were recently advertised:
Facilities Planner – National Security Agency, Fort Meade
Planner – City of Frederick
Planner II – Anne Arundel County
Deputy Director of Planning and Zoning- Howard County
Advanced Planner- State of Maryland, Baltimore
Urban Planning Jobs in Maryland's Private Sector
The following urban planning jobs in Maryland's private sector were recently advertised:
Urban Planner II – AECOM, Germantown
Planner – Maryland-National Capital Park and Planning Co., Upper Marlboro
Planner/Project Manager – Ayers Saint Gross Inc., Baltimore
Senior Transit Planner- Jacobs, Baltimore
Traffic/Transportation Engineer – Futures Consulting, LLC, Silver Spring
Urban Planning and Real Estate Forecast for Maryland
The National Association of Realtors notes that in 2018, the real estate industry made up 21.8 percent, or $89.9 billion, of Maryland's gross state product. Maryland's real estate market has been in an upward trend for the past few years, and experts expect that to continue. Median home prices are around $300,000. As more affordable housing is being constructed in urban areas of Maryland, work for urban planners in those parts of the state is expected in increase. There should also be ample upcoming opportunities for planners to work in planning to protect Maryland's valuable natural resources, while preventing urban sprawl into protected rural areas of the state.
Additional Urban Planning Resources in Maryland