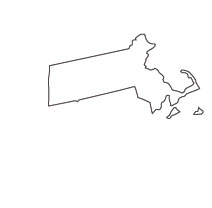 Massachusetts has the nation's third-highest per capital income. Economic activity in the state is concentrated in high tech sectors, finance, health care and venture capital investment, which is closely tied with planning and development. Massachusetts was home to 12 Fortune 500 companies as of 2015, and named the "Most Innovative State in America" by Bloomberg.
Massachusetts is a state comprised of a mixture of urban, suburban and rural lands. As of 2013, according to Mass Audubon, 21.8 percent of the state's land had been developed; 25.2 percent of the land is permanently protected, and 53 percent of the state's land is still available, neither developed nor protected. From 2005 to 2013, 13 acres of land per day were being developed in the state. Areas that were considered "hot spots" for development during that time were Ayer, Hudson, Northborough, Wareham, Carver, Lynnfield, Plainville, Dracut, Methuen, and Plympton.
Mass Audubon says that 54 percent of the state's unprotected land is considered to be of high conservation value. They advocate planning land use in Massachusetts to maintain a strong economy and a safe, healthy living environment for all residents.
Urban planners are a large part of this goal. If you would like to learn how to plan the usage of land in Massachusetts, to promote smart urban renewal and development and conserve unprotected lands, keep reading.
Wages for Urban Planners Working in Massachusetts
Per the Bureau of Labor Statistics (BLS) of the U.S. Department of Labor, as of May 2019, urban planners employed in Massachusetts averaged an annual median salary of $80,010.  Urban planners working in various parts of the state may earn higher or lower than the average salaries, as noted below:
Boston $81,050
Cambridge $81,050
Springfield $70,800
Worcester $79,820
Planning Regulations and Laws in Massachusetts
In Massachusetts, zoning and land use is regulated at the city, town and regional levels. Towns and cities may adopt ordinances in order to regulate land, building and structure use. Regions consist of towns and cities that have joined with other towns and cities to promote prosperity and development for that area.
One of the main components of regional planning in Massachusetts is Chapter 40B, Affordable Housing. This law promotes responsible housing growth by creating a streamlined permitting process for projects that use subsidized financing and accommodate lower-income residents. Passed in 1969, Chapter 40B has helped produce almost 70,000 affordable housing units, 35,000 of which are restricted to households that make under 80 percent of the area's median income.
Protecting Massachusetts' Natural Resources
Non-urban land use in Massachusetts is concentrated in agriculture and forest lands. Conservation is necessary to preserve and protect the soil water, air, plant and natural resources. The Massachusetts Bureau of Planning, Design & Resource Protection works on planning and project management for the Department of Conservation and Recreation. They are involved in protection of natural, cultural and recreational resources in Massachusetts. This is achieved through Master Plans (primarily used for long-term planning and investment of recreational facilities) and Resource Management Planning (management of public lands based on an inventory and assessment of a property's environmental and recreational resources, its unique characteristics, and short- and long-term goals of parks, reservations and forests). They work along with the United States Department of Agriculture's Natural Resources Conservation Service for Massachusetts to achieve their goals.
Urban Renewal in Massachusetts
The Massachusetts Department of Housing and Community Development's Division of Community Services administers its Urban Renewal program. This program assists towns and cities in establishing Urban Renewal Plans and agencies. Under this program, urban renewal is designed to help redevelop and revitalize blighted, substandard and decadent open areas. These areas may be used for all sorts of purposes, including residential, commercial, business, industrial, recreational, governmental, education, hospital, and other uses. All Urban Renewal plans must be approved by DHCD. If the plan is passed, one of the actions that an Urban Renewal Plan may authorize is the taking of private property by eminent domain and disposition of that property to another private party for redevelopment.
Find Your Undergraduate Degree Program for Aspiring Massachusetts Urban Planners
You must eventually attain a graduate degree in urban planning if you want to get a prime job in Massachusetts in that field. This starts with finding an undergraduate degree that is compatible with your future plans. In a perfect world, your undergraduate program would be accredited by the    Planning Accreditation Board of the American Planning Association, but there are no such accredited undergraduate programs in Massachusetts.  Some alternatives that you might consider are:
Massachusetts Institute of Technology, Cambridge – Bachelor of Science in Planning (with specializations available in Urban and Environmental Policy and Planning, Regional Development and Public Policy, and Urban Society, History and Politics)
University of Massachusetts Boston – Bachelor of Arts in Environmental Studies and Sustainability
University of Massachusetts Amherst – Bachelor of Science in Sustainable Community Development or Bachelor of Science in Landscape Architecture
Identify Graduate Programs for Aspiring Massachusetts Urban Planners
Your graduate degree program in urban planning should be accredited by the  Planning Accreditation Board (PAB) of the American Planning Association). These Massachusetts programs hold such accreditation:
Harvard University – Master in Urban Planning
Graduate School of Design, Department of Urban Planning and Design
Gund Hall 312, 48 Quincy St.
Cambridge, MA 02138
Accreditation through December 31, 2026
Ann Forsyth, Program Director
617.496.3587; aforsyth@gsd.harvard.edu
Massachusetts Institute of Technology – Master in City Planning
School of Architecture & Planning, Dept of Urban Studies & Planning
77 Massachusetts Ave. – Room 7-337
Cambridge, MA 02139
Accreditation through December 31, 2020
Eran Ben-Joseph, Department Head
617.253.7305; duspinfo@mit.edu
Tufts University – Master of Arts in Environmental Policy & Planning; Master of Science in Environmental Policy & Planning
Graduate School of Arts & Sciences, Dept of Urban & Environmental Policy & Planning
97 Talbot Ave
Medford, MA 02155
Accreditation through December 31, 2025
Mary Davis, Chair
617.627.3394; mary.davis@tufts.edu
University of Massachusetts at Amherst – Master of Regional Planning
College of Social & Behavioral Sciences, Dept of Landscape Architecture & Regional Planning
210 Design Bldg, 551 N Pleasant St.
Amherst, MA 01003-2901
Accreditation through December 31, 2026
Mark Hamin, Program Director
413.545.6608; mhamin@larp.umass.edu
Become a Professionally Certified Urban Planner in Massachusetts
American Institute of Certified Planners (AICP)
After you have received your graduate urban planning degree in Massachusetts and have worked in the field for about two years, you might consider becoming professionally certified. The American Planning Association-Massachusetts Chapter notes that professional certification for urban planners in Massachusetts helps them to attain better paying, more prestigious positions.  You must sit for the  American Institute of Certified Planners (AICP) exam. Your fundamental planning knowledge, knowledge of plan making and implementation, information on areas of practice, knowledge of leadership skills, and knowledge of the AICP Code of Ethics and Professional Conduct will all be tested via this exam.
Select a  Prometrictesting center in Massachusetts where you can sit for the AICP exam, such as:
Worcester – 67 Millbrook St.
Brockton – 1324 Belmont St.
Boston – 930 Commonwealth Ave.
West Springfield – 59 Interstate Drive
AICP Certification Maintenance in Massachusetts
Every two years, you must renew your certification in the AICP by completing 32 CM (certification maintenance) credits. The AICP Certification Maintenance Program will help you to find interesting activities and seminars that satisfy these requirements and are online or in your area.
More Certifications for Urban Planners in Massachusetts
You may also elect to become certified by organizations such as:
Jobs and Careers for Massachusetts Urban Planners
Planning Projects in Massachusetts
Planning projects currently underway in Massachusetts include:
Green Line Extension – an extension of the MBTA Green Line by the Massachusetts Department of Transportation
Route I-195 to Route 18 Interchange Rehabilitation in New Bedford – from Mt Pleasant St. to the Route 18 Interchange, first constructed in 1965, now under rehabilitation by the Massachusetts Department of Transportation
Concord Riverwalk – just completed by Massachusetts Smart Growth Alliance
Arborway Parkways Improvement Project – by the Massachusetts Department of Conservation & Recreation
Urban Planning Internships in Massachusetts
Your graduate urban planning degree program in Massachusetts will likely include an internship. Examples of urban planning internships that have occurred in Massachusetts include, but are not limited to:
Sasaki Associates, Watertown- Planning and Urban Design Interns
Consigli Construction Co, Inc., Boston – Sustainability Intern
Stantec, Boston – Urban Mobility/Transportation Intern
Perceptive Automata, Boston – Urban Planning Intern
Urban Planning Jobs in Massachusetts' Public Sector
Jobs in Massachusetts' public sector for urban planners may include:
Community Planning & Engagement Specialist- Town of Dedham
Transportation Planner – Massachusetts Department of Transportation, Boston
Regional Planner III – Department of Fish & Game, Westfield
Senior Community Development Planner – City of Newton
Regional Planner V – Department of Environmental Protection, Boston
Urban Planning Jobs in Massachusetts' Private Sector
Urban planning jobs that have been available in Massachusetts' private sector have included:
Sustainability Specialist – Capaccio Environmental Engineering, Inc., Marlborough
Environmental Planner – VHB, Watertown
Entry-Level Urban Planner – Sasaki Associates, Watertown
Planner II – Boston Planning & Development Agency, Boston
Associate Director of Mixed-Use Development – Michael Page, Cambridge
Outlook for Real Estate and Urban Planners in Massachusetts
The housing market in Massachusetts has been booming and is expected to remain so for the foreseeable future. As the unemployment rate remains lower than the national average, the housing market continues to experience shrinking inventory along with rising prices. This is good news for real estate developers in the state. It is also welcome news to those who wish to begin careers as urban planners in the state. The need is definitely there for those educated in the best ways to develop land of all types in Massachusetts, at the urban, suburban and rural levels.
Additional Urban Planning Resources in Massachusetts