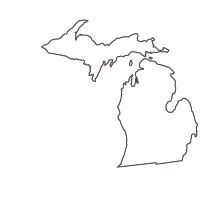 Michigan is one of the states that is seriously considering adopting solar power on a utility scale statewide. The land use impacts of this decision, however, are complicated, and most local governments do not yet have regulations in place to deal with solar power. Officials from the state as well as university researchers have compiled a database of solar and wind ordinances in Michigan to help local officials plan land usage incorporating them. Of Michigan's 1800 local governmental units, 280 have regulations on utility-scale solar development and 750 have regulations on utility-scale wind power. This presents challenges for urban planners and others who work with land use regulations in Michigan.
Known as the Great Lakes state, Michigan recorded a population of just under 10 million as of July 1, 2019. With a land area of 56, 538 square miles, this amounts to about 174.8 people per square mile. Urban sprawl is real, and not just a concept or idea, in Michigan. Planners are working towards downtown investment and moving people out of the urban areas into suburban and rural regions of the state.
These challenges, and more, are faced by urban planners in Michigan every day. If you think this sounds like interesting, appealing work, you should keep reading to find out what you need to study and how to prepare in order to become an urban planner in Michigan.
How Much Can I Expect to Earn as a Michigan Urban Planner?
Statistics published by the Bureau of Labor Statistics of the U.S. Department of Labor say that as of May 2019, the average urban planner employed in Michigan brought home an annual pay of $67,910. Those working in various cities and regions of the state made differing salaries, as seen below:
Dearborn $71,760
Detroit $71,760
East Lansing $70.110
Grand Rapids $62,360
Lansing $70,110
Warren $71,760
Wyoming $62,360
What Land Use Regulations Do Urban Planners in Michigan Need to Know?
Michigan was declared a "home rule" state in 1908. This concept states that local governments are best suited to make regulations and decisions to govern citizens at the local level. Following this logic, land use planning takes place in Michigan at the regional, county, township and/or municipal levels. Zoning occurs at the county, township and/or municipal level. There are more than 1800 units of local government within the state (including 1242 townships, 83 counties, and 14 regional planning commissions). The Michigan Zoning Enabling Act (MZEA) was adopted in 2006 and authorizes local governments to regulate land use.
Planning and zoning laws and ordinances are optional and voluntary for Michigan's municipalities. Following this, the Michigan Planning Enabling Act (MPEA) was passed in 2008. This act served to codify laws for counties, townships, cities and villages to plan land usage in Michigan. Under this act, if a municipality has a planning commission, it must adopt a master plan, which becomes the basis for land use and zoning ordinances in that municipality. The planning commission works closely with the zoning administrator to make sure that zoning ordinances within the municipality make sense. If they need changed, concerned citizens can bring the matter before the Zoning Board of Appeals (ZBA). These two entities (MPEA and MZEA) are designed to allow Michigan to not only regulate land use right now, but plan for the future as well.
As of 2007, 72 percent of Michigan's townships and 76 percent of its county governments had adopted a basic land use plan or master plan. Zoning ordinances have been adopted in 76 percent of Michigan's townships and 37 percent of its counties.
Placemaking is another term that is discussed when talking about land use and regulations in Michigan. According to the Michigan Townships Association, this involves building upon existing assets in both rural and urban communities to create communities that are more resilient and economically competitive. This is done through public and private improvements to attract new residents and businesses.
Natural Resources and Land Use Planning & Zoning in Michigan
Most Michiganites feel that their state's collection of natural resources is its most valuable asset. They must be taken into account when shaping planning and zoning regulations and ordinances in the state. Municipalities have incorporated information about natural resources into their land use plans and zoning ordinances, specifically on the following:
Agricultural
Wetland vegetation
Upland vegetation
Invasive plant species
Wildlife species
Invasive animal species
Endangered and threatened species
Geology
Surface water
Ground water
Soils
Land cover/land use
Topographic
Comprehensive green space map
Where Can I Find Urban Planning Education in Michigan?
Can I Earn an Undergraduate Urban Planning Degree in Michigan?
While you ultimately want to earn a graduate urban planning degree in order to work as an urban planner in Michigan, you must start by obtaining an undergraduate degree. It is best to choose a program accredited by the Planning Accreditation Board (PAB) of the American Planning Association. These programs hold such accreditation:
Bachelor of Science/Arts in Urban & Regional Planning- Eastern Michigan University
Bachelor of Science in Urban & Regional Planning – Michigan State University
Can I Attain a Graduate Urban Planning Degree in Michigan?
Once again, select a graduate urban planning degree program in Michigan accredited by the Planning Accreditation Board (PAB) of the American Planning Association. They include:
Michigan State University – Master in Urban & Regional Planning
School of Planning, Design & Construction, Urban & Regional Planning Program
552 W. Circle Drive
East Lansing, MI 48824
Accreditation through December 31, 2026
Zenia Kotval, Program Director
517.432.0704; kotval@msu.edu
University of Michigan – Master of Urban & Regional Planning
Alfred Taubman College of Architecture & Urban Planning; Urban & Regional Planning Program
2000 Bonisteel Blvd.
Ann Arbor, MI 48109-2069
Accreditation through December 31, 2022
Joe Grengs, Chair
734.763.1275; grengs@umich.edu
Wayne State University – Master of Urban Planning
College of Liberal Arts & Sciences, Dept. of Urban Studies & Planning
3198 Faculty/Administration Bldg., 656 W. Kirby
Detroit, MI 48202
Accreditation through December 31, 2024
Rayman Mohamed, Interim Chair
313.577.2701; rayman.mohamed@wayne.edu
Should I Become a Professionally Certified Planner in Michigan?
American Institute of Certified Planners (AICP)
There are many advantages to professional certification as an urban planner in Michigan. If you pursue certification offered through passing an examination given by the American Institute of Certified Planners (AICP), you will show potential employers and colleagues that you believe in the highest standards of practice, professional conduct, and ethics in the profession. You will also be keeping your skills sharp and updated. The test is given at the following Michigan Prometric test centers:
Grand Rapids 3910 Burton St. SE
Lansing 2500 Kerry Street
Marquette 153 West Washington St.
Sault Ste. Marie CCSS Testing Center
How Do I Maintain My AICP Certification in Michigan?
As mentioned above, becoming AICP certified indicates to colleagues and employers that your urban planning knowledge is consistently up-to-date. This is because you must fulfill 32 Certification Maintenance (CM) credits every two years in order to maintain your AICP certification. The Michigan Association of Planning website offers workshops and other events that help you to meet this requirement.
Are There More Certification Options for Michigan's Urban Planners?
You might also want to pursue certification through the following:
What Are Career Paths for Michigan Urban Planners?
Tell Me About Notable Urban Planning Projects in Michigan
Some outstanding planning projects in Michigan are:
Fitzgerald Revitalization Project- Detroit
Gordie Howe International Bridge – Detroit/Delray
Expansion of Motown Museum – Detroit
Historic Warehouses District Mixed-Use Master Plan – Grand Rapids
Downtown Retail Market Analysis/Revitalization – Allegan
Can I Find an Urban Planning Internship in Michigan?
Your university planning program should offer you the opportunity to complete an internship while you are a student. If not, you can always seek one out on your own, such as:
Planning Intern – Charter Township of Ypsilanti
Planning and Zoning Intern – East Bay Charter Township
Summer Planning Assistant- City of Big Rapids
What Urban Planning Jobs are in Michigan's Public Sector?
Professional planning jobs at Michigan's federal, state and local levels include:
Planning & Development Director – City of Alpena
Planner I/Zoning Administrator – Manistee County
Planner- City of Novi
Zoning Coordinator – Hamburg Township
Downtown Manager- City of Sault Ste. Marie
What Urban Planning Jobs are in Michigan's Private Sector?
Urban planners also work in Michigan's private sector, in jobs like:
Director of Business Development – MS2, Ann Arbor
Executive Director – Escanaba DDA
Housing Program Coordinator – Housing North, Petoskey and Harbor Springs
Project Designer- McKenna, Detroit, Grand Rapids and Kalamazoo
Does the Future Look Bright for Urban Planners in Michigan?
Michigan's State Housing Development Authority (MSHDA) has the responsibility for coordinating urban policy across the state. According toZillow, Michigan's home prices have risen by almost five percent in the past year. With the median home value in the state at $173,923, the real estate market is considered to be "very hot." Demand for homes in the state is expected to continue for the near future. Urban planners, likewise, should find that opportunities abound within Michigan. Urban planners in Michigan will work closely with MSHDA to collaborate for the good of Michiganites living in all areas of the state.
Are There More Michigan Urban Planning Resources I Can Check Out?