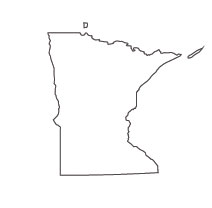 According to CityLab.com, a planning website, as of 2019, the metropolitan area of Minneapolis-Saint Paul Minnesota has one of the highest location quotients for urban planning jobs in the country. This means that this metropolitan area has more jobs for urban planners than the national average. It stands to reason that Saint Paul would have more urban planning jobs than other cities within Minnesota, as capital cities tend to employ more urban planners, especially within the public sector, and Saint Paul is the capital of Minnesota.
Another urban planning feat within the great state of Minnesota is the town of Hopkins, a community west of Minneapolis. In 2019, it was named one of the Great Places in America by the American Planning Association because of The Artery, a pedestrian-bike-walking connection between the historic downtown area and the commuter area of the city. The redesign of The Artery came after years of planning within the community, creating cultural areas and opportunities for artistic gathering places along the way. Now, more people come into Hopkins via bicycle, and more bike parking has been created within all blocks of the downtown area.
Becoming an urban planner is an attainable goal if you know what type of education, degrees and certification you should pursue. If you would like to become an urban planner in Minnesota and learn how to create unique spaces such as The Artery in Hopkins, keep reading.
Median Wage for Urban Planners in Minnesota
The Bureau of Labor Statistics (BLS) of the U.S. Department of Labor notes that, as of May 2019, urban planners working in Minnesota earned an annual median salary of $80,680. Salaries for urban planners vary according to where in the state you work, as you will see below:
Bloomington $84,660
Duluth $66,920
Minneapolis  $84,660
Paul $84,660
Urban Planning Regulations and Laws in Minnesota
Cities and counties in Minnesota have authority through the state to regulate the use of land through comprehensive planning, zoning ordinances, and subdivision ordinances. Minnesota's planning laws and regulations have been criticized by the American Planning Association-Minnesota Chapter and others as being too permissive and vague or unclear. As of 2010, 85 counties within Minnesota have planning and zoning authority, and 96 percent of these have a comprehensive plan. Eighty-six percent exercise general zoning authority. Some of the comprehensive plans, however, are said by experts to not be comprehensive enough, as Minnesota has no real definition of what is needed in a comprehensive plan. Furthermore, they recommend a stronger relationship between planning and implementing tools such as zoning. The APA-MN Chapter recommends that the state develop a synthesized planning and zoning statute that reflects contemporary best practices.
According to the APA-MN, Minnesota law is less consistent when it comes to nonconformities in planning, dedication of open space, expiration of approved subdivision plats, and public hearing notice requirements. There is too little guidance on comprehensive planning and consistency between planning and zoning, as well as a lack of integration among statutes. The lack of transparency contributes to less public involvement in the planning process. The APA-MN notes that 40 percent of Minnesota's planners say that their work as a planner has been hindered by state statutes or rules that are outdated or unclear.
Shoreland Management Program
Minnesota has much shoreland. The Shoreland Management Program, under the Department of Natural Resources, resulted from the Shoreland Management Act of 1969. This act was brought about after increased shoreland development in the 1960s affected the shoreland's character, animal habitat, and water. The Act set forth statewide regulations guiding development along lakes and rivers through local zoning ordinances. It was designed to minimize the impact of development on water quality, lakeshore character and animal and marine life habitats.
Floodplain Management Program
Another initiative by the Department of Natural Resources is the Floodplain Management Program. While development within a floodplain is usually allowed, management helps to minimize risk from potential flood hazards. The local government at the city, unincorporated areas of county, and township levels works with landowners in flood-prone areas to minimize these risks.
Minnesota's Wild & Scenic Rivers Program
The Department of Natural Resources started the Minnesota State Wild & Scenic Rivers Program in 1973 to protect rivers that have scenic, natural, geographic, historic, recreational and cultural values. It identified the following six rivers that are protected under the program:
Mississippi River
Kettle River
Rum River
North Fork – Crow River
Minnesota River
Cannon River
Each river has its own management program that outlines its rules and goals. These rules are administered through local zoning ordinances that protect them from water pollution, erosion, and over-development.
Mississippi River Corridor Critical Area Program
The Mississippi River Corridor Critical Area Program (MRCCA) is a program of Minnesota's state, regional and local government that promotes the coordinated use of land planning and zoning regulations for the 72-mile stretch of the Mississippi River through 54,000 acres in Minnesota, covering 30 local jurisdictions. The Mississippi River was deemed a critical area in 1976 in order to protect its scenic, natural and cultural resources. Residential, commercial, recreational and industrial lands are contained within the MRCCA. Natural areas that are protected within the MRCCA include terrestrial flora and fauna, aquatic life, riparian zones, wetlands, floodplains, and bluffs.
Degrees for Would-Be Urban Planners in Minnesota
Urban Planning Undergraduate Degrees in Minnesota
Your undergraduate degree in urban planning is your first step along the pathway to becoming a Minnesota urban planner. While you should, if at all possible, choose a program accredited by the  Planning Accreditation Board of the American Planning Association, these programs do not exist in Minnesota. Programs that do exist and that have been recommended by the Association of Collegiate Schools of Planning (ACSP) are:
Bachelor of Science in Urban and Regional Studies- Minnesota State University, Mankato
Urban Planning Graduate Degrees in Minnesota
Fortunately, one urban planning graduate degree in Minnesota is accredited by the  Planning Accreditation Board (PAB) of the American Planning Association:
University of Minnesota, Minneapolis – Master of Urban & Regional Planning
Concentrations available: Environmental Planning, Housing & Community Development, Land Use & Urban Design, Transportation Planning, and self-designed concentrations
Humphrey School of Public Affairs, Urban & Regional Planning Program
301 19thAve South
Minneapolis, MN 55455
Accreditation through December 31, 2022
Ryan Allen, Director
612.625.5670; allen650@umn.edu
Securing Professional Certification as an Urban Planner in Minnesota
American Institute of Certified Planners (AICP)
The American Planning Association – Minnesota Chapter can help you navigate your way through professional certification by the American Institute of Certified Planners (AICP). This involves passing an examination, which is offered at these Prometric testing sites in Minnesota:
Duluth – 2200 London Road
Bloomington – Northland Center
Woodbury – 1811 Weir Drive
Rochester – 2001 2ndSt SW
The Minnesota Chapter offers AICP exam preparation webinars and sessions. workshop each year, usually in the fall. Exam prep resources offered by this chapter can be found here.
AICP Certification Maintenance in Minnesota
The AICP's Certification Maintenance program gives you opportunities to earn the necessary 32 CM credits every two years in order to maintain your certification. There are free webinars as well as paid sessions offered for credit.
Optional Certifications for Urban Planners in Minnesota
You can earn professional certification through organizations other than the AICP, such as:
Where to Find a Job as an Urban Planner in Minnesota
Notable Capstone Projects by Graduate Students
The University of Minnesota requires its graduate urban planning students to complete a Capstone Workshop project in lieu of an internship. Examples of recent and notable projects include:
Climate Change Adaptation Study for City of Minneapolis
Mississippi Riverfront: Indicators of Accessibility and Use
Transit-oriented Development in Minnetonka
Sharing to Grow: Economic Activity Associated with Nice Ride Bike Share Stations
Internships in Urban Planning in Minnesota
If, like the University of Minnesota, your graduate college urban planning program does not offer an internship, you can still seek out one on your own, such as:
Civil Engineering/Surveying Internship – Sambatek, Inc., Minnetonka
Planning Intern- City of Cottage Grove
Planning Intern – State of Minnesota
Planning Intern- City of Eden Prairie
Project Management Intern – Building Systems Holdings, Blaine
Public Sector Planning Jobs in Minnesota
Public sector jobs at the state, federal and county levels may be available in Minnesota, and may include:
Senior Transportation Manager – Ramsey County
Zoning Coordinator – City of Deephaven
Community Development Specialist – City of Champlin
Transit Operations Manager – City of Rochester
Zoning Administrator – Dodge County
Planning Jobs in the Private Sector in Minnesota
Private sector jobs in Minnesota may include:
Designer/Municipal Engineer – Landform Professional Services, LLC, Minneapolis, Elk River, Eagan
Municipal Planner – TKDA, Saint Paul
Planner – Northwest Associated Consultants, Inc., Minneapolis-Saint Paul
Senior Planner- University of Minnesota, Minneapolis
Urban Designer – DLR Group, Minneapolis
Prospects for the Real Estate Industry and Urban Planners in Minnesota's Future
During the past few years, the housing market in Minnesota has favored sellers, with prices up and demand small. It is predicted that the housing inventory will remain limited in Minnesota in the future, driving housing process higher. The overall median home price in the state increased by 8.2 percent over 2019's prices. As more people decide to move and put their homes on the market, the inventory will gradually increase, making buying a bit easier for Minnesotans.
Urban planners in Minnesota will have much to do as cities plan for the future, with many cities having 2040 plans in which they update comprehensive plans to incorporate future expectations.
Supplemental Resources for Urban Planners in Minnesota