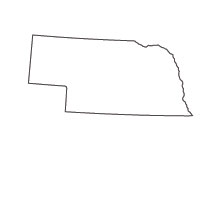 Per the 2010 census, about one percent of Nebraska's population consists of Native Americans. Just over 10,000 of these Native Americans reside on reservations in Nebraska and within two tribal service areas. Reservations in Nebraska include the Omaha Tribe of Nebraska, Santee Sioux Tribe of Nebraska, and Winnebago Tribe of Nebraska. Tribal service areas include the Oglala Sioux Tribe through the Chadron Native American Center Service Area, and the Ponca Tribe of Nebraska through Ponca Service Areas in Nebraska.
In 2018, the Nature Conservancy of Nebraska transferred 160 acres of Richardson County bluff land to the Iowa Tribe of Kansas and Nebraska. Both sides (tribe and conservancy) agreed to a conservation easement preventing development that would be incompatible with the land's ecological value. The land is sacred ground to the tribe and just a small part of a larger attempt by the tribe to purchase back more of its reservation lands.
Another interesting statistic about Nebraska is that 92 percent of its total land area is used by farms and ranches (per the Nebraska Department of Agriculture). Agriculture contributes over $25 billion annually to the state's economy. Additionally, Nebraska holds the record of being the only U.S. state that is triply landlocked—that is, one must pass through at least three states to reach a body of water.
As you can see, Nebraska has its own unique challenges and issues when it comes to land use and planning. Becoming an urban planner in the state involves learning about all of this and more, as you train to work in land usage and plan for the state's present as well as its future. If you would like to learn more about becoming an urban planner in the Cornhusker State, keep reading.
Compensation for Nebraska's Urban Planners
Statistics offered by the Bureau of Labor Statistics of the U.S. Department of Labor say that urban planners working in Nebraska as of May 2019 brought home approximately $63,650 per year. Those working in various cities across the state earned varying salaries, as you can see below (some city salary data is taken from Salary.com):
Bellevue $57,935
Council Bluffs $69,470
Grand Island $56,859
Lincoln $59,350
Omaha $69,470
Laws and Regulations Regarding Land Use and Planning in Nebraska
Nebraska is a state with a diverse landscape, made up of urban, suburban, rural, and tribal lands. It requires many people working together for the good of the state to plan for its present as well as its future.
Under Nebraska law, all incorporated municipalities and counties are granted the authority to create planning commissions. They are not required to do so, but have the authority should they wish to. Nebraska law also authorizes creating an inter-jurisdictional planning commission if a municipality has extraterritorial zoning jurisdiction that crosses a county line. A planning commission acts as a review and recommendation body only, and does not have independent authority over the implementation of the plans it helps to prepare.
If a jurisdiction has a planning commission, it must, by Nebraska law, also have a comprehensive plan. Within that comprehensive plan must be the following elements:
Land-use element that indicates proposed general location, distributions, and extent of uses for land for housing, agriculture, industry, commerce, education, recreation, public lands and buildings
General location, extent and character of existing/proposed roads
General location, type, area, and capacity of existing/proposed community facilities
Energy element assessing infrastructure and energy use by sector
Identification of sanitary and improvement districts, industrial tracts, subdivisions, commercial tracts etc. that may be appropriate for annexation in the future
Conservation Issues and Planning in Nebraska
Planners in Nebraska must also be concerned with conserving natural resources. According to the US Department of Agriculture, major land use natural resource concerns in Nebraska are erosion by wind and water, maintaining and enhancing soil quality, water quality and quantity, plant condition and health, and wildlife habitat.
Nebraska has become a leader in producing clean, renewable energy. In 2016, renewable resources accounted for 18 percent of the state's energy consumption. These include biofuels, biomass, geothermal energy, hydroelectric power, solar thermal and photovoltaic energy, and wind energy.
Education for Prospective Nebraska Urban Planners
Undergraduate Education for Prospective Nebraska Urban Planners
Although you will ultimately need a graduate degree in an urban planning-related area, you must start your education by obtaining an undergraduate degree. It is a good idea, if possible, to select a program that holds accreditation through the Planning Accreditation Board (PAB) of the American Planning Association. Nebraska has no such accredited undergraduate programs, however. One alternative is:
Bachelor of Multidisciplinary Studies in Urban Studies- University of Nebraska Omaha
Graduate Studies in Urban Planning in Nebraska
Nebraska does house a graduate urban planning program accredited through the Planning Accreditation Board (PAB) of the American Planning Association:
University of Nebraska Lincoln – Master of Community & Regional Planning
College of Architecture, Community & Regional Planning Program
304 Architecture Hall
Lincoln, NE 68588-0105
Accreditation through December 31, 2025
Gordon Scholz, Program Director
402.472.9284; gscholz1@uni.edu
Certification for Nebraska Urban Planners
American Institute of Certified Planners (AICP)
Professional certification through the American Institute of Certified Planners (AICP) displays to the world that you possess the utmost standards and best, most up-to-date training in the urban planning field. To earn this certification, you must pass an exam. The exam is offered at this Prometrictest center in Nebraska:
Kearney – 1615 W. 24thStreet
Maintaining AICP Certification in Nebraska
In order to maintain your AICP certification, you must fulfill their requirement of completing 32 Certification Maintenance (CM) credits every two years. The American Planning Association – Nebraska Chapter can assist you in finding conferences, webinars and events to fulfill this requirement.
Other Certifications for Urban Planners in Nebraska
There are other planning certifications offered for Nebraska urban planners, such as:
Working in Urban Planning in Nebraska
Projects in Urban Planning in Nebraska
Planning projects may be in many various areas in Nebraska. Current ones include:
Lincoln South Beltway (part of 2020 Nebraska Surface Transportation Program)
Completion of flood control dam by Papio-Missouri River Natural Resources District Board of Directors
Bessey Woody Encroachment Project, Nebraska National Forest Project
Internships in Urban Planning in Nebraska
Colleges will usually offer students the chance to participate in an internship. If yours does not, you can always apply for one on your own, such as:
Environmental Sciences Intern – Olsson Students, Lincoln
Architectural Intern – McNeil, Omaha
Facilities Intern – Bryan Health, Lincoln
Summer Intern – Architecture – Lockwood, Andrews & Newnam, Inc., Omaha
Urban Planning Jobs in Nebraska's Public Sector
Urban planning jobs in Nebraska's public sector may include titles such as:
City Planner III, Choice Neighborhood Manager– City of Omaha
Planner I, Development Review–City of Lincoln
Planner I, Development Review- Lancaster County
Community Planner – Department of the Navy, Omaha
Urban Planning Jobs in Nebraska's Private Sector
Urban planning jobs in Nebraska's private sector might have job titles like:
Consulting Utility Forester – Davey Tree, Lincoln
Regional Planner – The Siouxland Interstate Metropolitan Planning Council, Sioux City
Urban Planner- RDG Planning & Design, Omaha
Prognosis for Nebraska's Urban Planning and Real Estate Industries
In 2019, real estate industry professionals say that home prices in Nebraska rose 6.8 percent over the previous year. They are expected to increase by another 3.1 percent in 2020. The median home price in Nebraska in 2019 was $164,700, which is $62,000 cheaper than the national median home price. Nebraska benefits from a lower-than-national-average unemployment rate, at 2.9 percent. Therefore, many are moving to Nebraska for its favorable economy and affordable housing. Urban planners can benefit from this as well, as more people moving into a state equals more planning work for them.
Additional Urban Planning Resources in Nebraska