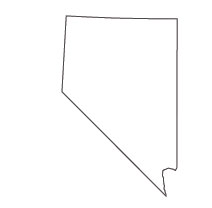 As of 2019, Nevada has the most jobs available, per capita, for Urban Planners. Using data provided by the Bureau of Labor Statistics of the United States Department of Labor, the career website Zippia.com noted that there were 26 jobs available for Urban Planners in Nevada in 2019, and called Nevada the best state for Urban Planners in the nation.
Nevada is home to Las Vegas County, the fastest-growing metropolitan area in the United States. This area provides the perfect illustration of urban sprawl. In 1950, for example, Las Vegas housed just under 25,000 people. Today, the area's population, including tourists and year-round residents, tops one million individuals. The urbanization of Las Vegas County has changed its landscape as well, with forests and agricultural land being displaced by concrete and asphalt. The urban landscape of the area today includes casinos, amusement parks, and hotels that are entertainment parks in their own right.
Nevada is unique to the United States in that it consists of almost 86 percent federally-managed lands. When it was admitted to the Union in 1864, Nevada's Constitution included an Ordinance allowing federal control of unappropriated land. Today, most of Nevada's counties have less than 25 percent of land area available for economic development on private lands. All of these aggregated facts present one-of-a –kind challenges to today's Urban Planners working across the state.
Nevada Urban Planner Salaries
The Bureau of Labor Statistics notes that in May 2019, Urban Planners in the state of Nevada averaged an annual median wage of $83,870. Those earning in the 75thpercentile made $98,200, while those in the 90thpercentile earned an average of $112,640. Within Nevada's busiest areas, Urban Planners earned:
Henderson $87,820
Las Vegas $87,820
Nevada nonmetropolitan area $77,850
Paradise $87,820
Reno $76,260
Nevada Urban Planning Laws and Regulations
Nevada adopted its first state planning laws in 1921. In 2013, the state revised its requirements for Master Plans, also known as Comprehensive Plans. Under Nevada Revised Statutes (NRS), Planning Commissions must be established to adopt Master Plans in communities. These must be applied when a county has over 40,000 in population, or a city has over 25,000. Based on an area's population, certain elements must be addressed within a Master Plan, including:
Conservation
Historic preservation
Housing
Land use
Public facilities and services
Recreation and open space
Safety
Transportation
Additionally, counties with less than 100,000 in population must include an above-ground utility plan of public facilities and services. If a county has over 100,000 in population, it must address conservation, housing, population plan of public facilities and services, and an above ground utility plan of public services and facilities. If a jurisdiction has over 700,000 in population, all of the elements of the Master Plan listed above must be addressed.
Master plans typically have four components: community profile, survey of existing conditions, master plan elements (enumerated above), and action/implementation section.
Nevada State Land Use Planning Agency
The Nevada State Land Use Planning Agency  assists local governments and represents the state in all land use planning. It is designed to help develop and update county-level plans and plans in which local government agencies must work with lands managed by the federal government. As mentioned before, Nevada has the unique distinction of having the most federally-managed lands of any state, at almost 86 percent. The Nevada State Land Use Planning Agency will prepare Public Land Policy Plans to work with federal, local and state governments regarding lands that are federally managed in the state.  They work in conjunction with the Bureau of Land Management, US Department of Energy, US Department of Defense, US Forest Service, US Bureau of Reclamation, US Fish and Wildlife Service, and US Bureau of Indian Affairs.
Nevada Revised Statutes
Nevada Revised Statutes (NRS) have been updated and amended with certain provisions governing planning in the state. For example, Titles 20 and 21 include chapters that establish rules for counties and laws for cities such as Winnemucca, West Wendover, Mesquite, Lovelock, Fernley, Fallon and Ely, and powers that are shared between chartered and general law cities such as Yerington, Wells, Sparks, Reno, North Las Vegas, Las Vegas, Henderson, Elko, Carson City, Carlin, Caliente, and Boulder City. Title 22 Chapter 278 covers Planning and Zoning and includes the Southern Nevada Regional Planning Coalition, the Truckee Meadows Regional Planning Agency, City and County Planning Commission, Subdivision law, and Tahoe Regional Planning Agency.
Zoning is covered under NRS 278.250, a law that grants authority to local governments in Nevada to implement zoning to divide a region, county or city into zoning districts that go along with the area's Master Plan. Each area has discretion in the contents of the zoning laws based upon the area's:
Compatibility of land uses with military installations
Protection of existing neighborhoods and communities, including historic and rural preservation neighborhoods
Immediate and long-range financial impact
Development commensurate with character and physical limitations of the land
Timely, orderly and efficient transportation network
Conforming with adopted population plan
Protection of property and life from natural hazards
Recreational needs
Solar access, wind energy and use of materials to increase building energy efficiency
Conservation of open space and protecting natural and scenic resources
Adequate affordable housing supply
Air and water quality
Health and general welfare
Nevada Uniform Conservation Easement Act
The Uniform Conservation Easement Act (NRS 111.390-111.440) limits government or charitable organization property owners in order to protect or retain open spaces, natural or scenic land; assure that property will be available for agricultural, recreational, open space or forest use; protect natural resources; maintain or enhance air or water quality; or preserve historical, archaeological, architectural, cultural, or paleontological aspects of land or property.
Nevada Undergraduate Urban Planning Degree Programs
Becoming an Urban Planner in Nevada starts with obtaining a Graduate Degree. It is recommended by national planning organizations, such as the Association of Collegiate Schools of Planning (ACSP), the American Planning Association (APA), and the American Institute of Certified Planners (AICP) of the APA that your undergraduate degree be accredited by the   Planning Accreditation Board (PAB). However, Nevada has no PAB-accredited undergraduate degree programs in Urban Planning. Instead, consider programs such as these to provide the foundation for the next step of your Urban Planning education:
University of Nevada, Las Vegas – Bachelor of Science in Urban Studies
University of Nevada, Las Vegas – Bachelor of Landscape Architecture
Nevada Graduate Urban Planning Degree Programs
Urban Planners working in Nevada are expected to hold graduate degrees in their field. Once again, experts advise that you seek out a graduate Urban Planning degree program accredited by the PAB. Nevada, however, houses no such programs. Suggestions are that you look, instead, at neighboring states, such as Arizona, Oregon, Utah or California, for graduate programs that are PAB accredited. Examples of PAB-accredited schools within these states are:
Arizona State University, Tempe- Master of Urban & Environmental Planning
College of Liberal Arts & Sciences, School of Geographical Sciences & Urban Planning
975 S. Myrtle St., P.O. Box 875302
Tempe, AZ 85287-5302
Accreditation through December 31, 2023
Deirdre Pfeiffer, Program Director
480.965.7533; deirdre.pfeiffer@asu.edu
University of California, Irvine – Master of Urban & Regional Planning
School of Social Ecology, Dept. of Urban Planning & Public Policy
300 Social Ecology 1 Building
Irvine, CA 92697-7075
Accreditation through December 31, 2021
Virginia Parks, Chair
949.824.4384; vparks@uci.edu
Portland State University, Portland – Master of Urban & Regional Planning
College of Urban & Public Affairs, Nohad A. Toulan School of Urban Studies & Planning
P.O. Box 751
Portland, OR 97207-0751
Accreditation through December 31, 2020
Aaron Golub, Director
503.725.4069; agolub@pdx.edu
University of Utah, Salt Lake City – Master of City & Metropolitan Planning
College of Architecture & Planning, Department of City & Metropolitan Planning
375 S. 1530 Room 235
Salt Lake City, UT 84112-0370
Accreditation through December 31, 2021
Stacy Harwood, Chair
801.581.6384;harwood@arch.utah.edu
Professional Certification to Become an Urban Planner in Nevada
The American Planning Association- Nevada Chapter advises  Urban Planners to seek professional certification offered by the American Institute of Certified Planners (AICP).  It is achieved through passing an examination. Earning these credentials will help you to gain more job opportunities and show that you uphold the professional and ethical standards of the profession.
Professional certifications also offered by other certification agencies include:
American Institute of Certified Planners (AICP)
The AICP certification exam is offered twice yearly (in November and May) at Prometric testing centers across the country. Information that the exam covers includes:
Fundamental Planning Knowledge – 25 percent
Plan Making & Implementation – 30 percent
Areas of Practice – 30 percent
Leadership, Administration and Management – 5 percent
AICP Code of Ethics and Professional Conduct – 10 percent
Maintaining Your AICP Membership in Nevada
The Certification Maintenance (CM) program of the AICP helps you to find continuing education credits to fulfill the requirement of 32 credits every two years. Examples of recent events that provide credit in Nevada include:
Water Rights in Nevada – Reno
APA Nevada Chapter 2019 State Conference – Sparks
Nevada Zombie Foreclosures – online
Nevada Water Innovation Campus- Reno
Career Paths and Jobs for Urban Planners in Nevada
With Nevada's unique status of having more than 85 percent of its land federally controlled, jobs are many and varied for Urban Planners across the state. Whether you choose to work in the public sector, private sector, nonprofit, or a mixture of these, you should be able to find a fulfilling career path in Urban Planning in Nevada.
Recent urban planning projects in Nevada have included:
Cashman Complex in Las Vegas – this multi-use facility for conventions, events, exhibitions, soccer and meetings spans 50 acres in the downtown area and is being reconfigured
Las Vegas Stadium– future home of the NFL Raiders team, slated for completion by July 2020
Renova Flats – on Reno's Fourth Street corridor, a market-rate housing project
Connecting Nevada – by the Nevada Department of Transportation, a 50-year plan for Nevada's long-term transportation needs
Urban Planning Jobs in Nevada's Public Sector
Public sector positions in Urban Planning that were recently posted include:
Senior Planner – Clark County Comprehensive Planning Department, Las Vegas
Community Planner – US Navy, Fallon and Hawthorne
FEMA Environmental Planner – Carson City
Assistant Planner – City of Reno
Urban Planning Jobs in Nevada's Private Sector
Private sector urban planning positions that were posted recently include:
Junior/Mid Environmental Planner – Redhorse Corporation, Reno
Transportation Planner – GEODIS, Sparks
Planning Technician – Vision Technologies, Las Vegas
Senior Planner – Chromalloy, Carson City
The Outlook for Real Estate and Urban Planning in Nevada
According to the National Association of Realtors, in 2018, Nevada's real estate industry accounted for $33.2 billion, or 20 percent of the state's gross product.  Realtor.com predicts that the housing market will decline in the Las Vegas metropolitan area in 2020, with home prices falling.  However, the real estate market is expected to remain steady over the next five years.
Kiplinger predicts that in 2020, job growth in Nevada will be at two percent, which is one percentage down from 2019's three percent job growth. Still, the state's economy continues to thrive, they say, with a continuing construction boom in Las Vegas and southern Nevada. Tesla and Panasonic are building a multi-billion-dollar battery factory called the Gigafactory in Reno which will also aid the state's overall growth. Visitors continue to return to Las Vegas and spend tourism dollars. The addition of the state's football stadium in Las Vegas, soon to be home to the NFL's newly renamed Las Vegas Raiders, will also boost Nevada's economy in 2020, Kiplinger's experts predict.  All of these factors add up to good news for aspiring Urban Planners who plan to work in Nevada.
Additional Urban Planning Resources in Nevada