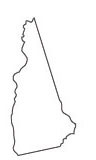 Per the New Hampshire Office of Strategic Initiatives, as of 2010 the population of New Hampshire was 1,316,470. By 2040, the state's population is expected to climb to 1.4 million, an increase of 8.8 percent from 2010's total. Counties that are projected to see the most population growth include Grafton, Belknap, Hillsborough, Merrimack, Rockingham and Strafford. This growth makes the job of urban planners even more vital to the future success and development of New Hampshire. Urban planners will enable New Hampshire's population to live in harmony, safety and smart growth.
Urban planners who wish to work in New Hampshire will face their own challenges and issues, of course. Although planning is fairly standard statewide, 19 communities in Grafton and Coos Counties lack traditional zoning ordinances. Pittsburg and Clark do not have Planning Boards. Some communities without zoning ordinances do have Zoning Boards of Adjustment to address appeals regarding floodplain development, telecommunications and drinking water protection.
Currently, the most prevalent planning and development method used by New Hampshire's communities are signs. Almost all communities that have zoning ordinances have adopted sign ordinances to regulate type, size, lighting and content. There are many updates that are needed to planning and zoning regulations and standardization across New Hampshire. Working in urban planning in the state will present you with unique challenges and, likely, frustrations. If you feel that you are up to these challenges, keep reading to discover how you can become an urban planner in New Hampshire.
What Can I Expect to Earn as an Urban Planner in New Hampshire?
According to the United States Department of Labor's Bureau of Labor Statistics (BLS), urban planners employed in the state of New Hampshire earned an average annual salary of $65,990 as of May 2019. Those working in various cities statewide earned salaries that were higher or lower than this average, as you can see below (some salary information is from Salary.com):
Concord: $63,240
Derry: $65,497
Manchester: $64,710
Nashua: $81,050
What Laws and Regulations Shape Land Use and Planning in New Hampshire?
Under New Hampshire Revised Statutes (RSA 9-A:1), the State of New Hampshire is required to have a comprehensive state development plan. This plan must address state policy on development within the state and provide a basis to identify issues, allocate critical resources, and determine state priorities while merging with plans of other state, regional, and local government units. The plan must be updated every five years.  Certain elements must be contained with the State Comprehensive Plan, such as:
Overall vision section
Land use section
Transportation section
Public facilities section
Housing section
Economic development section
Natural resources section
Natural hazards section
Recreation section
Utility/public service section
Regional concerns section
State policies/actions to protect cultural/historic resources section
Implementation section
Additionally, New Hampshire has nine regional planning commissions, each of which must prepare a comprehensive master plan for its region and update the plan every five years. Over 90 percent of New Hampshire's 234 municipalities are voluntary members of one of the nine regional planning commissions. The nine regional planning commissions are:
North Country Council
Lakes Region Planning Commission
Upper Valley Lake Sunapee Regional Planning Commission
Southwest Region Planning Commission
Central New Hampshire Planning Commission
Southern New Hampshire Planning Commission
Nashua Regional Planning Commission
Rockingham Planning Commission
Strafford Regional Planning Commission
Municipalities must have master plans in order to adopt growth management.
Conservation Land Stewardship Program
New Hampshire also has a Conservation Land Stewardship Program (CLS),  run by the state's Office of Strategic Initiatives. Started in 1993, the program helps to protect over 100,000 acres of New Hampshire land through conservation easements. The program includes both state-held conservation easements and municipal-held conservation easements and fee-owned properties. Additionally, there are lands that are state fee-owned managed by New Hampshire Fish & Game and state fee-owned lands managed by DNCR's Division of Forest and Lands. A map of the lands included in the CLS may be found here.
How Can I Become Educated as an Urban Planner in New Hampshire?
Is There Undergraduate Urban Planning Education in New Hampshire?
Begin your journey towards becoming an urban planner in New Hampshire by earning an undergraduate degree. If at all possible, choose a program that is accredited by the Planning Accreditation Board (PAB) of the American Planning Association. Unfortunately, New Hampshire houses no such undergraduate programs. Instead, consider these New Hampshire programs related to urban planning:
Bachelor of Science in Community & Environmental Planning- University of New Hampshire
Bachelor of Science in Environmental Planning – Plymouth State University
Is Graduate Urban Planning Education Available in New Hampshire?
New Hampshire does not have a  Planning Accreditation Board (PAB) – accredited graduate urban planning program. Consider these accredited programs in nearby Massachusetts:
Harvard University – Master in Urban Planning
Graduate School of Design, Department of Urban Planning and Design
Gund Hall 312, 48 Quincy St.
Cambridge, MA 02138
Accreditation through December 31, 2026
Ann Forsyth, Program Director
617.496.3587; aforsyth@gsd.harvard.edu
Massachusetts Institute of Technology – Master in City Planning
School of Architecture & Planning, Department of Urban Studies & Planning
77 Massachusetts Ave. – Room 7-337
Cambridge, MA 02139
Accreditation through December 31, 2020
Eran Ben-Joseph, Department Head
617.253.7305; duspinfo@mit.edu
Tufts University – Master of Arts in Environmental Policy & Planning; Master of Science in Environmental Policy & Planning
Graduate School of Arts & Sciences, Department of Urban & Environmental Policy & Planning
97 Talbot Ave
Medford, MA 02155
Accreditation through December 31, 2025
Mary Davis, Chair
617.627.3394; mary.davis@tufts.edu
University of Massachusetts at Amherst – Master of Regional Planning
College of Social & Behavioral Sciences, Department of Landscape Architecture & Regional Planning
210 Design Building, 551 N Pleasant St.
Amherst, MA 01003-2901
Accreditation through December 31, 2026
Mark Hamin, Program Director
413.545.6608; mhamin@larp.umass.edu
Should I Seek Professional Certification as a New Hampshire Urban Planner?
What is the American Institute of Certified Planners (AICP)
The American Institute of Certified Planners (AICP) offers urban planning professional certification to qualified individuals. Earning this certification, which requires passing an examination, shows the world that you are trained to the highest standards, qualities and ethics in the field. You may take the exam at these Prometric test centers in New Hampshire:
Concord – 2 Whitney Road
Portsmouth- 100 Arboretum Drive
How Can I Maintain My AICP Certification in New Hampshire?
Once certified by the AICP, you must earn 32 Certification Maintenance (CM) credits every 24 months in order to maintain it. The American Planning Association – Northern New England Chapter offers opportunities such as the following to help you earn these credits:
Maine Association of Planners Annual Meeting – Augusta, ME
Pop-Up and Other Fun Planning Experiments – Concord, NH
Vermont Walk/Bike Summit – Middlebury, VT
Are There Alternate Certifications for Urban Planners in New Hampshire I Can Pursue?
Yes, other organizations offer planning certifications for New Hampshire urban planners, including:
How Can I Get Started in The Business of Urban Planning in New Hampshire?
What Are Some Notable New Hampshire Planning Projects?
Planning projects exist all across the state of New Hampshire. Outstanding ones include:
State Airport System Plan
Congestion Mitigation and Air Quality Status Report
New Hampshire's Statewide Freight Plan
Gorham, NH, Where Trails Begin 2020 Master Plan
Are Urban Planning Internships Available in New Hampshire?
As there are no urban planning educational programs in New Hampshire, you might need to seek out your own internship opportunities. Examples include:
Surveying Intern – WSP USA, Merrimack
Experience Design Infrastructure Intern – Autodesk, Manchester
Emergency Management Intern – City of Nashua
Intern Transportation Engineering/Planning- City of Portsmouth
GIS Summer Intern – City of Nashua
What Urban Planning Jobs Are Available in New Hampshire's Public Sector?
Jobs in the public sector may be at the federal, state and local/regional levels, and in New Hampshire, may include:
Planner – Town of Hanover
Emergency Management Coordinator – City of Manchester
Assistant Public Works Director – City of Lebanon
Recreation & Parks Planner- City of Lebanon
Building Inspector – City of Claremont
What Urban Planning Jobs Are There in New Hampshire's Private Sector?
Jobs in New Hampshire's private sector may include:
ECS Program Planner II – BAE Systems, Nashua
FEMA Disaster Recovery Specialist – iParametrics, Portsmouth
Architecture Historians FEMA Disaster Response Support- Dewberry
Roving Conservation Trail Crew- Appalachian Mountain Club, Gorham
State Government and Community Relations Advisor- TC Energy, Concord
What is the Outlook for Urban Planning and Real Estate in New Hampshire?
As of November 2019, the New Hampshire Housing Finance Authority reported that New Hampshire was a seller's market, with rising home prices, home demand, and low interest rates benefiting home sellers. The state was seeing a low inventory of homes with prices under $300,000, and a median home sale price of $300,000, the highest ever recorded in New Hampshire. These trends are expected to continue, bolstering New Hampshire's real estate industry and making sure that there will be plenty of work for the state's urban planners for some time to come.
Are There More Urban Planning Resources in New Hampshire I Can Check Out?