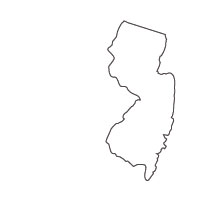 According to the New Jersey Regional Plan Association, New Jersey is the most densely populated state in the United States. Its more than eight million residents live in New Jersey's cities, suburbs and rural communities, packed into the state's 7354 square miles of area. The US Census Bureau notes that, as of 2010, there were 1195 residents per square mile living in New Jersey. That's a lot of people packed into a fairly small area, and presents unique challenges for urban planners working in New Jersey.
The Census Bureau also notes that much urban redevelopment is ongoing in New Jersey. Eight urban centers accounted for 18.6 percent of New Jersey's population growth statewide from 2010 to 2018 (they are Atlantic City, New Brunswick, Camden, Trenton, Elizabeth, Paterson, Jersey City and Newark). During that same time, the entire population of the state grew by just 1.3 percent. Population growth in New Jersey continues to be concentrated within the state's cities, towns and older suburban downtown areas. There are 124 municipalities in New Jersey that score well on New Jersey Future's metrics of compact, walkable urbanism – that is, having a mixed-use center, having local street network density and having net activity density. These areas account for almost 71 percent of the state's population growth since 2010.
All of these factors taken together point to urban areas continue to grow and thrive in New Jersey, spelling out continued work opportunities for urban planners in the state. If you want to know how to become an urban planner in New Jersey, please keep reading.
Urban Planning Salary in New Jersey
The Bureau of Labor Statistics (BLS) of the U.S. Department of Labor notes that as of May 2019, urban planners working in the state of New Jersey earned an average annual salary of $72,730. Those employed in some of New Jersey's biggest cities made salaries that varied from the median, as you can see below (some city data is provided by Salary.com):
Allentown/Bethlehem/Easton PA-NJ $79,860
Elizabeth $69,980
Jersey City $79,550
Newark $79,550
Paterson $70,655
Planning Regulations and Laws in New Jersey
New Jersey's Department of State Office of Planning Advocacy is responsible for the State Plan. The State Plan coordinates planning activities and objectives in land use, housing, transportation, economic development, agriculture and farmland retention, natural resource conservation, urban and suburban redevelopment, recreation, public facilities and services, historic preservation, and intergovernmental coordination. Under 1985's State Planning Act, the State Development and Redevelopment Plan (its full title) is the culmination of the statewide planning process, with input from the public, state agencies, and municipal, county and regional governments.
Municipal Planning
New Jersey's municipalities regulate their own building and construction projects via municipal land uselaws. Each municipality is responsible for enforcing regulations based on zoning, the environment, water, safe roadways, compatible land uses, adequate public facilities, and impacts to property values and taxes. All Municipal Master Plans must contain the following elements:
Statement of purpose
Land Use element
Housing Plan element
Relationships with other plans
Optional elements that may be in a Municipal Master Plan include:
Conservation element
Cultural resources element
Infrastructure evaluation
Economic growth
Technology needs
Recycling efforts
All master plans must be reexamined every six years, to reflect a community's current conditions and visions. They must be reviewed, re-presented and re-adopted by the municipal Planning Board.
Environmental Capacity-Based Planning in New Jersey
The State of New Jersey Department of Environmental Protection also involves itself in planning and sustainable communities. They work with other agencies to ensure that the state's environmental limits and opportunities for growth are met when planning land usage throughout the state. This involves water quality management, the Statewide Water Supply Master Plan, and the Landscape Project.
Because New Jersey is a coastal peninsular state, coastal planning is also part of this process. New Jersey has more than 200 miles of coastline from the waterfronts of northern New Jersey to the estuary of the Delaware Bay. Planning in these areas addresses and protects the special natural resources that are contained there. Coastal Zone Management Rules were put into place to ensure that these areas are preserved and protected when it comes to planning purposes.
Choose an Undergraduate Degree Program in Urban Planning in New Jersey
Although your ultimate goal in your quest to become an urban planner in New Jersey is to obtain a graduate degree, you must start with an undergraduate degree. It is recommended that you find a program that is accredited by the   Planning Accreditation Board, but New Jersey has no accredited undergraduate programs. Alternatives include:
Rutgers, the State University of New Jersey – Bachelor of Science in Urban Planning & Design
Montclair State University – Bachelor of Arts in Geography with Urban Studies minor
Pick a Graduate Degree Program in Urban Planning in New Jersey
Once again, it is suggested that you choose a graduate urban planning program that holds accreditation by the  Planning Accreditation Board (PAB) of the American Planning Association). In New Jersey, there is one such program:
Rutgers, the State University of New Jersey – Master of City and Regional Planning
Edward J. Bloustein School of Planning & Public Policy, Urban Planning and Policy Development Program
33 Livingston Ave, Suite 300
New Brunswick, NJ 08901-1987
Accreditation through December 31, 2021
Kathe Newman, Program Director
848.932.2799; knewman@rutgers.edu
Seek Professional Urban Planner Certification in New Jersey
State Board of Professional Planners
New Jersey is the only state that requires licensure of urban planners. The State Board of Professional Planners is responsible for regulation of the planning profession in New Jersey. Licensure is attainable through completing the Application for a License to Practice as a Professional Planner. Once you have completed the application, be sure to have it notarized and include the filing fee (listed on the application) payable via check or money order to the State of New Jersey. You must pass a professional state examination in order to become licensed. State licenses are valid for two years and must be renewed at that time. No continuing education credits are necessary to renew your state license.
American Institute of Certified Planners (AICP)
The American Planning Association-New Jersey Chapter advocates professional certification for urban planners in New Jersey.  This is accomplished through passing the  American Institute of Certified Planners (AICP) exam.
The AICP exam covers the following areas:
25 percent is on Fundamental Planning Knowledge:

History of planning
Foundational legal principles/decisions
Theories on planning
Patterns of human settlement
Statutory basis of planning
General terminology
Natural, social and economic systems
Core values of planning

30 percent is on Plan Making and Implementation:

Conducting research and getting knowledge
Spatial analysis
Public engagement
Communication
Preparing to plan
Formulating plans and policies
Plan implementation
Monitoring and assessing
Project program management
Social justice

30 percent is on Areas of Practice:

Comprehensive and sectoral planning
Community and neighborhood planning
Current planning
Sustainability planning
Transportation planning
Infrastructure planning
Hazards, mitigation, resiliency planning
Environmental and natural resources planning
Economic development planning
Urban design
Housing planning
Parks, rec and open space planning
Historic and cultural resources planning
Institutional planning and siting
Food planning
Health planning
Rural and small town planning

5 percent is on Leadership, Administration and Management:

Leadership
Managing external relationships
Internal organizational management
Technology and related applications

10 percent is on AICP Code of Ethics and Professional Conduct:

Section A: aspirational principles
Section B: rules of conduct
Section C, D, E: Procedural provisions
Choose a Prometric testing centers in New Jersey to take the AICP exam:
Hamilton Township – 1 AAA Drive
Laurel Springs – 1381 Chews Landing Road, Bldg. 5
Clark- 100 Walnut Ave
AICP Certification Maintenance in New Jersey
The AICP Certification Maintenance Program helps you to maintain your AICP certification. Be sure to take32 CM credits every two years to maintain your AICP certification.   The CM Search database helps you to discover interesting CM activities in your area.
Other Certifications for Urban Planners in New Jersey
There are other professional urban planning certifications you may decide to undertake, like:
Urban Planning Jobs and Careers in New Jersey
Planning Projects in New Jersey
Recent planning projects that have been planned or begun in New Jersey include:
Bergen County Parks Master Plan
Perth Amboy 2ndStreet Park: Brownfields to Waterfront Park
Hackensack River Regional Planning- connecting communities along a river corridor
Urban coastal protection, Bayonne
Teaneck Creek Conservancy Wetlands
Urban Planning Internships in New Jersey
Most urban planning degree programs will offer you real-life work experience through an internship. Examples of internships in New Jersey have been:
H2M Architects Engineers, Parsippany-Troy Hills
Kitchen and Associates – Collingswood
Novo Nordisk – Plainsboro Township
North Jersey Transportation Planning Authority – Monmouth and Union Counties
Edgewood Properties – South Plainfield
WSP-Morristown
Public Sector Urban Planning Positions in New Jersey
Urban planning careers in the public sector in New Jersey may have titles such as:
Planner- Middlesex County, New Brunswick
Project Manager- City of Jersey City
Senior Planner- New Jersey Transit, Newark
Senior Planner- City of Jersey City
Private Sector Urban Planning Positions in New Jersey
Urban planning careers in the private sector in New Jersey may have titles like:
Community Resilience and Mitigation Planner – Tetra Tech, Morris Plains
Director, Urban Design and Planning- Spiezle Architectural Group, Inc., Camden
Principal Planner, Corridor Studies – New Jersey Institute of Technology, Newark
Senior Planner – H2M Architects Engineers – Parsippany
Forecast for Real Estate and Urban Planners in New Jersey
Home prices in New Jersey continue to rise, with the median home value now $324,700. They rose by 5.9 percent in 2018, and are expected to continue to rise. The shortage of housing inventory creates higher demand and higher prices in the state's real estate market.
Urban planners in New Jersey will continue to face challenges as urban areas are in redevelopment and with the ongoing dilemma of where to fit the increasing cities' populations. If your goal is to become an urban planner in New Jersey, your time is now!
Additional Urban Planning Resources in New Jersey