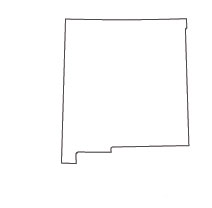 Per CityLab.com,the metropolitan area of Albuquerque, New Mexico has more jobs for urban planners than the average city in the United States.  In fact, the city offered almost twice the national average of urban planning jobs as of October 2019.
Why is Albuquerque such a hotbed for urban planning jobs? It is home to the only graduate urban planning degree program in the state (at the University of New Mexico). Planning in this city is focused on hot topics such as sustainability and preserving the natural environment. According to city statistics, Albuquerque's population as of July 2018 is just over 560,000. The Bureau of Labor Statistics of the US Department of Labor (BLS) notes that the entire state of New Mexico experienced the eighth highest job growth (for all occupations, not just urban planning) of all states, at 2.4 percent in 2018.
Urban planners ensure that New Mexico's urban, suburban and rural living spaces are planned in efficient and thoughtful ways to preserve the natural environment as well as humanity. Long-range planning is currently ongoing in metropolitan areas across the state, to ensure responsible urban spread both now and in the future. Planning must be a continuous process that guides development, redevelopment, and investment of New Mexico's resources into communities, cities and counties to promote a better quality of life, land use and infrastructure for all of the state's citizens.
If you want to work as an urban planner in New Mexico, you should know what type of education and experience you will need to succeed in this exciting, challenging profession. You, too, can become one of the strategizers and arrangers of New Mexico's beautiful landscapes. Keep reading to discover how you can become a planner in New Mexico.
New Mexico Salary for Urban Planners
The BLS points out that, as of May 2019, New Mexico had the fourth highest concentration of jobs for urban planners of all states (behind Hawaii, Vermont and Washington). There were 540 urban planners employed in New Mexico at that time, earning an average annual salary of $58,240. Urban planners working in other parts of New Mexico made the following average wages:
Albuquerque $57,570
Las Cruces $49,680
Santa Fe $55,380
Northern nonmetropolitan area $57,650
Eastern nonmetropolitan area $47,810
New Mexico Laws and Regulations Regarding Urban, Rural and Suburban Planning
Zoning and land use laws in New Mexico are regulated at the local level, by municipalities. While not required by state law, municipalities and counties are encouraged to develop comprehensive plans to address land use, water, transportation, economic development, and infrastructure.
 State Trust Lands
The State Land Office is New Mexico's main state-level department that is responsible for working with over 100 municipalities and 32 counties that have trust lands. New Mexico State Trust Lands benefit public schools, universities and special schools, and can accommodate the needs of nearby communities.  The office tries to make money on these lands while still preserving their natural resources.
Most state trust lands lie within the Permian Basin (which is rich with oil) and the San Juan Basin (which is rich with gas). This, along with revenue from nonrenewable resources, creates royalties that the state uses to help New Mexicans. Revenues from renewable resources are paid directly to beneficiaries of the fund. Over the past two decades, trust lands have generated over $4 billion to New Mexico education and generated revenues of $8 billion for the Land Grand Permanent Fund.
Bureau of Land Management
The New Mexico State Office of the Bureau of Land Management is responsible for planning land use of 13.4 million acres of public lands and 26 million acres of federal mineral resources throughout New Mexico, Texas, Oklahoma and Kansas. Areas included in these lands which have Resource Management Plans are:
Carlsbad
El Malpais National Conservation Area (NCA)
Farmington
Fort Stanton-Snowy River NCA
Kasha Katuwe-Tent Rocks
Mimbres
Prehistoric Trailways
Rio Puerco
Rosewell
Socorro
Special Status Species
Taos
White Sands
New Mexico 2040 Transportation Plan
Recently, the New Mexico Department of Transportation published its 2040 Plan, designed as a long-range, multi-modal transportation plan for the state's future. It was designed to improve the safety of everyone using the transportation system, preserve and maintain transportation assets for the long term, provide multi-modal access and connectivity for communities, and respect the state's history, environment, quality of life and cultures. The plan is also designed to coordinate with regional, metropolitan and local transportation plans to improve statewide efficiency of transportation systems.
Currently, New Mexico's existing transportation system consists of:
147,600 miles of highways
4000 bridges and culverts
26 scenic byways
32 rest stops/areas
34 nationally designated scenic, historic and recreational trails
2055 miles of railroad right of way
One commuter rail service
Two interstate rail routes
10 regional park and ride routes
One interstate bus service provider
17 fixed route transit systems
26 demand response transit systems
17 para transit providers
Many miles of sidewalk
61 public use airports (nine have scheduled passenger service)
Cited in the report are anticipated challenges that the New Mexico Department of Transportation will face over the next 25 years. This includes:
An aging population – having to respond to the changing needs of older travelers/users of transportation system
Changing amount of vehicle miles traveled – possibly lowering due to urbanization and increased use of telecommuting and public transportation
Changing lifestyles- as population of New Mexico continues to shift from rural areas to cities, mixed-use approaches to transportation are developing
Growing freight demand and needs
Declining revenue of the transportation systems in New Mexico
Technology and changes it brings
Land use coordination (including sustainability, access to public transit)
Extreme weather events and water availability
New Mexico Urban Planning Degree Programs
New Mexico Undergraduate Urban Planning Degree Programs
Before you can become an urban planner in New Mexico, you must earn an undergraduate degree. It is highly recommended that you find a program that is accredited by the  Planning Accreditation Board of the American Planning Association. New Mexico, unfortunately, houses no such programs. Other viable options that could also prepare you for step two, the graduate program, include:
Bachelor of Arts in Environmental Planning – University of New Mexico
Bachelor of Science in Geography – New Mexico State University
New Mexico Graduate Urban Planning Degree Programs
As mentioned above, step two of your educational journey on the way to becoming an urban planner in New Mexico is to earn your graduate degree. This New Mexico program is accredited by the  Planning Accreditation Board (PAB) of the American Planning Association:
University of New Mexico – Master of Community & Regional Planning
Concentrations Available in community development, indigenous planning, natural resources & environmental planning, and physical planning & design
School of Architecture & Planning, Community & Regional Planning Program
MSC04 2530
1 University of New Mexico
Albuquerque, NM 87131-0001
Accreditation through December 31, 2021
Renia Ehrenfeucht, Chair
505.277.2168; rehrenfeucht@unm.edu
Dual degrees are also available: MCRP and Master of Arts in Latin American Studies; MCRP and Master of Public Administration, and MCRP and Master of Water Resources
New Mexico Planning Certification
American Institute of Certified Planners (AICP)
The New Mexico chapter of the American Planning Association recommends professional certification for all urban planners statewide through the American Institute of Certified Planners (AICP). This is attained through passing an examination. The exam is administered at these Prometric testing sites in New Mexico:
Albuquerque – 8801 Jefferson St.
Santa Fe – 720 St. Michael's Drive
Roswell – 52 University Blvd.
Las Cruces – 3291 Del Ray Blvd.
Farmington – 4601 College Blvd.
AICP Certification Maintenance in New Mexico
Once you have achieved AICP certification, you must maintain it by taking 32 Certification Maintenance (CM) credits every two years. Ethics and current planning law must account for three of these credits. Activities that do not count for CM credit include mentoring, volunteering, APA business meetings, and teaching for money. For more information on what activities do qualify for CM credit, contact the New Mexico chapter of the APA.
Further Certifications Available to New Mexico Urban Planners
The AICP is the most popular certification for New Mexico urban planners, but it isn't the only one. Other agencies that provide certification include:
Employment Opportunities for Urban Planners in New Mexico
Exceptional Planning Projects Statewide
There have been some impressive planning projects throughout New Mexico, such as:
The New Mexico 2040 Plan – by the New Mexico Department of Transportation, plans for future infrastructure multi-modal transportation needs and how to meet those needs
Xcel Wind Farm – in Roswell County, designed to power 194,000 homes in the eastern area of the state
New Mexico Main Street Program – run by the New Mexico Economic Development Department and designed to create business districts statewide while preserving historic and cultural resources
Internships for Aspiring New Mexico Urban Planners
You might get matched to an internship while working on your graduate degree in urban planning. If not, fear not, as organizations such as these have been known to take on interns:
Rural Sourcing Inc. – Albuquerque
Bernalillo County Government- Albuquerque
Wilson & Co. Inc. Engineers & Architects – Las Cruces
Raytheon – Las Cruces
Johnson & Johnson Family of Companies – Albuquerque
Urban Planner Jobs in New Mexico's Public Sector
Public sector urban planner jobs are available at the federal, state, city and county levels in New Mexico. They may include:
Senior Planner – City of Albuquerque
Planner – City of Las Cruces
Metropolitan Planning Organization Planner- Northwest New Mexico Council of Governments, Farmington
Municipal Planner III – City of Rio Rancho
MPO Associate Planner – City of Farmington
Urban Planner Jobs in New Mexico's Private Sector
Urban planner jobs within New Mexico's private sector may include:
Executive Director – Railyard Park Conservancy, Santa Fe
Cultural Environmental Planner – Wilson & Co., Inc., Engineers & Architects – Albuquerque
University Planner- University of New Mexico, Albuquerque
Project Engineer- Precision Construction, Los Lunas
New Mexico's Urban Planning and Real Estate Forecast
According to NeighborhoodScout.com, the median home value in New Mexico as of 2019 was $177,995. The top ten appreciating cities for homes in the state were: Tatum, Tohatchi, Navajo, Jal, Artesia, Loving, Hobbs, Vanderwagen, Thoreau and Lovington.
Home sales were down a bit in 2019, according to the New Mexico Association of Realtors, but were still higher than every other year since 2008. Lower interest rates and a better statewide economy are expected to keep home sales on the rise in New Mexico.
Urban planners in New Mexico should expect opportunities to continue, as more and more New Mexicans move from rural or suburban areas to larger cities. This migration, which is expected to continue, will present new challenges for New Mexico's urban planners.
Other Resources for New Mexico's Urban Planners