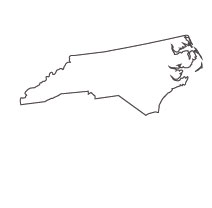 According to CityLab.com, as of 2019, the Durham-Chapel Hill area of North Carolina is the fifth most popular metropolitan area in the United States in which urban planners can find jobs. Its location quotient is 2.2, meaning that there are at least 50 percent more urban planners working there than in the average U.S. city. Between 2014 and 2019, the article goes on to say, there was a 20.5 percent increase in the number of urban planning jobs in the Durham-Chapel Hill metropolitan area.
Urban planning in the state of North Carolina has a long and storied history. Colonial towns in the late 1700s were typically laid out in a rectangular grid style, facing the waterfront. Raleigh, the capital city of North Carolina, on the other hand, was still a grid designed city but also had a central square housing the capitol building, as well as four additional squares in the city.
North Carolina's early planners planned communities that included mill villages, suburbs and resort towns. Early planned communities in the state included Biltmore Village, a residential/business area designed specifically for Biltmore Estate workers; and Pinehurst, a resort town. Planning for these areas occurred in the late 1800s.
By the early 1900s, the City Useful movement had begun, emphasizing well-planned streets within cities as well as efficient and economical city governments and reasonable land development. In North Carolina, cities such as High Point, Durham and Asheville were developed during this time.
Today, the state of North Carolina still faces planning challenges as urban sprawl continues. This creates many dilemmas and solvable problems for urban planners who choose to work in North Carolina. If you wish to become one of them and address the state's economic, environmental and social issues regarding urban planning, read on.
North Carolina Urban Planner Salaries
North Carolina has the fifth-highest employment level for urban planners in the United States as of May 2019, according to the Bureau of Labor Statistics (BLS) of the United States Department of Labor. The annual mean wage for urban planners in North Carolina at that time was $66,060, with 1490 people statewide working as urban planners. Throughout cities in North Carolina, urban planning salaries vary, as noted below:
Asheville $61,430
Chapel Hill $67,160
Charlotte $57,280
Concord $57,280
Durham $67,160
Fayetteville $53,570
Gastonia $57,280
Greensboro $62,380
High Point $62,380
Raleigh $68,610
Wilmington $53,530
Winston-Salem $47,960
Urban Planning Regulations and Land Use Laws in North Carolina
Within the state of North Carolina, local planning is mostly voluntary, unlike half the states in the nation in which planning is mandatory. There are some mandates for planning in North Carolina, however, such as:
Coastal Area Management Act in the 20-county coastal area (more on that below)
Planning by local governments for specific government functions like solid waste handling, city streets, and providing water for residents
Planning is being promoted more and more by North Carolina's legislature, as urban growth spurs higher costs for things like solid waste disposal, water quality and transportation. The state legislature is urging local governments to use planning to manage their own growth.
Local Plans in North Carolina
When they are created, local plans in North Carolina usually address topics such as:
Land use
Economic development
Infrastructure (including transportation and utilities)
Community development
Historic preservation
Environmental concerns
Land use and development plans may be created for a variety of reasons by cities and towns:
Comprehensive plan linked to a capital improvement program
Plan to influence patterns of development
Plan to acquire land
Plan to regulate division of land and construction of public improvements
Plans regulating use and development of land
Plans enforcing state building codes
Plans establishing property maintenance and public safety and health standards
Plans providing leadership and direction (i.e., assisting property owners, neighborhoods)
Plans providing financial incentive (i.e., housing rental subsidies, rehab grants for housing)
Coastal Area Management Act of North Carolina
The Coastal Area Management Act was passed by North Carolina's General Assembly in 1974. It states that North Carolina's coastal lands and waters are among its most precious resources and must be protected through a comprehensive plan. This plan is designed to protect, preserve, orderly develop, and manage coastal lands and waters of the state. Local governments in 20 coastal counties must prepare land use plans following guidelines published by the Division of Coastal Management of the North Carolina Department of Environment and Natural Resources.
Areas of Environmental Concern (AEC) were established under the Act, to designate areas that need particular attention. They include the ocean hazard system, the estuarine system, natural and cultural resource areas, and public water supplies. The Coastal Area Management Act of North Carolina was nationally recognized for being one of the first statewide systematic planning for local government land use that balances economic development, environmental protection, public use, safety and recreation in sustainable development.
Schooling for Urban Planners in North Carolina
Undergraduate Level Urban Planning Programs in North Carolina
If you wish to become an urban planner in the great state of North Carolina, you must start at the undergraduate level. You should choose an undergraduate urban planning program that holds accreditation through the  Planning Accreditation Board of the American Planning Association. One program currently holds this accreditation:
Graduate Level Urban Planning Programs in North Carolina
Once again, the graduate urban planning program you select should hold accreditation through the  Planning Accreditation Board (PAB) of the American Planning Association). This program in North Carolina has such accreditation:
The University of North Carolina at Chapel Hill – Master of City and Regional Planning
College of Arts & Sciences, Dept. of City & Regional Planning
New East Bldg., CB#3140
Chapel Hill, NC 27599-3140
Accreditation through December 31, 2021
Noreen McDonald, Chair
919.962.4781; noreen@unc.edu
Certification for Urban Planners in North Carolina
American Institute of Certified Planners (AICP)
The most common professional certification that urban planners in North Carolina seek after graduation and working in their field for a few years is through the American Institute of Certified Planners (AICP). Obtaining their certification entails passing an exam that will test your basic knowledge of urban planning, implementation, skills, practice, leadership, and ethics and professional conduct.  To prepare for this exam, consult the American Planning Association – North Carolina chapter's AICP Exam Review information. Many free study aids are available on their website.
You must take the AICP exam at a Prometric testing center in North Carolina, such as:
Raleigh – 3200 Spring Forest Road
Greensboro – 3 Centerview Drive
Greenville – 1011 W.H. Smith Boulevard
Charlotte – 2815 Coliseum Centre Drive
Wilmington – 4900 Randall Parkway
AICP Certification Maintenance in North Carolina
AICP's Certification Maintenance program ensures that you will fulfill the continuing education credits necessary to maintain your certification. This is done through earning 32 CM (certification maintenance) credits every two years. The annual conference of the North Carolina chapter of the APA is one event that counts for CM credit. To find other suitable events and activities, consult the CM search page on the AICP website.
Further Urban Planning Certifications Available in North Carolina
Other organizations that offer urban planning certifications include:
Urban Planning Careers in North Carolina
Notable North Carolina Planning Projects
Carolina Planning, Vol 31., No. 2 from Summer 2006, detailed the top 10 planning events in North Carolina from 1946 to 2006. Notable projects included:
Creation of a statewide GIS program
Capital City Greenway plan (Raleigh)
Establishment of Clean Water Management Trust Fund
First historic city zoning (Salem)
Construction of the Blue Ridge Parkway (from Shenandoah National Park in Virginia to the Great Smoky Mountains National Park in North Carolina and Tennessee)
Creation of Research Triangle Park (7000 acres of forest in Raleigh, Durham and Chapel Hill, with 1100 acres designated for development and home to over 135 companies in research and development)
North Carolina Urban Planning Internships
While you are in school in North Carolina studying urban planning, you will hopefully get a chance to participate in a paid or unpaid internship. In this way, you can gain valuable experience and make professional contacts that will be helpful to you in your career. Examples of urban planning internships in North Carolina have included:
Sustainability Intern – Barings, Charlotte
Student Intern in Civil Engineering– Stewart, Raleigh
Landscape Architecture Intern – Kimley-Horn and Associates, Inc., Raleigh and Charlotte
North Carolina Public Sector Urban Planning Jobs
There are a wide variety of public sector positions for urban planners in North Carolina, with titles such as:
Planner – City of Salisbury
Planner & Community Development Director – Pender County, Burgaw
Planner I – Town of Holly Springs
Community Planner (Transportation)- Federal Highway Administration, Raleigh
Planner – Cumberland County, Fayetteville
North Carolina Private Sector Urban Planning Jobs
The plethora of private sector urban planning jobs in North Carolina includes:
Zoning Administrator/Subdivision Agent – The Berkley Group, Northampton County
Land Planner/Urban Designer – McAdams Company, Durham
Project Manager/Land Planning- Commercial Site Design, Raleigh
Land Acquisition Director – Forestar Group, Morrisville
Civil Engineering Project Manager/Land Development – ColeJenest & Stone, Charlotte
North Carolina's Urban Planning and Real Estate Industry Outlook
According to NeighborhoodScout.com, since 2000 housing in the following cities have been appreciating the most:
Topsail Beach
Hot Springs
Wrightsville Beach
Asheville
North Topsail Beach
Zirconia
Mill Spring
Surf City
Camp Lejeune
Eure
The median home value in North Carolina as of January 2020 is $182,260. Home appreciation rates have increased by 5.26 percent over the past year. They are expected to continue to increase, spelling out good news for both the real estate industry and urban planners in the state of North Carolina.
Additional Urban Planning Resources in North Carolina