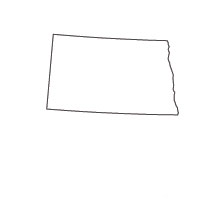 According to the North Dakota Department of Transportation, for a few decades, the population of North Dakota maintained relative stability, with a general pattern of migration from rural to urban areas. In recent years, however, due mainly to energy development in western North Dakota, this dynamic has changed. Rural areas that were once in decline are now exploding with population growth. This presents unique challenges for urban planners and those who develop transportation and land use policies in the state.
What is planning, and how can it help North Dakota to deal with these unprecedented challenges? Planning is undertaken by communities, counties and townships statewide, to improve the quality of life in these areas in the present and the future. It involves working together to balance competing interests, helps a jurisdiction to recognize its priorities, helps to set development policies, identifies positive and negative aspects within a jurisdiction, helps maintain a good quality of life within a jurisdiction, and gives residents power to shape their own futures.
If you would like to become an urban planner in North Dakota, you need to know what to study, what experience to obtain, and how to become certified. This document is designed to explain this process to you in detail. After reading this, you should be well-versed in becoming an urban planner in the Peace Garden State.
Earnings for North Dakota Urban Planners
Per the United States Department of Labor's Bureau of Labor Statistics (BLS), as of May 2019 urban planners working in North Dakota earned an annual median wage of $72,320. Those working in various areas of North Dakota earned wages higher or lower than average, such as (some city salary info is from Salary.com):
Bismarck: $57,118
Fargo: $72,430
Grand Forks: $53,521
Minot: $56,199
Laws and Regulations for North Dakota Urban Planners
In North Dakota, land is a key natural resources. Developing and managing that land is one of the main concerns of local jurisdictions. Legislation enables jurisdictions to be able to plan. In 1923, North Dakota enacted planning-enabling legislation for cities; in 1953, for townships; and in 1955, for counties. The North Dakota Century Code (NDCC) is the codification of all laws enacted in the state since its statehood. It contains this planning-enabling legislation, giving local jurisdictions the authority to plan and zone. It also gives counties and cities home rule authority to establish certain powers for themselves extending beyond the original authority of the state law.
Any North Dakota jurisdiction that wishes to use the enabling legislation must develop a Comprehensive Plan. This details the overall strategy for land development within that jurisdiction. Regulations must then be developed detailing the type of use, general standards, and locations or zoning regulations. Periodically, community plans and regulations must be updated to keep up with changes within a jurisdiction.
There are a few differences in planning among local government jurisdictions in North Dakota, including (but not limited to):
Counties are the only jurisdictions that must establish solid waste zoning ordinances
Townships do not have authority to regulate the subdivision of land, and may relinquish their zoning authority to the counties
Only cities may establish extra-territorial zoning and subdivision authority
Only cities may annex land
Only cities do not have the power to limit the ability to restrict land usage for farming or ranching
Land Use and Natural Resources in North Dakota
As mentioned above, land is one of North Dakota's prime natural resources. Usage of that land is a principal factor in planning in North Dakota. Land in North Dakota is usually used for cropland, range and pasture, and forestry. Concerns regarding land use natural resources include erosion by both wind and water, maintaining and improving soil quality, the quality and quantity of water, the condition and health of plants, and the habitats of wildlife.
Studying Urban Planning in North Dakota
Undergraduate Urban Planning Studies in North Dakota
North Dakota does not house an undergraduate degree program in urban planning that is accredited, as recommended, by the Planning Accreditation Board (PAB) of the American Planning Association. There are other alternatives, however, that will help you to get into a graduate urban planning degree program once completed:
Bachelor of Science in Geography – University of North Dakota
Bachelor of Science in Environmental Design – North Dakota State University
Graduate Urban Planning Studies in North Dakota
Although North Dakota does not house a  Planning Accreditation Board (PAB)–accredited graduate urban planning program, a neighboring state, Minnesota, has this one:
University of Minnesota, Minneapolis – Master of Urban & Regional Planning
Concentrations available: Environmental Planning, Housing & Community Development, Land Use & Urban Design, Transportation Planning, and self-designed concentrations
Humphrey School of Public Affairs, Urban & Regional Planning Program
301 19thAve South
Minneapolis, MN 55455
Accreditation through December 31, 2022
Ryan Allen, Director
612.625.5670; allen650@umn.edu
Becoming an AICP-Certified Urban Planner in North Dakota
American Institute of Certified Planners (AICP)
The American Institute of Certified Planners (AICP) provides qualified urban planners with credentials that display one's prowess, talents and ethics to the world. You must pass an examination in order to earn these credentials. That exam is offered at the following Prometric test center in North Dakota:
Bismarck-Mandan: 4503 Coleman Street
Maintaining AICP Credentials in North Dakota
You must take 32 Certification Maintenance (CM) credits every two years to keep your AICP credentials active. The North Dakota Planning Association offers a variety of ways to earn these credits, like these online webinars:
The Proximate Principal: The Impact of Parks and Open Space on a Community
Incorporating Health Into City and County Comprehensive Planning
What If We Built Bismarck Around Places? Placemaking as an Approach to Health, Vitality and Sustainability
Where We Live Makes a Difference: Toward Sustainable and Healthy Communities
Other Potential Certifications for Urban Planners in North Dakota
There are more organizations offering planning certifications for North Dakota urban planners, such as:
North Dakota's Urban Planning Business
North Dakota Urban Planning Projects
Each state has its own planning projects. North Dakota is no exception. Plans currently in the works or recently finished include:
City of Grand Forks Police Department Expansion
Ten Grand Commercial Complex in Grand Forks
I-84 Mandan to Bismarck Expressway Project
Williston Square Project in Williston
North Dakota Urban Planning Internships
It is always a good idea to find an internship, in which you gain practical experience putting what you have learned in the classroom to work in real life. Examples of urban planning internships in North Dakota include:
Morton County Soil Conservation District Summer Intern- Mandan
Summer Intern – Wanzek Construction, Fargo
Range Technician Intern – KLJ, Bismarck
Events Intern – Fargo Park District, Fargo
Environmental Technician Intern – KLJ, Bismarck
Construction Survey Intern – SRF Consulting, Fargo
Urban Planning Positions in North Dakota's Public Sector
North Dakota's public sector includes the federal, state and local levels of government. Potential planning positions within North Dakota's public sector may include:
Planner, Community Development – City of Grand Forks
State Archivist – North Dakota State Government, Bismarck
Seasonal Park Ranger- North Dakota State Government, Bismarck
Park Ranger- US Department of the Army, Riverdale
State Forests Specialist – North Dakota State University, Bottineau
Urban Planning Positions in North Dakota's Private Sector
Private companies also have many options for urban planners in North Dakota, such as:
Land Acquisition Specialist – White Wind Ventures, LLC, Bismarck
Land Surveyor I – Apex Engineering Group, Bismarck
Precision Agronomist – Farmers Edge, Williston
Watering Technician – KC Harvey Environmental, LLC, Bismarck
Land Surveyor, PLS – Ulteig, Williston
Prospects for Urban Planning and Real Estate in North Dakota
In 2016, the North Dakota Housing Finance Agency conducted a Statewide Housing Needs Assessment. It found that the state's population had grown by 13 percent from 2010 to 2015, outpacing the population growth of all 50 states in four years. By 2029, projections indicate that the state's population will grow by 21 percent, with the fastest growth occurring in Western North Dakota. Furthermore, in 2014, one-third of North Dakota's households were extremely or very low-income, and had problems finding affordable housing. It is anticipated that, with the projected growth in North Dakota, producing more affordable housing will be a prime concern. This helps prospective urban planners in North Dakota to know where to focus their efforts the most.
Further Urban Planning Resources in North Dakota