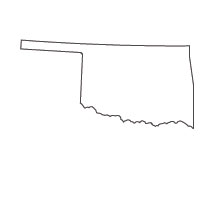 An unattributed quote referenced in the Oklahoma Planning Commissioners Handbook states, "if you don't know where you are going, you will probably end up where you don't want to be." This is the entire idea behind planning for land usage in Oklahoma. Planners must, among other things, decide how land will be used and for what purpose it will be used. They must take into account a number of factors when planning land usage, including economic development, community development, historical and cultural considerations, and the environment and natural resources.
In July 2019, the population of Oklahoma was just under four million. It has grown by 5.5 percent in the past nine years and this growth is projected to continue. The area of the state is 68,594 square miles, creating a population per square mile of 54.7 people as of 2010 per the US Census Bureau. As we will discuss below, Oklahoma City's population and area is ever increasing, in spite of smart growth attempts to contain it. Rural towns surrounding Oklahoma City are now not so rural anymore, becoming suburbs due to this growth and overflow.
Should you choose to become an urban planner in Oklahoma, you will face many dilemmas and issues such as these. It is a fascinating, challenging field that is not for the lazy or unambitious. If you feel that you have what it takes and want to discover how to become an urban planner in Oklahoma, read on.
Wages for Urban Planners in Oklahoma
The United States Department of Labor's Bureau of Labor Statistics (BLS) notes that in May 2019, urban planners employed in Oklahoma earned an annual median wage of $59,430. Various cities might offer their urban planners higher or lower salaries than this average, as you can see below:
Oklahoma City:  $61,130
Southeast nonmetro area:  $52,430
Tulsa:  $60,660
Land Use Laws and Regulations With Which Oklahoma Urban Planners Must Work
In the 1920s, the Standard Planning and Zoning Enabling Acts were developed nationally and adopted by many states. Oklahoma was one of the state adopting this act, authorizing municipalities to establish planning commissions and establish zoning and subdivision regulations. Oklahoma does not have statewide mandates for planning, however. In 1923, Oklahoma's legislature established the scope, procedures and limitations for planning within the state's municipalities. It did not mandate any rules or regulations that these municipalities must follow. Municipalities and counties must have comprehensive plans in order to enact zoning ordinances.
Smart Growth in Oklahoma
In recent years, Oklahoma's communities and planners have focused on "smart growth." This is designed to combat urban sprawl. It supports the idea of mixed land uses in communities, compact building design, offering a wide range of housing choices, providing neighborhoods that are walkable, and offering distinctive communities that have a strong sense of individuality. Additionally, it seeks to preserve open space, critical environmental areas, farmland, and natural beauty of land. It tries to utilize resources in existing neighborhoods and conserve open space. More transportation choices are provided under smart growth initiatives.
One city in Oklahoma that is experiencing problems with sprawl and trying to maintain smart growth is Oklahoma City. This city is 621 square miles in area, and is geographically larger than any Texas city. It ranks as the fourth largest city by size in the U.S. It is difficult for planners to control sprawl in a city of this size, when it might take a resident four transportation mode changes to reach their doctor's office.
Planners in Oklahoma City are striving to create smart, sustainable neighborhoods that will not further drain the city's resources. Smart growth principles can help the city continue to grow in the outlying areas and retain rural areas with larger acres available for housing.
New Urbanism in Oklahoma
Another idea that is fairly recent in the urban planning world is New Urbanism. This promotes creating and restoring diverse, compact, walkable mixed-use communities throughout Oklahoma. They create complete communities that offer housing, work, retail, entertainment, education, and parks and recreational facilities, all in easy walking distance of each other. The following are the main principles that planners utilizing New Urbanism follow:
Walkability
Connectivity
Mixed-Use
Diversity
Mixed Housing
Quality architecture and urban design
Traditional neighborhood structure
Increased density
Smart transportation
Sustainability
Improved quality of life
Learning Urban Planning in Oklahoma
Urban Planning Undergraduate Studies in Oklahoma
Before you can obtain your graduate degree, which is the ultimate goal in your education to become an Oklahoma urban planner, you must get an undergraduate degree. Unfortunately, Oklahoma is not home to an undergraduate urban planning degree program that is accredited, as encouraged, by the Planning Accreditation Board (PAB) of the American Planning Association. Alternatives that you should consider instead include:
Bachelor of Science in Geography – Oklahoma State University
Bachelor of Science in Public Administration – University of Central Oklahoma
Urban Planning Graduate Urban Studies in Oklahoma
Luckily, Oklahoma is home to a  Planning Accreditation Board (PAB)–accredited graduate urban planning program:
University of Oklahoma – Master of Regional & City Planning
College of Architecture, Division of Regional & City Planning
256 Gould Hall, 830 Van Vleet Oval
Norman, OK 73019-6141
Accreditation through December 31, 2022
Charles Warnken, Director
405.325.3871; cwarnken@ou.edu
Becoming a Credentialed Urban Planner in Oklahoma
American Institute of Certified Planners (AICP)
The American Institute of Certified Planners (AICP) provides the most well-respected and widely recognized credentialing for urban planners. In order to become AICP certified, you have to pass an examination. Take it at one of the following Prometric test centers in Oklahoma:
Lawton: 4202 SW Lee Blvd.
McAlester: 104 S. 3rd
Oklahoma City:3545 NW 58th
Tulsa: 3015 East Skelly Dr.
Maintaining AICP Credentials in Oklahoma
The AICP requires that you finish 32 Certification Maintenance (CM) credits every two years in order to maintain certification. The Oklahoma Chapter of the American Planning Association can help you find applicable events and classes to fulfill this requirement.
Additional Professional Credentials for Urban Planners in Oklahoma
There are more organizations offering professional credentialing for urban planners working in the state of Oklahoma, like:
Working in Urban Planning in Oklahoma
Noteworthy Urban Planning Projects Across Oklahoma
Planning projects that are in the works or recently completed in Oklahoma include:
Oklahoma Department of Transportation Eight-Year Construction Work Plan (statewide)
Oklahoma City Historic Preservation Plan
New infrastructure for Oklahoma City Zoo and Botanical Gardens
Will Rogers World Airport Terminal Expansion Project – Oklahoma City
Resource Management Plan for Oklahoma
Finding Internships in Urban Planning in Oklahoma
If your university or college program does not offer you an internship, seek out one on your own, such as:
Landscape Architecture Intern – C.H. Guernsey & Co., Oklahoma City
Urban Planning & Design Intern – Freese & Nichols, Inc., Tulsa
Intern- City of Oklahoma City
Engineering Intern – Carollo Engineers, Oklahoma City
Engineering Intern – Aguirre & Fields, Oklahoma City
Jobs in the Public Sector in Urban Planning in Oklahoma
The public sector in Oklahoma would include urban planning positions at the city, county and state levels and might include:
Assistant Planning Director – City of Bartlesville
Planner- City of Jenks
Transportation Engineer – City of Norman
City Planner – City of Owasso
Senior Comprehensive Planner – City of Oklahoma City
Jobs in the Private Sector in Urban Planning in Oklahoma
The private sector in Oklahoma includes urban planning jobs at non-profit corporations and companies like:
Transportation/ Community Outreach Planner- INCOG, Tulsa
Landscape/Architect Planner- C.H. Guernsey & Company, Oklahoma City
Field Technician – Health Consultants Incorporated, Oklahoma City
Project Manager Specialist – Kelly Services, Tulsa
Transportation Manager – Western Flyer Express, Oklahoma City
Probabilities for Urban Planning and the Real Estate Industry in Oklahoma
In 2018, the real estate industry in Oklahoma accounted for 13.3 percent of the state's gross product, or $26.5 billion, per the National Association of Realtors. In 2019, the median home value in Oklahoma was $137,400. Homes continued to increase in value and remain affordable to buyers. During that year, home sales had increased by 3.7 percent and were projected to continue to increase by 1.7 percent in 2020. All of these indicators look favorable for those wishing to work in urban planning in Oklahoma. This should ensure that there is plenty of work for planners in the state in the near future.
Extra Useful Urban Planning Resources in Oklahoma