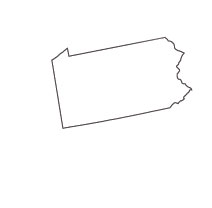 Planning has been important to Pennsylvania for hundreds of years. In fact, the city of Philadelphia, named after William Penn, was planned in 1683 as a utopian ideal, consisting of a grid of broad streets and designed to promote green urban living. This ideal guided the development of Philadelphia and other American cities which followed its model. Penn's idea was to make Philadelphia a great port city connected to the rest of the country by superhighways.
It might have taken a while, but Penn's vision has mostly been realized today. Urban planners have played a large part in creating cities like Philadelphia and planning Pennsylvania's suburban and rural areas as well. Philadelphia's latest development plan, called Philadelphia 2035, is a citywide vision by the Philadelphia City Planning Commission that aims to restore Penn's original goals.
With the right education and experience, you can become an urban planner and learn to plan cities, towns and rural spaces in the great state of Pennsylvania. If you would like to discover how you can do this, keep reading.
Urban Planning Salaries in Pennsylvania
The U.S. Department of Labor's Bureau of Labor Statistics (BLS) reports that urban planners employed in the state earned an average median wage of $67,330 as of May 2019.Of course, your salary can vary depending upon where in the state you work. For example, check out these average annual salaries for urban planners working in the following areas of Pennsylvania:
Allentown $79,860
Bethlehem $79,860
Carlisle $64,580
Easton $79,860
Hanover $56,830
Harrisburg $64,580
Hazleton $55,680
Lancaster $67,960
Philadelphia $79,760
Pittsburgh $65,240
Reading $50,910
Scranton $59,250
Wilkes Barre $59,250
York $59,250
Planning Regulations and Laws in Pennsylvania
Land use regulations were enacted in Pennsylvania in the 18th century, mainly to prevent the spread of fires. Examples of the regulations that were put into place at that time include a law that said one could not store more than 30 pounds of gunpowder within two miles of Philadelphia. Another law enacted at that time established setbacks, noting that a certain distance was necessary between a property line and a structure on that property in order to create enough distance between buildings to prevent the spread of fires.
Today, planning laws and regulations control the state's 67 counties and 2561 municipalities. As of 2015, 68 percent of all Pennsylvania's municipalities (totaling 1739) had zoning regulations, according to the Pennsylvania Department of Community and Economic Development. Of those municipalities with zoning ordinances, 137 did not have their own zoning ordinance but, rather, followed the regulations of their county. By 2015, 98.2 percent of the urban areas of Pennsylvania had zoning laws, while 68.9 percent of Pennsylvania's rural areas had zoning laws. Of course, it is expected that as development continues in the state, zoning laws will spread to more of the currently un-zoned regions.
Pennsylvania Municipalities Planning Code
Just as in many other states, the Pennsylvania General Assembly has left it up to local governments and municipalities to regulate land use. There are four major laws that govern land use in the state:
Pennsylvania Municipalities Planning Code
Pennsylvania Sewage Facilities Planning Act
Pennsylvania Storm Water Management Act
Pennsylvania Flood Plain Management Act
Under the Pennsylvania Municipalities Planning Code, each county must develop a comprehensive plan. Municipalities within each county are not required to adopt any planning or zoning laws. The only exceptions to this rule are the cities of Philadelphia and Pittsburgh, each of which has its own land use laws independent of the Municipalities Planning Code. Planning departments and planning commissions hold the responsibility for developing planning and zoning laws in Pennsylvania's municipalities.  Police in each municipality in the state are authorized to enforce land use regulations.
Philadelphia 2035
Philadelphia 2035 is the name of a comprehensive plan developed by the Philadelphia City Planning Commission (PCPC) in order to manage future development and growth in the city of Philadelphia. According to the PCPC, the population of Philadelphia is expected to grow from 6.3 million people to 7 million people between 2010 and 2035.  Philadelphia 2015 is designed to take into account feedback from citizens, businesses, institutions and city agencies in developing a plan for the city's future. The theme of the plan is Thrive, Connect, Renew. There are two phases to this plan:
Citywide Vision, which establishes broad planning goals, such as:

Improve livability of neighborhoods
Make Philadelphia more economically competitive
Capitalize on land assets in managing land use
Improve transportation
Adapt utilities to changing technology and consumption patterns
Increase access to open space
Meet federal environmental standards regarding resources
Preserve and reuse historic resources
Achieve excellence in designing the built environment of the city

District Plans, which are distinct plans for Philadelphia's 18 different planning districts:

Upper Far Northeast
Lower Far Northeast
Central Northeast
North Delaware
Lower Northeast
Upper North
Upper Northwest
Lower Northwest
North
River Wards
Lower North
West Park
West
Central
University Southwest
South
Lower Southwest
Lower South
Pursue Your Undergraduate Urban Planning Degree in Pennsylvania
Your first educational step towards becoming an urban planner in Pennsylvania is to obtain an undergraduate degree. The American Planning Association recommends programs that are accredited by the  Planning Accreditation Board . The following undergraduate planning degree program in Pennsylvania holds this accreditation:
Indiana University of Pennsylvania, Indiana – Bachelor of Science in Regional Planning

Specializations available in Land Use and GIS, Environmental Planning
Seek a Graduate Urban Planning Degree in Pennsylvania
The ultimate goal of an urban planner is to obtain a graduate degree. Once again, you should look for a program that is accredited by the  Planning Accreditation Board (PAB) of the American Planning Association. Such programs in Pennsylvania are:
Temple University, Philadelphia – Master of Science in City and Regional Planning
Tyler School of Art & Architecture, Dept of Architecture & Environmental Design
2001 N. 13th St.
Philadelphia, PA 19122
Accreditation through December 31, 2020
Jeffery P. Doshna, Program Head
215.204.1213; doshna@temple.edu
University of Pennsylvania, Philadelphia – Master of City Planning
Stuart Weitzman School of Design, Dept of City & Regional Planning
127 Meyerson Hall, 210 S. 34th St.
Philadelphia, PA 19104-6311
Accreditation through December 31, 2026
Lisa Servon, Department Chair
215.746.2762; servon@upenn.edu
Six concentrations available:
Community & economic development
Land use environmental planning
Public private development
Smart cities
Sustainable transportation and infrastructure planning
Urban design
Undertake Professional Certification for Urban Planners in Pennsylvania
American Institute of Certified Planners (AICP)
The American Planning Association-Pennsylvania Chapter advocates that the state's urban planners seek professional certification. After graduating with your graduate urban planning degree and earning two years of professional experience, you can become certified through passing a test offered by the American Institute of Certified Planners (AICP).  It is given at Prometric testing centers, which, in Pennsylvania, include:
Calder Square II, State College
1100 N. Mountain Road, Harrisburg
2064 Fruitville Pike, Lancaster
4055 Monroeville Blvd, Monroeville
5700 Corporate Drive, Suite 400, Pittsburgh
233 Northern Blvd, Clarks Summit
3500 Winchester Road, Allentown
601 Walnut St., Philadelphia
1017 W. 9th Ave, King of Prussia
AICP Certification Maintenance in Pennsylvania
The Certification Maintenance Program of the AICP is designed to assist you in completing the necessary 32 CM credits every two years (including  1.5 CMs in Planning Laws and Planning Ethics) in order to maintain your AICP certification.   Use AICP's CM Search database to find activities in your area, such as:
Practical Guide to Zoning and Land Use Law, Pittsburgh
Master Planning Principles, US Army Corp of Engineers, Philadelphia
The Effects of Neighborhood Change on Health, Delaware Valley Regional Planning Commission, Philadelphia
Real Estate Forecast 2020, Urban Land Institute, Philadelphia
Alternative Certifications for Urban Planners in Pennsylvania
There are other professional certifications urban planners in Pennsylvania may seek, like:
Job and Career Opportunities for Pennsylvania's Urban Planners
If your graduate urban planning degree program offers an internship, you will be a step ahead of others searching for urban planning positions in Pennsylvania. You can earn valuable experience and make professional contacts through internship opportunities such as:
Delaware Valley Regional Planning Commission
Pennsylvania Environmental Council, Philadelphia
Interface Studios, Philadelphia
Knoll, East Greenville
Public Sector Urban Planning in Pennsylvania
Examples of potential jobs within Pennsylvania's public sector include, but are not limited to:
Municipal Planner-Bethel Park
Comprehensive Planner-Transportation, Adams County Office of Planning & Development, Brighton
Planning and Development Administrator- Town of McCandless
Community Development Administrator – Huntingdon County, Huntingdon
Planning Director- Mifflin County, Lewistown
Community & Transportation Planner – Tri-County Regional Planning Commission, Harrisburg
Urban Greening Coordinator – City of Philadelphia
Private Sector Urban Planning in Pennsylvania
Examples of potential private sector urban planning jobs in Pennsylvania include, but are not limited to:
Senior Economic Development Associate – Delta Development Group, Mechanicsburg
Planning Associate – Michael Baker International, Moon Township
Urban Designer & Planner – Wallace Roberts & Todd, LLC, Philadelphia
Conservation and Easements Manager – Pennsylvania Land Trust Association, Harrisburg
Planner/Urban Designer – RK&K, Philadelphia
Pennsylvania & Delaware Executive Director – The Nature Conservancy, Harrisburg
Real Estate and Urban Planning Forecast for Pennsylvania
The Urban Land Institute Philadelphia and Price Waterhouse Cooper have  released their Emerging Trends in Real Estate 2020 report. While this report concentrated mainly on the Philadelphia area, it noted that many life science companies are relocating to the city and the region, giving out-of-market attention to the area. This is expected to keep occurring through 2021 and provide an economic boon as well as jobs for the city.
According to the Pennsylvania Association of Realtors, demographics of the state's housing market are changing. They expect the fastest home buying market to be Hispanic residents in 2020. They predict that the state's residential real estate market will remain strong in the future.
All of this is good news for anyone who wants to become an urban planner in Pennsylvania. There should definitely be a wide variety of jobs available for those with education and experience in the field.
Additional Urban Planning Resources in Pennsylvania