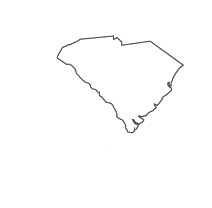 The US Census Bureau reports that the population of South Carolina was just over 5.1 million as of July 1, 2019. Although at a land area of just over 32,000 square miles it is one of the smaller states in the nation, by comparison, South Carolina has a high population density. For each square mile of territory in the state, there are an average of 153.9 people. This makes South Carolina the 19th most densely populated state in the nation.
The largest cities in South Carolina are Columbia, with a population of just over 133,000 people, and Charleston, with a population of just over 132,000 people. North Charleston follows, at a population of just over 108,000 people. The Greenville-Spartanburg-Anderson metropolitan area is the largest metropolitan statistical area in the state, with 1.4 million people.
The population of South Carolina continues to increase annually at an average rate of about 1.22 percent. Although the state's population is aging, this rate has slowed but is expected to hold at about that number. The state's population of residents over age 65 is expected to exceed the national average by the time the 2020 census numbers are calculated.
If you want to become an urban planner in the state of South Carolina, there couldn't be a better time to do so. Keep reading to discover how much you can expect to earn, what education is necessary, and what types of jobs urban planners can find in South Carolina.
Earnings for South Carolina Urban Planners
The Bureau of Labor Statistics (BLS) of the US Department of Labor states that urban and regional planners working in South Carolina in May 2019 earned an annual median wage of $56,160. Those working in these parts of the state made the following average salaries:
Anderson: $56,800
Beaufort: $68,190
Bluffton: $68,190
Charleston: $57,280
Columbia: $51,800
Greenville: $56,800
Hilton Head Island: $68,190
Mauldin: $56,800
North Charleston: $57,280
Land Use Laws and Regulations in South Carolina
Under the South Carolina Local Government Comprehensive Planning Enabling Act of 1994, city councils and county councils may create local planning commissions. They may also opt to create joint municipal-county planning commissions. Land use planning is designed to identify local problems and needs, collect information and facts necessary to study these, arrive at a consensus on local objectives and goals, develop plans and programs to fulfill these objectives and goals, and use available powers to execute programs and plans in an organized, efficient manner. The responsibilities of a local planning commission in South Carolina, as stated in the Act, include:
Prepare/revise Comprehensive Plan
Prepare/recommend measures to implement/carry out the plan, including:

Zoning ordinances
Regulations for land development/subdivision
Official map showing existing/proposed streets, etc.
Landscaping ordinance
Capital improvements program
Policies and procedures to help carry out elements of comprehensive plan
Elements that should be in a Comprehensive Plan include:
Population – including historic trends and projections
Economics
Natural resources
Cultural resources
Community facilities
Housing
Land use
Transportation
Priority investments
Zoning ordinances are tools of the local government that are designed to help carry out the land use element of the comprehensive plan. Zoning in South Carolina usually occurs at the county level. All zoning ordinances must:
Provide for adequate open space, air and light
Prevent overcrowding of land and avoid undue concentration of population
Help create attractive and convenient community
Protect/preserve scenic, ecologically sensitive and historic areas
Regulate population distribution/density
Regulate building, land and structure uses
Help provide adequate transportation, police/fire protection, schools, sewage, water, recreational facilities, housing, disaster evacuation, public services/requirements
Keep community safe from flood, fire, other dangers
Further public welfare
South Carolina Legal Cases Involving Land Use
In recent years, there have been a number of legal cases in which the rights of a property owner in South Carolina has challenged or conflicted with existing land use laws. One of these is Lucas v. South Carolina Coast Council. Occurring in 1992, this case revolved around Lucas, who had purchased two residential lots in 1986 on the Isle of Palms (a barrier island in South Carolina). He wanted to build single-family homes on these lots. In 1988, however, following a series of storms causing beach erosion, the South Carolina legislature enacted a law that was designed to protect erosion and destruction of barrier islands and prevented Lucas from building on these lots. Lucas sued and won his case. The U.S. Supreme Court ruled that Lucas had been called upon to sacrifice all economically beneficial uses of the land for the common good, therefore suffering a taking.
In another South Carolina legal case in 2011, Hilton Head Automotive LLC v. SCDOT, the ruling was for the state. The South Carolina Department of Transportation made road modifications that prohibited left turns onto a property, owned by Hilton Head Automotive LLC. The company sued, claiming that this was a taking of property. The ruling was for the state, however, saying that other modes of ingress and egress onto the Hilton Head Automotive property were available.
One more legal case, this time involving due process, was Harbit v. City of Charleston in 2009. The city of Charleston denied the property owner, Harbit, a rezoning of his property for commercial use, even though other properties in the area had been rezoned. It based its decision on studies of similar commercial conversions of property and the nature of the area. Harbit appealed this decision and lost, the court ruling that his due process was not violated by this ruling.
Studying Urban Planning in South Carolina
Undergraduate Urban Planning Studies in South Carolina
Although your ultimate goal is obtaining a graduate degree in urban planning, getting an undergraduate degree in South Carolina will be your first step. If possible, choose a program accredited by the  Planning Accreditation Board (PAB) of the American Planning Association. As South Carolina has no accredited undergraduate programs, consider these options:
Bachelor of Arts/Science in Geography – University of South Carolina
Bachelor of Science in Civil Engineering Technology – South Carolina State University
Graduate Urban Planning Studies in South Carolina
After attaining your undergraduate urban planning degree, choose a South Carolina graduate program that holds accreditation through the Planning Accreditation Board (PAB) of the American Planning Association. There is one such program in South Carolina:
Clemson University – Master of City & Regional Planning
College of Architecture, Arts & Humanities, Dept of City Planning & Real Estate Development
3-109 Lee Hall
Clemson, SC 29634-0511
Accreditation through December 31, 2023
John Gaber, Chair
864.656.1527; jgaber@clemson.edu
Becoming a Credentialed Urban Planner in South Carolina
American Institute of Certified Planners (AICP)
Professional certification by the American Institute of Certified Planners (AICP) will give you credentials that shows the urban planning world that you have the highest standards and ethics within the profession. In order to become certified, take a test, which is given from time to time at these Prometric test centers in South Carolina:
Charleston: 2420 Mall Drive, Suite 209
Columbia: 121 Executive Center Drive
Florence: 2141 C. Hoffmeyer Road
Greenville: 37 Villa Road
Maintaining AICP Credentials in South Carolina
The South Carolina Chapter of the American Planning Association can help  you to fulfill the necessary 32 Certification Maintenance (CM) credits needed every two years in order to maintain your credentials. Consult their website for more information.
More Professional Credentials Offered for Urban Planners in South Carolina
You may opt to seek other professional urban planning credentials, like:
The Urban Planning Business in South Carolina
Outstanding South Carolina Urban Planning Projects
Some notable urban planning projects in South Carolina have included:
The Bull Street District-Columbia
Downtown Master Plan – Greenville
Charleston Waterfront Park – Charleston
South Carolina Urban Planning Internships
If you don't find a South Carolina internship in your college urban planning program, you can always seek a position on your own, such as:
Historic Preservationist Intern – Town of Bluffton, SC
State Planner Summer Intern – Richland County, SC
Regional Planner Intern – Florence Darlington Technical College, Richland County, SC
Preconstruction Services Summer Intern – Uncle Bob's, Greenwood, SC
State Planner Summer Intern – Columbia, SC
South Carolina Urban Planning Public Sector Positions
The public sector in South Carolina, with jobs at the federal, state and local levels, might contain positions such as:
Development Manager – Lexington County, SC
Director of Planning & Development – York County, SC
Planner- City of Hardeeville, SC
Planner – City of Myrtle Beach, SC
Principal Planner- Greenville County, SC
South Carolina Urban Planning Private Sector Positions
The private sector in South Carolina includes positions in nonprofit organizations and private companies, like:
Senior Planner – Weston & Sampson, Columbia, SC
Senior Planner- South Carolina Chapter of the American Planning Association, Columbia, SC
Sustainability and Environmental Manager – Pyrsmian, Columbia, SC
Land Acquisition Coordinator – D.R. Horton, Inc., Mount Pleasant, SC
Kitting Specialist – Harsco Rail, West Columbia, SC
Real Estate and Urban Planning Outlook for South Carolina
In 2019, sales of residential real estate in South Carolina were up four percent from the prior year's sales, per the South Carolina Realtors. The overall median home sale price rose 7.5 percent to $215,000 that year as well.  The real estate market was expected to remain strong as people continued to move into the state and sell and buy homes. It is expected that this positive real estate market will last into 2020. This is good news for urban planners who wish to work in the state, as there should be plenty of opportunities available for them statewide.
More Resources for Urban Planners in South Carolina