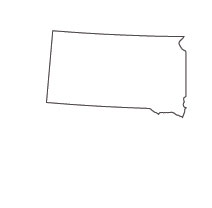 The area of the state of South Dakota is 75,885 square miles. It is the fifth least populated state in the nation. Over half (452,214) of its population of 882,235 (2018) live in rural areas. Those who live in South Dakota's rural areas must be especially aware of the value of surface and ground waters and properly use and dispose of hazardous materials, such as pesticides, solid waste, recycling, and household hazardous waste. Additionally, they must maintain their water systems, including wells.
This is just one consideration of urban planners who work in South Dakota. Many also live in the state's largest cities of Sioux City (population 171,544 per the US Census Bureau), Rapid City (73,569) and Aberdeen (28,102). Sioux City is one of the 50 fastest growing cities in the United States, experiencing a population growth of 22 percent between 2000 and 2010. Rapid City is also known as the "City of Presidents" because of its life-size bronze statutes of US presidents, as well as the nearby Mount Rushmore. Aberdeen is a college town, home to Presentation College and Northern State University.
South Dakota contains four major regions of land: the Drift Prairie (covering eastern South Dakota), the Dissected Till Plains (in the state's southeastern corner), the Great Plains (covering the western two-thirds of the state), and the Black Hills (covering the southwestern part of the state and extending into Wyoming). While the state may not be as culturally diverse as other states in the nation, it does provide a wide variety of land types and uses. This fact should be of particular importance to anyone interested in becoming an urban planner in South Dakota. If that describes you, read on.
Salaries for South Dakota Urban Planners
The Bureau of Labor Statistics (BLS) of the US Department of Labor notes that South Dakota's urban and regional planners earned an annual median wage of $58,470 as of May 2019. Those working in various cities throughout South Dakota earned varied wages, as noted below:
Aberdeen: $59,300
Brookings: $59,300
Rapid City: $47,810
Sioux Falls: $62,420
Regulations and Laws Regarding Land Use and Planning in South Dakota
As is true in most states, South Dakota authorized municipal and county planning commissions to regulate land use and urban planning. The one exception is that the South Dakota Public Utilities Commission (SDPUC) may determine that a municipal or county land use plan for a transmission facility within a designated area is unreasonably restrictive. Under South Dakota law, a transmission facility is defined as "an electric transmission line and associated facilities with a design of more than 115 kV or lines or facilities that are used exclusively for distribution or gathering." If such a finding is made, the land developer might need to obtain an Energy Facility Permit from the SDPUC.
South Dakota law also states that counties may conduct joint planning to share expenses. The planning commissions of two or more counties may plan jointly, sharing their expenses.
Conservation of Natural Resources in South Dakota
South Dakota was one of the first states to create a soil conservation district, under President Franklin D. Roosevelt. Since that time, the state has created conservation programs to protect and manage water, soil, air, wildlife and recreation areas. Under the state's Coordinated Soil and Water Conservation Plan in 1991, the following gains were made:
Cropland erosion on 3.8 million acres was reduced, resulting in a 5.5 percent increase in crop industry output
Improved 1.7 million acres of rangeland that was in poor to fair condition by one condition class
Improved water quality in 35 water bodies in South Dakota
The state continues to work on the following conservation goals:
Achieve economic, social and environmental values of all Missouri River watersheds in South Dakota
Make sure that all South Dakota waters provide quality water for beneficial uses
Ensure that all South Dakota land has quality soils
Ensure that all of South Dakota meets quality air standards
Enhance wildlife habitats and recreational opportunities across South Dakota
Make sure that all South Dakotans are aware of and realize the benefit of natural resource management
Acquire stable funding and finances for natural resource management
Tribal Lands in South Dakota
South Dakota is home to over 71,000 American Indians, not all of whom live on the state's reservations. Nine federally recognized Indian reservations/tribes (called the Oceti Sakowin) exist in South Dakota: Yankton, Standing Rock (Sisseton-Wahpeton Oyate), Lake Traverse, Rosebud, Pine Ridge, Flandreau Santee Sioux, Lower Brule, Crow Creek and Cheyenne River. Each tribe acts as its own separate government, and its land is considered to be private land controlled by each individual tribe. They have distinct, unique interrelationships with the environment that remains essential to the health and preservation of South Dakota's natural resources.
Getting an Urban Planning Education in South Dakota
Where to Undertake Undergraduate Urban Planning Studies in South Dakota
You must ultimately obtain a graduate degree in urban planning in order to become a South Dakota urban planner. However, you must start by getting an undergraduate degree in a related field. Consider these options:
Bachelor of Science in Community & Regional Planning- South Dakota State University
Bachelor of Science in Geologic Engineering- South Dakota School of Mines & Technology
Where to Complete Graduate Urban Planning Studies in South Dakota
It is recommended that you choose an graduate urban planning degree program that is accredited through the Planning Accreditation Board (PAB) of the American Planning Association. Although there are no accredited programs in South Dakota, neighboring states have them:
Nebraska:
University of Nebraska Lincoln – Master of Community & Regional Planning
College of Architecture, Community & Regional Planning Program
304 Architecture Hall
Lincoln, NE 68588-0105
Accreditation through December 31, 2025
Gordon Scholz, Program Director
402.472.9284; gscholz1@uni.edu
Minnesota:
University of Minnesota, Minneapolis – Master of Urban & Regional Planning
Concentrations available: Environmental Planning, Housing & Community Development, Land Use & Urban Design, Transportation Planning, and self-designed concentrations
Humphrey School of Public Affairs, Urban & Regional Planning Program
301 19th Ave South
Minneapolis, MN 55455
Accreditation through December 31, 2022
Ryan Allen, Director
612.625.5670; allen650@umn.edu
Iowa:
Iowa State University—Master of Community & Regional Planning
College of Design, Dept. of Community & Regional Planning
146 College of Design
Ames, IA 50011
Accreditation through December 31, 2024
Francis Owusu, Chair
515.294.8958; fowusu@iastate.edu
University of Iowa—Master of Science in Urban & Regional Planning
School of Urban & Regional Planning
347 Jessup Hall
Iowa City, IA 52242-1316
Accreditation through December 31, 2020
Charles Connerly, Director
319.335.0032; charles-connerly@uiowa.edu
Urban Planner Certification in South Dakota
American Institute of Certified Planners (AICP)
After getting your graduate degree, you should consider professional certification through the American Institute of Certified Planners (AICP). In order to take the certification exam, you must work in the field for two years. The exam is offered at the following Prometric test center closest to South Dakota:
North Dakota: 4503 Coleman St., Bismarck-Mandan
Maintaining AICP Credentials in South Dakota
The American Planning Association – Western Central Chapter can assist you in finding ways to meet the requirement of completion of 32 Certification Maintenance (CM) credits every two years. You must meet this mandate in order to maintain your AICP credentials. Consult their website for more information.
Other Urban Planning Certifications Offered in South Dakota
Other organizations offering urban planning credentials include:
Urban Planning as a Career in South Dakota
South Dakota Planning Projects That Are Notable
There have been some noteworthy planning projects in South Dakota, like:
South Dakota Housing for the Homeless – statewide 10 -year plan to end homelessness
South Dakota Drought Mitigation Plan
Shepherd Hills Development – North Rapid City
Russell Street Interchange- Sioux Falls
South Dakota Internships in Urban Planning
Even if you aren't able to complete your urban planning studies in South Dakota, you can still undertake an internship, such as:
Field Research Assistant – Advance Services, Inc., Wentworth
Ascend Internship Program – City of Sioux Falls
Intern – South Dakota School of Mines, Rapid City
Intern – South Dakota Bureau of Human Resources, Pierre
South Dakota Urban Planning Jobs in the Public Sector
Jobs in the public sector may be at national, state, local or regional levels and might include:
Project Engineer & Executive Assistant – City of Spearfish
Planning Director – Pennington County
Community Development Specialist- Planning and Development District III, Yankton
Assistant Community & Economic Development Director – City of Box Elder
Park Ranger (Protection) – US Department of the Interior, Custer
Lead Transportation Assistant- US Department of Veterans Affairs, Fort Meade
Soil Conservationist – US Department of Agriculture, Chamberlain
South Dakota Urban Planning Jobs in the Private Sector
Privately owned companies and nonprofit organizations often offer jobs for urban planners, such as:
Utility Forester – Environmental Consultants, Rapid City
Right of Way Agent- Black Hills Energy, Rapid City
Logistics and Transportation Assistant – Marmen Energy, Brandon
Land Cover Scientist/Spatial Analyst- KBR, Sioux Falls
Ranch Technician – Turner Enterprises, Inc., Fort Pierre
Housing Market and Urban Planning Outlook for South Dakota
During 2020, according to Zillow.com, housing prices in South Dakota are expected to rise by 3.35 percent. In 2019, housing prices in the state were up 6.58 percent compared to one year ago. The median home price in South Dakota in 2019 was $194,400, much less than the national average of $229,600. Over the past ten years, housing prices in South Dakota have risen by $54,000. All of these positive indicators point to the probability that there will be enough jobs for urban planners in South Dakota for years to come.
Further Resources for Urban Planners in South Dakota