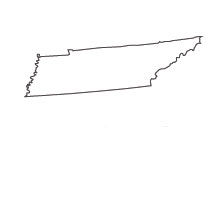 The planning website CityLab.com notes that Knoxville, Tennessee was one of the highest-paying metropolises in which urban planners worked in 2018. Per their data, urban planners within that city earned a median annual wage of $90,849. It can be quite lucrative to become an urban planner in that part of Tennessee.
While planning occurs at the local government level in Tennessee, as in most states, Metropolitan Planning Organizations (MPO) and Transportation Planning Organizations (TPO) help to strategize and administer funding to areas. Tennessee has eleven MPOs and TPOs working in Nashville, Memphis, Lakeway, Knoxville, Kingsport, Johnson City, Jackson, Cleveland, Clarksville, Chattanooga, and Bristol.
Rural Planning Organizations (RPO) function similarly in less populated areas of Tennessee and work on transportation planning in those areas, which include Southwest Tennessee, Southeast Tennessee, South Central West, South Central East, Northwest Tennessee, West Tennessee, Middle Tennessee, First Tennessee, East Tennessee South, East Tennessee North, Dale Hollow, and Center Hill.
Additionally, nine development districts consisting of municipal and county governments work to plan and develop land use and transportation regulations together. These include:
Northwest Tennessee Development District – headquartered in Martin
Greater Nashville Regional Council – Nashville
Upper Cumberland Development District – Cookeville
First Tennessee Development District – Johnson City
Memphis Area-Cordova
Southwest Tennessee Development District – Jackson
South Central Tennessee Development District – Mt. Pleasant
Southeast Tennessee Development District – Chattanooga
East Tennessee Development District – Alcoa
If you would like to become an urban planner in Tennessee and discover how local governments and agencies work together for the good of the state, read on.
Average Salary for Urban Planners in Tennessee
According to the Bureau of Labor Statistics (BLS), in May 2019, urban planners employed in Tennessee earned an annual median wage of $59,080. If you note that this seems much lower than the figure quoted above, understand that this is just an average, and that, depending upon where you live within Tennessee, you might make more or less than the average. For example, per the BLS, urban planners within the following Tennessee metropolitan areas earned at that time:
Chattanooga $47,830
Clarksville $48,750
Davidson $65,960
Franklin $65,960
Memphis $58,760
Murfreesboro $65,960
Nashville $65,960
Tennessee's Urban Planning Regulations and Laws
Like most states, Tennessee's planning regulations and laws occur at the local governmental level. The first planning commissions in the state were in Memphis (1921), Knoxville (1922), Chattanooga (1922), Nashville (1925) and Johnson City (1927). Shelby County had the state's first county-level planning commission.
The Tennessee State Planning Commission was created by the State and Regional Planning Act and no longer exists. Today, there is no formal state land use planning body. Most cities that have over 1000 in population statewide have a local planning commission. Tennessee's Code Annotated, Title 13, authorizes local governments to develop planning and land use regulations.
Municipal Planning Commissions
Municipal planning commissions, under Tennessee law, have these powers:
To prepare and adopt an official general plan
To make advisory reports and recommendations to public officials and agencies regarding plan/development of an area
To have advance notification of location and extent of construction of any area in the municipality
To regulate the development of land through subdivision regulations and reviewing of site plans
To prepare and recommend zoning ordinances and maps
To review and make recommendations for amendments to zoning ordinances and maps
Regional Planning Commissions
In Tennessee, regional planning commissions have similar powers to those of municipal planning commissions. There are some differences, however, Regional planning commissions are at the county level and may include one or more county/parts of counties. Their powers include:
Promoting mutual cooperation of municipal planning commissions within the region
Coordinating plans of the municipalities within the region
Confer with/advise municipal and county legislators to promote coordinated, adjusted regional development
Advise county and municipal legislators in forming public improvement programs
Prepare and adopt general regional plan for region's physical development
Regulate land development through subdivision regulations/site plan review
Review and approve design, opening, grading, lighting, paving on any road or utilities
Prepare and certify a zoning ordinance and map for the region
Review/recommend amendments to zoning ordinance and map
Tennessee Growth Policy Act.
In 1998, the Tennessee Growth Policy Act was adopted in response to Tennessee's rapid population growth. At that time, Tennessee was the 14th fastest growing state in the country, with the fourth fastest land development rate. Unfortunately, the act proposed no statewide solutions. It included five statements of the intent of legislators:
Eliminating annexation or incorporation out of fear
Establishing incentives to incorporate or annex when/where appropriate
Closely match timing of development to providing public services
Stabilize each county's education funding base, establishing incentives for counties to be more interested in education
Minimize urban sprawl
Since 2000, the population of Tennessee has increased 12 percent. The amount of developed land in the state increased by 18 percent from 1997 to 2012. Areas within the state which show the fastest rates of growth include the counties around Nashville/Davidson County. By 2035, it is estimated that one million additional citizens will be living in that area.
While the Tennessee Growth Policy Act is still in effect, it has not done much in a practical sense to curb growth and development in the state.
Education for Aspiring Urban Planners in Tennessee
Undergraduate Degree Programs in Urban Planning in Tennessee
Earning an undergraduate degree in urban planning is the first step on your journey towards becoming an urban planner in Tennessee. It is recommended that you choose a program accredited by the  Planning Accreditation Board  of the American Planning Association. No such programs exist in Tennessee, however. Consider this alternative:
Bachelor of Science in Urban Studies- Tennessee State University
Graduate Degree Programs in Urban Planning in Tennessee
There is one graduate program in urban planning in Tennessee that is accredited by the  Planning Accreditation Board (PAB) of the American Planning Association:
University of Memphis – Master of City & Regional Planning
School of Urban Affairs & Public Policy, Department of City & Regional Planning
208 McCord Hall
Memphis, TN 38152
Accreditation through December 31, 2020
Charles A. Santo, Chair
901.678.3566; casanto@memphis.edu
Attaining Professional Urban Planning Certification in Tennessee
American Institute of Certified Planners (AICP)
The American Planning Association – Tennessee Chapter recommends that urban planners become professionally certified. You can do so through taking the American Institute of Certified Planners (AICP) examination, which is offered at Prometric testing sites in Tennessee such as:
Chattanooga — 7610 Hamilton Park Drive
Clarksville – 220 Forbes Ave.
Knoxville – 215 Center Park Drive
Nashville – 1410 Donelson Pike
The Tennessee Chapter of the APA holds one AICP exam preparation workshop each year, usually in the fall. Check here for information on this and other resources that you can use to ready yourself to take the exam.
AICP Certification Maintenance in Tennessee
The Certification Maintenance program of the AICP will help you to meet the CM requirements every two years. During this time, you must complete 32 CM credits. Examples of ways to find credit include:
Attending the APA's National Planning Conference
Using the APA CM Search for in-person events
Using APA Learn to find paid courses online for CM credit
Watching free, online live webcasts through the Ohio State Chapter's Planning Webcast Series
More Certifications for Tennessee's Urban Planners
The AICP is not the only professional certification available to Tennessee's urban planners. Others are:
Career Paths and Job Opportunities for Urban Planners in Tennessee
Significant Planning Projects in Tennessee
Tennessee's recent planning projects have included:
Magnolia Ave. Streetscapes Project in Knoxville
Countywide Parks and Greenways Master Plan in Nashville
2040 Regional Transportation Plan by Middle Tennessee Connected
Plan for 14 GW of Solar Power by 2038 by Tennessee Valley Authority
Planning Internships in Tennessee
If your college urban planning program does not offer you internship opportunities, you might have to search for your own. Examples of internships across Tennessee have included:
Urban Planning Intern -Tennessee Department of Transportation, Nashville
Landscape Architecture Intern – Kimley-Horn and Associates, Inc., Nashville
Architectural College Intern – LRK, Memphis
Planning Jobs in the Public Sector in Tennessee
Jobs in Tennessee's public sector involve working at the federal, state and local levels, and may include:
Strategic Planning Analyst – Tennessee Department of Transportation, Nashville
Assistant Planning Director – City of Cookeville
Special Projects Manager – The Metropolitan Development and Housing Agency, Nashville
Soil Conservationist – US Department of Agriculture, Blountville
Development Project Manager – Downtown Memphis Commission
Planning Jobs in the Private Sector in Tennessee
Private sector positions for urban planners in Tennessee may include:
Land Acquisition Manager – D.R. Horton, Inc., Nolensville
Sustainability Leader – Electrolux, Springfield
Mid-Level Landscape Architect/Planner – Ragan-Smith Associates, Inc., Murfreesboro
Senior Manager – Urban Science Applications, Inc., Franklin
Project Executive, Corporate and Urban Design – Gresham Smith, Nashville
Tennessee's Urban Planning and Real Estate Forecast
According to the Zillow Home Price Expectation Survey, as of 2020, Nashville's housing market is ranked as the fourth hottest in the nation. Home values within the area are expected to grow faster than the national average of 2.8 percent.
The 2019 Tennessee Housing Market at a Glance by the Tennessee Housing Development Agency notes that, statewide in 2019, the annual home price appreciation of seven percent was higher than the national average. Tennessee was ranked third in home price appreciation. Housing affordability continues to be a problem in rental and owner markets, however, as growing demand pushes prices higher. All in all, urban planners in Tennessee and those working in the real estate industry can expect upward trends to continue.
More Resources for Urban Planners in Tennessee