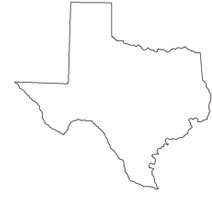 Do you live in the Austin-Round Rock-Georgetown metropolitan areas of Texas? Are you interested in urban planning? If so, you are in luck! According to  CityLab.com, this area of Texas has two times the national average of urban planning jobs per city. Other areas of Texas are popular spots for urban planners to work as well. The McAllen-Mission-Edinburg metropolitan area, for example, has a 29.8 percent increase in the number of jobs for urban planners from 2014 to 2019. Urban planning jobs in El Paso increased by 15.1 percent during that same time frame.
All of this points to the fact that, just as urbanism is spread out across the great state of Texas, spanning over 261,000 square miles, jobs for urban planners are equally widespread. The population of Texas increased by 15.3 percent from 2018 to 2019, and is now estimated to be almost 29 million strong. Urban planners are needed across Texas' cities, counties, suburban and rural areas to help plan the open spaces as well as already congested land areas.  If you would like to discover how you can obtain the necessary education to work as an urban planner in Texas, read on.
How Much Can I Earn as a Planner in Texas?
The Bureau of Labor Statistics (BLS) of the U.S. Department of Labor says that Texas has the fourth-highest employment level of urban planners of any state, with 2050 urban planners working statewide. As of May 2019, they earned an annual mean salary of $69,850. Urban planners working in some of Texas' cities and towns earned more or less than this average, as you can see below:
Arlington $72,390
Austin $60,670
Brownsville $50,220
Bryan $88,670
College Station $88,670
Dallas $72,390
Edinburg $57,770
El Paso $54,630
Fort Worth $72,390
Harlingen $50,220
Houston $63,620
McAllen $57,770
Mission $57,770
New Braunfels $73,410
Round Rock $60,670
San Antonio $73,410
Sugar Land $63,620
The Woodlands $63,620
What are the Texas Laws and Regulations Regarding Urban Planning?
Planning in Texas dates back to the 19th century, as towns in Texas were being laid out by railroads, based upon the European grid system. Northern counties in Texas were influenced by the Northwest Ordinance of 1785, establishing a rectangular system. After World War II, suburbs across Texas grew and new towns were created. In the last part of the 20th century, plans have been put in place in Texas to curb urban sprawl and manage growth.
Comprehensive Plans in Texas
It is optional for each municipality in Texas to develop and adopt Comprehensive Plans. A Comprehensive Plan is designed as a long-range, comprehensive approach to city planning. Furthermore, every city can determine how its Comprehensive Plan relates to its development regulations. Comprehensive plans must, at a minimum, address land use, transportation, and public facilities. Most, however, also address environmental constraints, demographic trends, drainage, waste management, public safety, community facilities, economic development, and quality of life.
Zoning Regulations in Texas
Zoning laws in Texas have been in effect since the Texas Supreme Court case Lombardo v. City of Dallas. During that case, the Standard Zoning Enabling Act was born, amended in 1927 to Article 1011 of the Texas General Statutes. It is now Chapter 211 in the Texas Local Government Code. In this chapter, it states that zoning regulations are for the purpose of promotion public safety, health, morals, or general welfare as well as preserving and protecting places and areas of architectural, historical or cultural importance. Municipalities may regulate through zoning:
Population density
Location/use of buildings, structures, land
Percentage of a lot that may be occupied
Height, number of stories, size of buildings/structures
Pumping, extraction, use of groundwater by persons other than retail public utilities
Texas municipalities plan through Comprehensive Plans. All zoning regulations must align with a Comprehensive Plan. Cities may also choose to divided their municipalities into districts, each with its own set of regulations and adopted with reasonable consideration for the district's character.
General Law and Home Rule in Annexation in Texas
Chapter 43 of the Texas Local Government Code addresses annexation law. It also specifies the difference between general law and home rule. A general law city is one in which the population is between 1000 and 5000 (or greater than 5000 and has not adopted a home rule charter). These cities can annex property as long as they are providing water/wastewater service to the annexed area and the area to be annexed does not have more than one acre of unoccupied territory for each service address of water/wastewater service.
A home rule city, on the other hand, is a municipality with more than 5000 people that has adopted a home rule charter. This type of city may annex territory on either a consensual or non-consensual basis. No matter which type of city, a city cannot annex territory unless it is within its Extraterritorial Jurisdiction (ETJ). The extent of the ETJ of a given city varies by population. It may be a half mile for communities with populations of less than 5000, or five miles for cities over 100,000 in population. It is designed to encourage planning growth of cities.
Challenges to Planning in Texas
The Texas triangle, made up of the cities of Dallas, Fort Worth, Austin, Houston, and San Antonio, has planning laws that facilitate what is called "horizontal growth" (exurban development) but restrict "vertical growth" (redevelopment of built areas). Housing prices in the Texas Triangle have risen dramatically, suggesting that the restrictions on vertical growth in the area has caused a shortage of housing. Some say that restrictions on dense development in areas such as these should be loosened to allow for more affordable housing, better transportation systems and greater social mobility.
Where Can I Study Urban Planning in Texas?
Undergraduate Urban Planning Programs in Texas
If you want to become an urban planner in Texas, your first step is to obtain an undergraduate degree. It is recommended that your urban planning program be accredited by the  Planning Accreditation Board  of the American Planning Association. However, Texas has no PAB-accredited undergraduate programs. The Association of Collegiate School of Planning (ACSP) has recommended the following urban planning undergraduate program in Texas:
Bachelor of Science in Urban and Regional Sciences – Texas A&M University, College Station

Specializations in: Environmental Planning & Analysis, Housing & Urban Development, Health & Human Services Planning & Policy
Graduate Urban Planning Programs in Texas
You must get your graduate degree in urban planning in Texas after you earn your undergraduate degree. These programs are accredited by  the  Planning Accreditation Board (PAB) of the American Planning Association:
Texas A&M University – Master of Urban Planning
College of Architecture, Dept. of Landscape Architecture & Urban Planning
MS 3137
College Station, TX 77843-3137
Accreditation through December 31, 2021
Wei Li, MUP Coordinator
979.845.2608; wli@tamu.edu
Texas Southern University – Master of Urban Planning & Environmental Policy
Barbara Jordan-Mickey Leland School of Public Affairs, Dept. of Urban Planning & Environmental Policy
3100 Cleburne St. – PAB 420D
Houston, TX 77004
Accreditation through December 31, 2022
Sheri Smith, Interim Dept. Head
713.313.4807; Sheri.Smith@tsu.edu
The University of Texas at Arlington – Master of City & Regional Planning
College of Architecture, Planning & Public Affairs, Dept. of Planning & Landscape Architecture
601 W. Nedderman Drive, Box 19108
Arlington, TX 76019
Accreditation through December 31, 2023
Ardeshir Anjomani, Interim Director
817.272.3310; anjomani@uta.edu
The University of Texas at Austin – Master of Science in Community & Regional Planning
School of Architecture, Graduate Program in Community & Regional Planning
One University Station B7500
Austin, TX 78712-0222
Accreditation through December 31, 2022
Elizabeth Mueller, Director
512.471.1922; ejmueller@austin.utexas.edu
How Can I Become a Certified Urban Planner in Texas?
American Institute of Certified Planners (AICP)
Professional certification is your next step in becoming an urban planner in Texas. It is highly recommended that you wait until you have attained a graduate degree and worked in planning for at least two years before taking the American Institute of Certified Planners (AICP) exam.  The American Planning Association – Texas Chapter offers AICP Exam Fee reimbursements for those with financial hardships who wish to become certified. Interested applicants must apply two months before the AICP exam is scheduled. Preference is given to applicants who would be unable to take the exam without the reimbursement, applicants whose employer will not subsidize their exam fee, or members of ethnic/racial minorities.
Take the AICP exam at one of these Texas Prometric testing sites:
Abilene – 3301 Ivanhoe Lane
Waco- 5020 West Waco Drive
Austin – 2801 S. IH 35
San Antonio – 16648 San Pedro Ave.
Bedford – 2300 Airport Freeway
Wichita Falls – 3410 Taft Blvd.
Odessa – 4901 East University of Texas of the Permian Basin
Dallas – 12342 Coit Road
College Station – 1101 General Services Complex
AICP Certification Maintenance in Texas
AICP's Certification Maintenance program can help you to earn enough credits to maintain your certification. You need to take 32 CM credits every two years. Consult the APA- Texas Chapter's Events Calendar to find applicable events and activities near you.
Are There Other Urban Planning Certifications I Can Get in Texas?
You can choose to become certified through alternative organizations, such as:
Where Can I Work as an Urban Planner in Texas?
What Are Some Notable Planning Projects in Texas?
There have been some remarkable urban planning projects across the state of Texas. A few of them are:
Quality of Life Bond- City of El Paso's redevelopment plan for downtown area, concentrating heavily on museums and cultural arts, as well as recreation and activities
Lamar Union – Austin's urban mixed-use design over nine acres, preserving the existing six theaters of the Alamo Drafthouse Cinema and adding 16,000 square feet for more theaters. The streetscape will be curbless, intended more for pedestrians than automobiles.
Downtown Dallas 360 Plan – designed to bring more housing and retail spaces into the downtown area of Dallas. Includes building the Omni Dallas Convention Center Hotel, and Museum Tower.
Grow South Initiative – Dallas – this is in Southern Dallas and designed to rejuvenate and renew the area. Targeted vacant, dilapidated homes being used for drugs and homeless, demolished them and will rebuild affordable housing in their place. The renovated areas make up 60 percent of the land mass of the Dallas Metro area.
SA2020 – San Antonio – creating new housing and cultural attractions for San Antonio
Where Can I Intern in Urban Planning in Texas?
Your urban planning college program should offer you the opportunity to work as an urban planning intern. Examples of potential internships slots in Texas include:
Corporate Sustainability & Environmental Compliance Intern – Alamo Group, Seguin
Urban Wildlife Intern/Clerk – Parks and Wildlife Department, Houston
Sustainability Intern – City of Plano
Project Assistant/Economic Development – City of Austin
Planning Intern – Lockwood, Andrews & Newnam, Inc., Austin
What Types of Urban Planning Jobs are in Texas' Public Sector?
Jobs within the public sector in urban planning in Texas may include:
Planner – City of Crowley
Planner – City of Bastrop
Transportation Planner – City of Victoria
TPP Planner IV – Texas Department of Transportation, Austin and Waco
Senior Planner (Land Development)- City of San Antonio
Which Types of Urban Planning Jobs are in the Private Sector in Texas?
Jobs in Texas' private sector in the urban planning sphere may include:
Urban Planner/Program Coordinator – Texas A&M AgriLife Extension, Houston
Environmental Planner – VRX, Plano
Regional Planner – Central Texas Council of Governments, Belton
Urban Planner – ICF, Austin
Urban Planner/Project Manager – Gray Planning Studio, Corpus Christi
What is the Outlook for Urban Planning and Real Estate in Texas?
According to the Real Estate Center at Texas A&M University, Texas will lead the United States in new home construction in 2020. Growth in the real estate market will continue to be steady, as will population growth and economic growth. Home prices are expected to increase by just 0.5 percent, with a six percent decrease in sales and volume. Taking all of this into account, urban planners in Texas should expect a bright future.
Are There More Resources for Urban Planners in Texas?