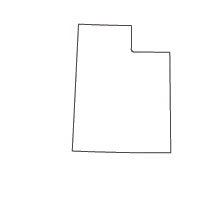 CityLab.com has identified the metropolitan area of Provo-Orem in Utah as the third-highest state for growth in the number of urban planning jobs from 2014 to 2019. During this five-year period, urban planning jobs in this area grew by 22.6 percent.
Urban planners in Utah are working to create an ideal place in which their fellow citizens can live, work and play. Throughout history, there has always been an emphasis on the quality of human settlements in the state of Utah. The first planning commission was convened in Utah by Mormon pioneers in 1847, creating a careful community building plan that would last for many lifetimes. The custom in Utah was to plan villages, initially for the purpose of allowing citizens to retain their religious cultures and organizations. It was also important, however, in planning financial and secular matters of the community. They believed that the urban center was responsible for nurturing the survival and social interaction of members of the community, and that this could only be accomplished when harmony existed between the town and the surrounding countryside.
Today's Utah urban planners are still fighting to create the best Utah for their children and grandchildren. The world has become much more complex than it was in the 1840s, creating new challenges for urban planners. They must also concern themselves with protecting Utah's sensitive lands, meeting housing needs, improving communities, improving sustainability, conservation of natural resources and energy, creating walkable commercial development, and protecting public safety in their urban designs. If you would like to learn how to become an urban planner in Utah and join them in these endeavors, read on.
Wages for Utah's Urban Planners
According to the Bureau of Labor Statistics (BLS) of the U.S. Department of Labor, the annual median wage in Utah for Urban Planners in May 2019 was $64,750.  Those working in some of Utah's largest cities might make salaries more or less than this average figure, as noted below:
Clearfield $58,290
Ogden $58,290
Orem $66,660
Provo $66,660
Salt Lake City $70,280
Utah's Urban Planning Regulations and Laws
The Utah Land Use, Development and Management Act is the main code governing and regulating land use statewide.  There are two versions of this law, one for municipalities and one for counties. In essence, this act authorizes and governs land use and zoning regulation by counties and cities. It also establishes requirement to which local governments must adhere. Generally, a local government (city or county) must adopt a "general plan," which is a general guideline for future development in the area. The local governments must also establish planning commissions and authorities to which appeals can be made, if necessary.
Protecting Utah's Sensitive Lands
Naturally and environmentally-sensitive lands are of great concern to Utah's urban planners. It is central to Envision Utah's Quality Growth Strategy. Under this idea, sensitive lands include any land on which development is not appropriate or must be approached carefully in order to ensure no loss of property or human life. It also includes land that has open space, agricultural or ecological value. Three categories of sensitive lands have been identified by planners:
Natural hazard areas – these present a danger to humans when they are developed, and include:

Geologically hazardous land subject to slope failure or landslides
Land subject to flooding, including the Greater Wasatch as well as the shorelines of Great Salt Lake and Utah Lake
Land subject to wildfire, such as the Greater Wasatch Area

Environmentally sensitive areas – these house ecological features that can be disrupted by development, including:

Riparian areas (land adjacent to lake shores and streams)
Wetlands (areas with soil and vegetation that have been formed by long periods of water saturation)
Wildlife habitats (areas which important species depend on for food and survival)
Groundwater recharge areas

Open space/agricultural land – these have economic, aesthetic or cultural importance that could be lost if developed
Planners have developed strategies for dealing with all of the above types of sensitive lands, such as increasing minimum lot sizes or decreasing density per acre as slopes become steeper; establishing minimum setbacks and a natural vegetation buffer strip on lake shore lands; and requiring property owners in wildfire-prone areas to remove dead or dying vegetation. They also advocate for flexible zoning strategies when it comes to land use, supporting the agricultural industry in Utah.
Conservation easements are one of the most commonly used tools by Utah's planners in protecting sensitive lands. These entail purchasing development rights between a willing seller and buyer. The landowner still owns the land and it can still be sued for agricultural/other purposes, but additional development on that easement is restricted.
Utah's Degree Programs for Urban Planners
Utah's Undergraduate Urban Planning Degrees
The initial step that you must take towards your goal of becoming an urban planner in Utah is to get your undergraduate degree. Generally, it is suggested that you choose a program that is accredited by the  Planning Accreditation Board  of the American Planning Association. Utah, unfortunately, houses no PAB-accredited undergraduate urban planning degree programs. The Association of Collegiate School of Planning (ACSP) has recommended this undergraduate urban planning degree program in Utah:
Bachelor of Science/Arts in Urban Planning – University of Utah
Utah's Graduate Urban Planning Degrees
Your next step along the pathway to becoming an urban planner in Utah is to obtain a graduate urban planning degree. The following program in Utah is accredited by the  Planning Accreditation Board (PAB) of the American Planning Association:
University of Utah – Master of City & Metropolitan Planning
Specializations available in Ecological Planning, Economic & Real Estate Development, Historic Preservation, Housing & Community Development, Small & Resort Town Planning, Smart Growth, Urban Design
College of Architecture & Planning, Dept. of City & Metropolitan Planning
375 S. 1530 E. Room 235
Salt Lake City, UT 84112-0370
Accreditation through December 31, 2021
Stacy Harwood, Chair
801.581.6384; harwood@arch.utah.edu
Professional Certification for Utah's Urban Planners
American Institute of Certified Planners (AICP)
Next, you should seek to become professionally certified as an urban planner in Utah. The American Planning Association – Utah Chapter says that you should do this once you have your graduate degree and two years of professional experience under your belt. This is achieved by taking the American Institute of Certified Planners (AICP) exam.  You can take the exam at these Prometric testing sites in Utah:
Lindon – 350 South 400 West
Salt Lake City – 201 South 1460 East
George – Dixie State College
Taylorsville – 5500 S. Redwood Rd.
AICP Certification Maintenance in Utah
The Utah Chapter of the American Planning Association can also help you with Certification Maintenance. This involves completing 32 CM credits every two years to maintain your AICP certification. Of these 32 credits, 1.5 must be in ethics, and 1.5 in current planning law. For more information or for help in finding applicable activities, contact the Utah Chapter.
Other Urban Planning Certifications in Utah
There are other professional certifications available for Utah urban planners, such as:
Working as an Urban Planner in Utah
Utah's Outstanding Planning Projects
Some of Utah's recent planning projects that are notable include:
Fleet Block Rezone- in Salt Lake City, zoning changes for the Fleet Block on West and South
Affordable Housing Overlay – in Salt Lake City, zoning amendments to encourage construction of more affordable housing
Sandy Center Plaza – in Sandy, construction of an 11-story office building in the downtown area
Hale Centre Theatre – in Sandy, construction of a 130,000 square foot theater at Monroe St.
Pluralsight Headquarters – in Draper, new office park plan
Utah's Urban Planning Internships
If you are lucky, your urban planning degree program in Utah will include an internship program. This will allow you to gain professional experience before graduation. Examples of potential sites for internships in urban planning in Utah include (but are not limited to):
AgReserves, Inc. – Salt Lake City
AECOM- Salt Lake City
Pluralsight – South Jordan
Dominion Energy – Salt Lake City
Wilson & Company Inc. Engineers & Architects – South Jordan
WSP, USA – Salt Lake City
Utah's Urban Planning Public Sector Positions
There are many opportunities for careers in the public sector in Utah, such as:
Nepa Planner- Department of Agriculture, Salt Lake City
Community Planner- Department of the Navy, Clearfield
Fire Management Planner – US Department of the Interior, Salt Lake City
Director of Community Development – City of South Salt Lake
Community Development Zoning Technician – Sandy City
Utah Department of Transportation Planner – Salt Lake City
Utah's Urban Planning Private Sector Positions
Careers in Utah's private sector in urban planning may include:
Project Coordinator/Planner – Transcon Environmental, Draper
Principal Planner- Salt Lake City
Project Designer – IBI Group, Salt Lake City
Assistant Professor in City & Metropolitan Planning- University of Utah, Salt Lake City
Planner II – Komatsu America Corp., Salt Lake City
Utah's Urban Planning and Real Estate Forecast
According to the National Association of Home Builders Housing Opportunity Index, as of 2008, 43 percent of Utah's households at or below the median income could not afford to purchase an average home in the Salt Lake City area. Currently, Utah is experiencing what has been termed a "mismatch" between housing needs and zoning laws. Zoning can be used to create better housing options in the state. The best balance to meet housing demand, researchers say, would consist of 60 percent single-family houses, 26 percent apartments, and 14 percent townhomes and duplexes, statewide. Urban planners can help to shape Utah's future through better and more efficient planning of living spaces for all citizens.
Other Resources for Utah's Urban Planners