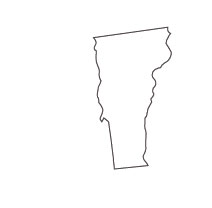 Vermont is unique in that it has five state designation programs. These designation programs are designed to direct private and public resources to the proper areas to maintain Vermont's landscape. These five designations are:
Village centers – These are usually mixed-use areas that support revitalization activities in small-to medium-sized historic centers that have at least one commercial or civic building
Downtowns – Support revitalization activities in medium- to large- sized historic centers with community capacity to support a non-profit organization or municipal commission
New town centers – Provide a framework for creating compact, walkable, mixed-used center for municipalities that have no designated downtown or village center. Professional planning staff are required in new town centers, as well as a governing body.
Neighborhood development areas – These support housing development inside, or within walking distance of, one of the core designations listed above.
Growth centers – These help to shape areas beyond a commercial center with a framework of regulations and policies that help to ensure 20 years of future development enhancing a designated core.
Examples of village centers in Vermont are Jamaica, Fairlee, Woodstock and Hardwick. Village centers are diverse, with populations ranging from hundreds to over 10,000. The majority of village centers are less than 50 acres in area.
Downtowns are larger than village centers and have a higher density of mixed-use development. One example is Barre. Populations of downtowns are at least 2000. Half are between 50 and 100 acres in area.
New town centers are designed to be walkable, meet smart growth goals and be compact and pedestrian friendly. Examples are South Burlington and Colchester. Populations are around 15,000 to 20,000. These two new town centers are about 100 acres in area.
Neighborhood development areas may include an entire designated core area or part of that area suitable for development extending a quarter of a mile from village centers and new town centers, and a half mile from downtowns or within a designated growth center. Currently, neighborhood development areas in Vermont exist within medium and large communities. Most are smaller than 50 acres in area. Burlington is one example of a neighborhood development area designation that occurred in 2014.
A growth center in Vermont will have at least 7000 residents. Half of the state's current growth centers have over 10,000 residents. Half of them are also under 1000 acres in size. St. Albans City is an example of a growth center designation that occurred in 2010.
This is a lot for a prospective urban planner in Vermont to comprehend. If you are interested in working in this exciting and challenging field, keep reading to discover how you can become a Vermont urban planner.
Income for Vermont's Urban Planners
The Bureau of Labor Statistics (BLS) of the US Department of Labor reports that urban planners employed in Vermont in May 2019 brought home an average yearly salary of $57,320. Planners working in cities throughout Vermont earned the following (some city data is from Salary.com):
Burlington: $63,210
Colchester: $60,341
Rutland: $60,883
South Burlington: $63,210
Vermont Land Use and Planning Laws and Regulations
According to the Vermont Department of Housing and Community Development, as of April 2017, 86 percent of municipalities in Vermont have a plan. Plans help municipalities in Vermont be ready for economic development, housing needs, infrastructure, and environmental health. The Department says that as of April 2017 there were 213 municipal plans in the state of Vermont. Municipal plans can be utilized as a long-term guide, a basis for decision making, an action plan to identify implementation steps, and a basis for municipal regulations. Municipal plans in Vermont help municipalities be able to adopt zoning and subdivision regulations, flood-hazard regulations, and capital budgets. They help influence state regulatory proceedings and help municipalities qualify for and receive priority for state and federal programs.
Regional Planning Commissions in Vermont
Vermont has 11 Regional Planning Commissions, which adopt plans that parallel the content of municipal plans and must be consistent with state planning goals. Municipal plans must be compatible with regional plans. Municipalities may adopt a regional plan, or part of a regional plan, as its municipal plan.  The 11 Regional Planning Commissions (RPC) in Vermont are:
Northwest RPC
Northeastern Vermont Development Association
Lamoille County PC
Chittenden Country RPC
Central Vermont RPC
Addison County RPC
Two Rivers Ottauquechee RC
Rutland RPC
Southern Windsor RPC
Bennington County RC
Windham RC
Statewide Planning Goals in Vermont
Under Vermont law, there are 14 goals that municipal, regional, and state plans must encourage. They are:
Plan development to maintain the historic settlement pattern of compact village and urban centers separated by rural countryside
Provide a strong and diverse economy with jobs and high environmental standards
Broaden access to educational/vocational training
Provide safe, convenient, economic and energy efficient transportation systems
Identify, protect, preserve important natural and historic features of the Vermont landscape
Maintain/improve quality of water, air, wildlife and land resources
Make efficient use of energy, provide for development of renewable energy resources, and reduce greenhouse gas emissions
Maintain/enhance recreational opportunities for residents and visitors
Encourage/strengthen agricultural and forest industries
Provide for wise, efficient use of Vermont's natural resources and appropriate extraction of earth resources
Ensure availability of safe, affordable housing for all Vermonters
Plan for, finance, provide efficient system of public facilities and services that meets future needs
Ensure that safe, affordable child care is available for all
Encourage flood-resilient communities
Education and Training in Urban Planning in Vermont
Undergraduate Urban Planning Education in Vermont
Although you must eventually get a graduate degree in order to work in urban planning in Vermont, you must, of course, start by obtaining an undergraduate degree. Consider these options:
Bachelor of Science in Geography, Concentration in Urban, Community & Regional Planning – University of Vermont, Burlington
Bachelor of Science in Architectural Engineering Technology – Vermont Technical College, Randolph Center
Graduate Urban Planning Education in Vermont
Specialists encourage prospective urban planners to choose a graduate urban planning program that is accredited through the Planning Accreditation Board (PAB) of the American Planning Association. There are no such programs in Vermont. However, neighboring Massachusetts and New York house the following PAB-accredited urban planning programs:
Massachusetts:
Harvard University – Master in Urban Planning
Graduate School of Design, Department of Urban Planning and Design
Gund Hall 312, 48 Quincy St.
Cambridge, MA 02138
Accreditation through December 31, 2026
Ann Forsyth, Program Director
617.496.3587; aforsyth@gsd.harvard.edu
Massachusetts Institute of Technology – Master in City Planning
School of Architecture & Planning, Dept of Urban Studies & Planning
77 Massachusetts Ave. – Room 7-337
Cambridge, MA 02139
Accreditation through December 31, 2020
Eran Ben-Joseph, Department Head
617.253.7305; duspinfo@mit.edu
Tufts University – Master of Arts in Environmental Policy & Planning; Master of Science in Environmental Policy & Planning
Graduate School of Arts & Sciences, Dept of Urban & Environmental Policy & Planning
97 Talbot Ave
Medford, MA 02155
Accreditation through December 31, 2025
Mary Davis, Chair
617.627.3394; mary.davis@tufts.edu
University of Massachusetts at Amherst – Master of Regional Planning
College of Social & Behavioral Sciences, Dept of Landscape Architecture & Regional Planning
210 Design Bldg, 551 N Pleasant St.
Amherst, MA 01003-2901
Accreditation through December 31, 2026
Mark Hamin, Program Director
413.545.6608; mhamin@larp.umass.edu
New York:
Columbia University, New York – Master of Science in Urban Planning
Graduate School of Architecture, Planning and Preservation
1172 Amsterdam Ave, 413c Avery Hall
New York, NY 10027
Accreditation through December 31, 2021
Weiping Wu, Director
212.854.0004; weiping.wu@columbia.edu
Cornell University, Ithaca – Master of Regional Planning
College of Architecture, Art & Planning, Department of City & Regional Planning
106 W. Sibley Hall
Ithaca, NY 14853
Accreditation through December 31, 2021
Jeffery M. Chusid, Department Chair
607.254.5378; crpchair@cornell.edu
Hunter College, City University of New York – Master of Urban Planning
School of Arts & Sciences, Dept of Urban Planning and Policy
695 Park Ave, West Bldg 1611
New York, NY 10065
Accreditation through December 31, 2022
John Chin, Director
212.772.5603; john.chin@hunter.cuny.edu
New York University – Master of Urban Planning
Wagner Graduate School of Public Service, Urban Planning Program
295 Lafayette St., 2nd floor
New York, NY 10012
Accreditation through December 31, 2026
Zhan Guo, Director
212.998.7510; zg11@nyu.edu
Pratt Institute – Master of Science in City & Regional Planning
School of Architecture, Graduate Center for Planning and the Environment
200 Willoughby Ave.
Brooklyn, NY 11205
Accreditation through December 31, 2020
Eve Baron, Chair
718.687.5641; ebaron@pratt.edu
University of Albany, State University of New York – Master of Regional Planning in Urban & Regional Planning
College of Arts & Sciences, Dept of Geography and Planning
Arts & Sciences 218
Albany, NY 12222
Accreditation through December 31, 2023
Catherine T. Lawson, Director
518.442.4775; lawsonc@albany.edu
University at Buffalo, State University of New York – Master of Urban Planning
School of Architecture & Planning, Dept of Urban and Regional Planning
Hayes Hall
Buffalo, NY 14214-3087
Accreditation through December 31, 2021
Daniel Hess, Chair
716.829.5326; dbhess@buffalo.edu
Credentialing for Urban Planners in Vermont
American Institute of Certified Planners (AICP)
Why would you want credentials as a Vermont urban planner? Becoming professionally certified by the American Institute of Certified Planners (AICP) shows the world that you have the highest standards and ethics of the profession. You may sit for the certification exam after working in the urban planning field for two years. Prometric test centers in Vermont and neighboring states offering this exam are:
Albany, NY: 17 Computer Drive East
Concord, NH: 2 Whitney Rd.
Portsmouth, NH: 100 Arboretum Drive
Williston, VT:                600 Blair Park Road
Maintaining AICP Credentials in Vermont
The American Planning Association – Northern New England Chapter offers seminars, webinars and events to help you fulfill the requirement of completion of 32 Certification Maintenance (CM) credits every two years. This is necessary to maintain your AICP credentials. Check out their website for more information.
Auxiliary Certifications Offered for Vermont Urban Planners
Some more organizations offering urban planning credentials are:
Working in Urban Planning in Vermont
Urban Planning Projects Across Vermont
Truly outstanding urban planning projects in Vermont have included:
Shelburne Veterans Memorial, Vermont Urban & Community Forest Organization, Shelburne
South Burlington Open Space Program
Stafford Hill Solar Farm, Rutland
Neshobe Farm Planned Community Development, Brandon
Urban Planning Internships in Vermont
You can always seek out your own internship in Vermont, with examples being:
Event Planning Intern – Department of Wildlife and Fisheries Sciences, Montpelier
Stormwater Engineering Intern – Brattleboro Department of Public Works, Brattleboro
Summer Weatherization Tech Intern – Energy Co-Op of Vermont, Colchester
Summer Parks and Recreation Department Intern – Town of Waterbury Parks & Rec, Waterbury
Public Sector Urban Planning Jobs in Vermont
State, local and regional planning jobs in Vermont could include:
State Hazard Mitigation Planner- State of Vermont, Waterbury
US Forest Service Tech Resource Assistant – Burlington
Planning Analyst – Central Vermont Solid Waste Management District, Montpelier
Environmental Planer, FEMA- Rutland and Barre
Private Sector Urban Planning Jobs in Vermont
Companies and nonprofits offering private sector jobs in Vermont may include:
Assistant/Associate Professor (Sustainable Development) – World Learning, Vermont
Director of Science and Freshwater Programs – The Nature Conservancy, Montpelier
Sector Director – Tetra Tech, Burlington
Farm & Forest Community Coordinator- VHCB AmeriCorps Program, Montpelier
Real Estate Market and Planning Outlook for Vermont's Urban Planners
Realtors say that Vermont's real estate market will remain a seller's market, in terms of residential real estate. Specifically, in Grand Isle, Franklin, Addison and Chittenden Counties, home sales are up and are expected to continue to increase. There should be plenty of work available for anyone planning to become an urban planner in the Green Mountain state.
More Resources for Vermont's Urban Planners