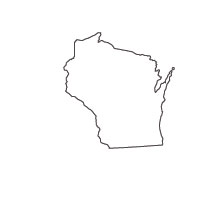 According to the Wisconsin Department of Administration, by 2040 the population of Wisconsin is projected to be 6.5 million, an increase of 14 percent over 2010's population. The state's median age is projected to increase from 38.4 years in 2010 to 42.4 years in 2040. Through 2040, 57 of the 72 counties in Wisconsin are expected to increase in population, with 25 exceeding the state's growth. Some of the fastest-growing counties are expected to be Saint Croix, Calumet, Kenosha, Brown, Saulk, Dana, Washington, Clark, Vernon and Menominee.
Seventy percent of Wisconsin's municipalities are projected to grow in population through 2040. Cities will have 54 percent of the state's residents. The two largest cities of Milwaukee and Madison are both expected in increase in population as well. Other cities that are expected to increase in population by 2040 include Kenosha, Green Bay, Waukesha, Appleton and Racine.
This population explosion is naturally expected to have an impact on Wisconsin's land use. Much of what is now used as cropland, rangeland, pasturelands and forests may be encroached upon by cities, towns and villages by 2040. Part of the job of Wisconsin's urban planners is to manage this type of growth and ensure that it occurs in a manner that is the most advantageous for the state's economy, health, and welfare as well as to preserve and maximize the greatest benefit of its natural resources. If you want to discover how you can become an urban planner in Wisconsin, keep reading.
Wisconsin's Pay for Urban Planners
The Bureau of Labor Statistics (BLS) of the United Stated Department of Labor (DOL) notes that as of May 2019, urban and regional planners working in Wisconsin were paid an annual median wage of $62,780. Those employed in Wisconsin's cities made more or less than this average salary, as noted below:
Green Bay: $59,250
Madison: $66,740
Milwaukee: $77,090
Oshkosh-Neenah: $60,850
Waukesha: $77,090
West Allis: $77,090
Wisconsin Urban Planning and Land Use Regulations and Laws
Wisconsin has 1922 counties, cities, villages and towns, per the Wisconsin Department of Administration. As of November 2010, 84 percent of Wisconsin's governments had adopted a comprehensive plan or were in the process of doing so. Zoning is done more on a county level, with only 20 percent of Wisconsin's towns having their own town zoning ordinances.
Wisconsin law allows local governments to create and follow their own comprehensive plans. These plans must be updated at least evert 10 years. This applies to counties, cities, villages, towns, and regions. Nine elements must be included in a comprehensive plan in Wisconsin:
Issues/opportunities
Housing
Transportation
Utilities/community facilities
Agricultural/natural/cultural resources
Economic development
Intergovernmental cooperation
Land use
Implementation
Any time a local government in Wisconsin makes changes to land division, zoning or mapping ordinances, they must do so consistent with their comprehensive plan. In 2015, the governor of Wisconsin signed Wisconsin Act 391 into law, which formally discusses the importance of consistency in comprehensive planning. If a local government enacts or amends ordinances, these ordinances must be consistent with its local comprehensive plan.
Wisconsin Coastal Management Program
Established in 1978, Wisconsin Coastal Management Program is designed to preserve and maintain access to historic resources of Wisconsin's Great Lakes coasts. Fifteen of Wisconsin's counties have frontage or Lake Superior and Lake Michigan:
Douglas
Bayfield
Ashland
Iron
Marinette
Oconto
Brown
Door
Kewaunee
Manitowoc
Sheboygan
Ozaukee
Milwaukee
Racine
Kenosha
The program is designed to:
Improve implementation/enforcement of state regulatory and management policies and programs affecting coastal areas/uses
Improve coordination of existing policies/activities on matters affecting coastal areas/uses
Strengthen local governmental ability to initiate/continue effective coastal management
Provide voice to advocate for wise, balanced use of coastal environment
Increase public awareness and opportunity for citizens to participate in decisions affecting the resources of the Great Lakes
Wisconsin Education for Urban Planners
Undergraduate Urban Planning Education in Wisconsin
You must start by obtaining an undergraduate degree in an urban planning-related field. In Wisconsin, some choices might include:
Bachelor of Science in Architectural Studies – University of Wisconsin-Milwaukee
Bachelor of Science in Landscape Studies – University of Wisconsin-Madison
Bachelor of Science in Urban Studies- University of Wisconsin-Green Bay
Graduate Urban Planning Education in Wisconsin
When looking at graduate urban planning programs in Wisconsin, select one that holds accreditation through the Planning Accreditation Board (PAB) of the American Planning Association. The following Wisconsin graduate programs hold such accreditation:
University of Wisconsin-Madison – Master of Science in Urban & Regional Planning
College of Letters & Science, Department of Planning & Landscape Architecture
925 Bascom Mall – Room 112 A
Madison, WI 53706-1317
Accreditation through December 31, 2022
Kenneth Genskow, Chair
608.262.1004; kgenskow@wisc.edu
University of Wisconsin-Milwaukee – Master of Urban Planning
School of Architecture & Urban Planning, Dept. of Urban Planning
P.O. Box 413
Milwaukee, WI 53201-0143
Accreditation through December 31, 2025
Lingqian Ivy Hu, Chair
414.229.5563; hul@uwm.edu
Planning Education for High School Students
In addition to offering collegiate-level urban planning education, the University of Wisconsin-Milwaukee provides high school students with urban planning education in its PUPS: Pre-Urban Planners summer program. Contact the Department of Urban Planning at frankm@uwm.edu for more information.
Planning Education for Middle-School and Elementary Students
Other programs that are sponsored through the American Planning Association-Wisconsin Chapter focus on planning education for younger children such as:
Terrace Town – In this Madison program, grade school students build cities from boxes
Future City Competition – This program gives Wisconsin middle schoolers a chance to build a future city
Professional Certification for Wisconsin's Urban Planners
American Institute of Certified Planners (AICP)
The American Institute of Certified Planners (AICP) offers professional certification, through passing an examination after you have two years of professional work experience. If you are interested, you may take this test at Prometric test centers in Wisconsin including:
Ashwaubenon/Green Bay: 1525 Park Place
Brookfield: 19435 West Capitol
Eau Claire: 1903 Keith Street
La Crosse: 210 South 7th Street
Madison: 1721 Thierer Rd. East
Wausau: 1 Corporate Drive
Maintaining AICP Credentials in Wisconsin
The American Planning Association – Wisconsin Chapter offers courses and events that will help you fulfill the AICP's mandate of completing 32 Certification Maintenance (CM) credits every two years. Right now on their website, they have posted the 2020 Local Land Use Planning & Zoning Webinar Series, with all content delivered online via webinar. Topics include:
Annual Case Law and Legislative Update
Planning Body Members' Responsibilities as Local Officials
Managing Local Rights-of-Way and Wisconsin's New 5G/Small Cell Law
Alternate Certifications for Wisconsin's Urban Planners
More organizations that provide urban planning certification in Wisconsin are:
The Career of Urban Planning in Wisconsin
Planning Projects Across Wisconsin
Outstanding planning projects have taken place in Wisconsin, such as:
Wisconsin State Highway Plan 2020
Babcock Hall Renovation & CDR Addition, University of Wisconsin –Madison
Ascent mass timber tower- Milwaukee
Milwaukee Yards sports facility- Oak Creek
BMO Tower- Milwaukee
Wisconsin Urban Planning Internships
There are many opportunities for urban planning internships in Wisconsin, including:
Planning and Real Estate/Environmental Intern – City of Milwaukee Dept. of City Development
Planning Intern – City of Fitchburg
Planning & Parks Intern – Ozaukee County, Port Washington
GIS/GPS Intern – Village of Bellevue
Community Development Intern – City of Neenah
Intern – Waukesha County Center for Growth, Waukesha
Wisconsin Public Sector Urban Planning Jobs
Public sector jobs in urban planner might be at the federal, state or local/regional levels, like:
Environmental Resources Planner – Capitol Area Regional Planning Commission, Madison
Land Use Specialist- Waukesha County
Planner II – Bay-Lake Regional Planning Commission, Green Bay
Land Use & Conservation Specialist – St. Croix County, Hudson
Director of Community Development – City of Wisconsin Rapids
Wisconsin Private Sector Urban Planning Jobs
Companies and nonprofits in Wisconsin often offer urban planning positions such as:
Community Development Planner- Short Elliott Hendrickson, Inc., LaCrosse or Chippewa Falls
Researcher – Wisconsin Policy Forum, Madison or Milwaukee
Procurement Forester – Rockbridge Sawmill, Richland Center
Urban Planner- Ayres Associates, Madison
GIS Contractor- System One, Madison
Real Estate and Urban Planning Forecast in Wisconsin
Per the Wisconsin Realtors Association, available home inventory in Wisconsin dropped by almost five percent from November 2018 to November 2019. The largest drop was in micropolitan counties, followed by rural counties and metropolitan counties. This shows that there are more buyers than sellers in what is a competitive housing market in Wisconsin. This ongoing inventory problem is expected to continue into 2020. Such a tight market creates opportunities for urban planners in Wisconsin, who are called upon to find new and creative ways to manage growth throughout the state.
More Resources for Wisconsin's Urban Planners