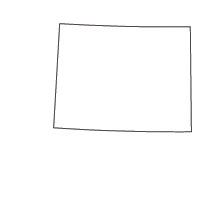 Wyoming is the 10th largest state in the United States, at 97,814 square miles, or 62.6 million acres. A commonly held misconception is that most of Wyoming's area is rural. In fact, 69 percent of Wyoming's population lives within the state's 99 incorporated cities and towns. By land area, however, the cities and towns of Wyoming cover a small portion, just 77 square miles, of the 97,814 square miles of the state's total area.
Wyoming has a unique mixture of low-density population that is aging, built environments that are dispersed across the state, and open spaces of varying values. Common tools that urban planners in Wyoming use to manage land use and plan development include comprehensive plans, zoning ordinances, subdivision regulations, and capital improvement plans.
Over the past two decades, natural resource development, rural residential development, large retail chain development, and tourism and outdoor recreation have all increased in the state of Wyoming. These factors have all influenced the state's land use, planning and development patterns. If you are interested in studying how these factors will affect current and future land use and planning patterns, keep reading to discover how you can become a Wyoming urban planner and shape the state's future.
Earnings for Wyoming's Urban Planners
The Bureau of Labor Statistics of the United Stated Department of Labor reports that, in May 2019, urban and regional planners employed in Wyoming earned annual median wage of $65,480. Cities across Wyoming paid their urban planners varying salaries, as seen in the figures below from Salary.com:
Casper: $57,087
Cheyenne: $55,592
Gillette: $54,216
Laramie: $56,254
Laws and Regulations Governing Land Use and Planning in Wyoming
Wyoming's State Land Use Planning Act was enacted in 1975. This mandated the preparation and adoption of local land use plans. It states what must be in a comprehensive plan, and that counties must coordinate their plans with the plans of their cities and towns. Under this law, all 23 counties in Wyoming must adopt a master/comprehensive plan. Cities and towns have the authority under law to establish planning commissions but are not required to do so. If they do, however, they must adopt a master/comprehensive plan.
Zoning ordinances, however, are not required by law. Therefore, six of Wyoming's 23 counties have no zoning regulations.
In addition to counties and municipalities, Wyoming law identifies four other local jurisdictions that have a legal authority, by law, to plan. They are:
Joint powers agreements– these are contracts between one or more of Wyoming's counties, municipalities, special districts, school districts, agencies, public institutions, commissions, boards, or political subdivisions. These establish a regional area that has the same planning authority given to cities and counties. One example is the Jackson-Teton County Joint Powers Transit System, established in 2001.
Improvement and service districts- these are jurisdictions that are developed and approved by a county board of commissioners in order to provide communities with services and infrastructure. An example is the Teton Village Improvement Service District, established in 1985.
Extra-territorial zones- these zones extend beyond the incorporated boundaries of a town/city into county jurisdiction, but still have municipal planning/zoning authority. They allow for a buffer for municipalities to meet land use standards. For example, the city of Cheyenne plans for expected growth in areas that lie beyond the city's boundaries and extend into Laramie County. PlanCheyenne was created to coordinate planning for this area between the city and county.
Parks and recreational districts- towns and cities in Wyoming are given authority to manage parks and conservation areas up to 30 miles outside of their boundaries. One example is an tract of land purchased by the city of Cheyenne from the Nature Conservancy and now managed by the city, Laramie County and The Nature Conservancy.
Wyoming's Land Resources
Land resources make up a large part of the character of the state of Wyoming. The idea of land as a physical resource includes soil, minerals, vegetation, fossil fuels and natural resources. Land can also be considered real property (real estate) and be divided into parcels for ownership. Land also can be seen as an object of capital value that can be owned and used for the best economic return. Land is also seen as a sense of place, a landscape that represents an aesthetic, cultural or historic value.
Wyoming has 48 percent of federally-owned land, above the national average of 28 percent. These are public lands that offer recreation, mining, grazing and timber harvest. They are generally managed by the National Park Service, U.S. Forest Service and U.S. Bureau of Land Management.
Forty-three percent of Wyoming's land is privately owned. Six percent of the land in Wyoming is owned by the state. Three percent, or 1.8 million acres, of Wyoming's land comprises the Wind River Reservation, located within Fremont and Hot Springs Counties. It is land that is held in trust for the Eastern Shoshone and Northern Arapaho tribes by the federal government. This land is managed by joint tribal councils.
How is Wyoming's land used? The largest usage of land in Wyoming is as rangeland and grassland pasture, which accounts for 72 percent of Wyoming's total land use. Twelve percent of the state's land is forest-use land. Another twelve percent is used for urban and special-use areas. This includes incorporated cities and towns, rural residential areas, and commercial and industrial uses in rural areas. Four percent of Wyoming's land is classified as cropland.
What is changing Wyoming's land usage patterns? Just as in most states, land use patterns in Wyoming are affected by environmental, cultural and economic factors. Public land policies influence land usage. Shifts in the economy also affect how land is used (i.e., a recent decrease in forest timber production). As populations increase, land use changes as well. This increases a demand for housing, changes employment patterns, affects transportation patterns, and adds to community services that are necessary.
Receiving Education in Urban Planning in Wyoming
Obtain Undergraduate Urban Planning Education in Wyoming
Before achieving your ultimate goal of getting a graduate urban planning degree in Wyoming, you must get an undergraduate degree. Ponder the following options:
Bachelor of Science in Planning – University of Wyoming
Bachelor of Arts/Science in Geography – University of Wyoming
Get Your Graduate Urban Planning Education in Wyoming
Although Wyoming is not home to any graduate urban planning programs accredited by the Planning Accreditation Board (PAB) of the American Planning Association, neighboring states have them:
Nebraska:
University of Nebraska Lincoln – Master of Community & Regional Planning
College of Architecture, Community & Regional Planning Program
304 Architecture Hall
Lincoln, NE 68588-0105
Accreditation through December 31, 2025
Gordon Scholz, Program Director
402.472.9284; gscholz1@uni.edu
Colorado:
University of Colorado Denver- Master of Urban and Regional Planning
College of Architecture and Planning, Department of Urban and Regional Planning
Campus Box 126, P.O. Box 173364
Denver, CO 80217-3364
Accreditation through December 31, 2023
Austin Troy, Chairperson
303.315.1000; austin.troy@ucdenver.edu
Utah:
University of Utah – Master of City & Metropolitan Planning
Specializations available in Ecological Planning, Economic & Real Estate Development, Historic Preservation, Housing & Community Development, Small & Resort Town Planning, Smart Growth, Urban Design
College of Architecture & Planning, Dept. of City & Metropolitan Planning
375 S. 1530 E. Room 235
Salt Lake City, UT 84112-0370
Accreditation through December 31, 2021
Stacy Harwood, Chair
801.581.6384; harwood@arch.utah.edu
Becoming a Professionally Credentialed Wyoming Urban Planner
American Institute of Certified Planners (AICP)
Professional certification for urban planners in Wyoming is attained through the American Institute of Certified Planners (AICP), which offers a certification examination for urban planners with graduate degrees who have worked for at least two years in the discipline. These Prometric test centers in Wyoming and nearby states offer the exam:
Casper, WY             951 Werner Court
Colorado Springs, CO             2790 N. Academy Blvd.
Greenwood Village, CO 5660 Greenwood Plaza Blvd.
Kearney, NE             1615 W. 24th Street
Lindon, UT             350 South 400 West
Longmont, CO            700 Ken Pratt Blvd.
Meridian, ID             Idaho State University
Pocatello, ID             1001 South 8th
Salt Lake City, UT             201 South 1460 East
George, UT            Dixie State College
Taylorsville, UT             5500 S. Redwood Rd.
Maintaining AICP Credentials in Wyoming
Once obtained, the AICP requires that you complete 32 Certification Maintenance (CM) credits every two years to maintain your credentials. Search for applicable online and in-person events to help you do so at the AICP website.
Alternative Certifications for Wyoming's Urban Planners
Other planning organizations that provide certification in Wyoming are:
Employment in Urban Planning in Wyoming
Notable Planning Projects in Wyoming
Planning projects that have occurred/are occurring in Wyoming include:
State Transportation Improvement Program
GIS Data Model Implementation – development of statewide water infrastructure data
Wyoming Department of Transportation Long Range Transportation Plan
Pole Mountain Trail Project
Urban Planning Internships in Wyoming
Even if your education is in another state, you can still find urban planning internships in Wyoming, like:
Planning Intern – WYDOT Aeronautics Division, Cheyenne
Nonprofit Intern – The Borgen Project, Casper
Native Trout Conservation Intern – Student Conservation Association, statewide
Engineering Intern – Union Wireless, Mountain View
Public Sector Planning Positions in Wyoming
National, state and local/regional planning positions in Wyoming might include:
Senior Planner – Laramie County
Principal Long-Range Planner – Teton County
Community Planner- Federal Highway Administration, Cheyenne
Senior Planner- State of Wyoming, Cheyenne
Principal Planner- Town of Laramie
Private Sector Planning Positions in Wyoming
Nonprofit and for-profit corporations that might hire urban planners in Wyoming are:
Senior Planner- Y2 Consultants, Inc., Jackson
Cultural Resource Specialist – Transcon Environmental, Rawlins
Range Technician – North Wind Resource Consulting, Pinedale
Environmental Inspector – SWCA Environmental Consultants, Sheridan
Seasonal Rangeland/Natural Resource Technician – Y2 Consultants, Jackson
Real Estate and Urban Planning Forecast in Wyoming
Although the state of Wyoming, as well as the nation, has undergone a recent economic slowdown, experts expect Wyoming's economy to keep growing due to its recreational amenities, natural resources and great quality of life. People are drawn to the state for tourism, and more even end up moving there. Wyoming was a seller's market in terms of residential real estate in 2018-19. Only eight percent of Wyoming's home sellers in 2018 had to lower their listing price in order to get their home to sell. Most homes in Wyoming that year sold in less than 100 days. The real estate market is expected to remain robust in Wyoming. This is a good indicator that there should be plenty of work available for those wishing to work as urban planners in the state.
More Resources for Wyoming's Urban Planners