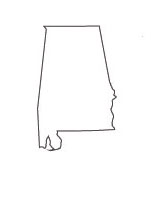 The state of Alabama has transitioned from a strictly agricultural economy to one that is a more diversified and industrial. Industries within Alabama that have seen the most growth include automotive, steel production and iron production. In fact, Alabama is the only state of the nation that contains all of the major natural resources that are necessary for steel and iron production. Additionally, it has the second largest timberland base in the country. With a population of almost 5 million as of July 2018 and a state that is just over 50,000 square miles in area, its idiosyncrasies make Alabama a uniquely challenging state in which Urban Planners work.
Alabama combines bustling cities such as Birmingham and Mobile with poorer rural areas in the Appalachian Mountains as well as coastal areas that must be protected.  Urban Planners working in the state are faced with a vast array of geographic and economic dilemmas. Major Urban Planning projects that have recently occurred within Alabama include:
Establishment of a new rapid-transit public transportation system in Birmingham
Renewed focus on eliminating and improving "blight zones" within the city of Mobile
Formulation of alternative shoreline protection measures called "living shorelines" along Alabama's coast
Improvement of infrastructure within Alabama's Appalachian Region, its 37 northernmost counties
Alabama Urban Planner Salary
Per the Bureau of Labor Statistics of the United States Department of Labor's May 2019 statistics, Alabama's urban planners earned an annual median salary of $55,540. Salaries vary depending upon your location within the state. In Alabama's major cities, for example, Urban Planners earn:
Birmingham/Hoover              $68,390
Montgomery                         $54,830
Mobile                                  $47,120
Huntsville                              $51,826
Tuscaloosa                             $51,363
Alabama Laws and Regulations for Urban Planning
Alabama's planning laws are enacted and enforced on a regional basis. There are regional councils across the state, under the Alabama Association of Regional Councils. These councils may provide services such as:
Local planning- this includes preparing comprehensive plans, subdivision regulations, zoning ordinances
Planning advisory services – such as plan updates, site plan subdivision plat reviews, and zoning cases
Special purpose plans – such as space utilization of public facilities, historic building inventories, industrial sites/parks, and downtown revitalization projects
Regional planning- stores information on economic development, transportation, sewer, water and housing for a region and becomes the blueprint for future growth within a region
State planning- regional plans may be pieced together to form state plans, if necessary, to coordinate planning of infrastructure, highways and waterways
Appalachian Regional Commission
The Appalachian Regional Commission (ARC)was established by Congress in 1965 to bring the 13 Appalachian states, of which Alabama is one, into America's economy. Acting as a federal-state partnership, within Alabama, the ARC invests in improving infrastructure, strengthening economic and community development, and investing in business development to improve the Appalachian region's economy. Sixty-four percent of Alabama's population lives within Appalachian Alabama. There are eight Local Development Districts (LDDs) in Appalachian Alabama:
Top of Alabama Regional Council of Governments (TARCOG): includes Marshall, Madison, Limestone, Jackson and DeKalb Counties
North Central Alabama Regional Council of Governments (NARCOG): includes Morgan, Lawrence and Cullman Counties
Central Alabama Regional Planning & Development Commission (CARPDC): Elmore County
South Central Alabama Development Commission (SCADC): Macon County
East Alabama Regional Planning and Development Commission (EARPDC): includes Tallapoosa, Talladega, Randolph, Etowah, Coosa, Cleburne, Clay, Cherokee, Chambers and Calhoun Counties
Regional Planning Commission of Greater Birmingham (RPCGB): includes Walker, Shelby, St. Clair, Jefferson, Chilton and Blount Counties
West Alabama Regional Commission (WARC): includes Tuscaloosa, Pickens, Lamar, Hale, Fayette and Bibb Counties
Northwest Alabama Council of Local Governments (NACOLG): includes Winston, Marion, Lauderdale, Franklin and Colbert Counties
The ARC's development plan for Alabama from 2020-2023 targets projects such as:
Improving broadband internet access to residents
Creating new jobs in the forest products and timberland industries
Assisting displaced coal mine workers in finding employment within other emerging industries
Developing new highways in the area
Alabama Coastal Restoration
The Deepwater Horizon oil spill occurred in 2010 and affected the Gulf of Mexico. The Alabama Gulf Coast Recovery Council, created in 2012, was designed to direct a percentage of the civil penalties paid by the parties of Deepwater Horizon to restoration and recovery of Alabama's coast. Under the RESTORE Act, in order to qualify to use this money, projects must include one of these criteria:
Promote consumption of seafood harvested from the Gulf Coast region
Promote tourism in the Gulf Coast region
Administrative costs
Planning assistance
Coastal flood protection/related infrastructure
Infrastructure projects including ports
Improvements to state parks in coastal areas affected by the oil spill
Workforce development/job creation
Implementation of a federally approved coastal, marine or comprehensive conservation management plan
Mitigation of damage to natural resources, wildlife and fish
Restoring and protecting the Gulf Coast and its coastal wetlands, beaches, wildlife and marine habitats, fisheries, ecosystems, and natural resources
Urban Planning Undergraduate Degree Program in Alabama
You must first acquire a bachelor's degree in order to become an Urban Planner in Alabama. Obtaining a graduate degree will be a necessary second step. If your program has an internship, this can be a valuable tool in helping you to gain experience that will enable you to get an entry-level Urban Planning position in the state.
Your undergraduate Urban Planning program should hold Planning Accreditation Board (PAB) accreditation. This shows that a program meets quality standards developed by the Association of Collegiate Schools of Planning (ACSP), the American Planning Association (APA), and APA's American Institute of Certified Planners (AICP).  In Alabama, there is just one undergraduate urban planning program:
Alabama A&M University, Normal – Bachelor of Science in Urban Planning
Graduate Urban Planning Degree Program in Alabama
After obtaining a bachelor's degree, you should enroll in a graduate program in Urban Planning in Alabama. There is one PAB-accredited graduate Urban Planning degree program in Alabama:
Alabama A&M University – Master of Urban & Regional Planning
Department of Community & Regional Planning, College of Agricultural, Life & Natural Sciences
Dawson Building, 308 C
Normal, AL 35762
Accreditation through December 31, 2023
Deden Rukmana, Chair
256.372.4990; Deden.Rukmana@aamu.edu
Options for Professional Certification for Urban Planners in Alabama
As an Urban Planner in Alabama, you need not meet any special certification requirements after completing you undergraduate and graduate education. Professional certification can, however, indicate to potential employers that you understand the nuances of land use throughout Alabama and that you have met certain quality standards that are upheld by the industry. Additionally, holding professional certification can help you to claim jobs with higher salaries.
American Institute of Certified Planners (AICP)
The American Planning Association, Alabama Chapter, advocates certification by the American Institute of Certified Planners (AICP) for Urban Planners statewide. Once you have completed one of the following education and experience requirements, you are eligible to sit for the AICP certification examination:
If you have no college degree and eight years of professional planning experience
If you have any undergraduate or graduate degree in a non-planning area and four years of professional planning experience
If you have a graduate degree in planning from an un-accredited school and three years of professional planning experience
If you have a bachelor's degree in planning from an accredited school and three years of professional planning experience
If you have a graduate degree in planning from an accredited program and two years of professional planning experience
Testing for AICP certification is offered at Prometric testing centers across Alabama, such as:
Montgomery – 4240 Lomac Street
Birmingham – 601 Beacon Parkway West
Huntsville – 210 Exchange Place
Dothan – 2307 Hartford Highway
Mobile – 1234 Hillcrest Road
Maintaining Your AICP Membership in Alabama
Once you have earned your AICP certification, you must maintain your credentials. Every two years, you must complete 32 continuing education credits and renew your certification. Continuing education activities may be found by using the CM Search database. Contact AICP's Professional Development Officer, Ben Wiseman, if you have any questions.
Other professional certifications that can be valuable to an Alabama Urban Planner and are offered by other organizations are:
Urban Planning Jobs and Careers in Alabama
Alabama's unique mixture of cities, rural communities within the Appalachian Mountains, and vulnerable coastal areas provide you, the new graduate, with a cornucopia of possibilities when getting started in your career.  Job titles such as Environmental Planner, Urban Planning Associate and Regional Extension Agent all are targeted to individuals with Urban Planning education and experience.
Graduate Urban Planning students at Alabama's A&M University must choose between a research project, planning project or thesis. All of these experiences can provide you with valuable knowledge that can help you in obtaining a good Urban Planner job after graduation.  Additionally, students have completed internships within companies such as:
AAMU Community Development Corporation
City of Birmingham
City of Huntsville
Bloomberg Philanthropies
Downtown Huntsville, Inc.
In the past few years, Alabama has seen the following urban planning projects take place:
The Small Town Design Initiative was designed in the late 1990s to help small towns across Alabama preserve things that make them special while, at the same time, preparing for growth. This project has continued to the present day.
The College Hills and Graymont neighborhood revitalization plans in Birmingham
Restore Our Roadsproject in Huntsville, designed to improve 275 miles of roads throughout the city
Development of theFlagg Mountain Strategic Plan in Weogufka State Forest
Coastal Alabama Restoration Tool, developed to conserve, protect and restore habitats and resources in the coastal area of the state
Employment in Alabama's Public Sector
Alabama's public sector offers jobs for urban planners at the state and regional levels. In order to quality for most positions, you must pass a test. Some examples include:
Baldwin County Extension Coordinator, Alabama Cooperative Extension System
Planner, City of Tuscaloosa
Director of Community Development, Jefferson County
City Development Technician, Montgomery
Employment in Alabama's Private Sector
There are many opportunities for employment for urban planners in Alabama's private sector. Whether you prefer to work in the state's cities, mountains, forests, parks, or coastal areas, companies such as the following may be willing to hire you:
Assistant Professor in Urban Planning, Alabama A&M University, Normal
Facilities Master Planner, Pond & Company, Huntsville
Consulting Utility Forester, Davey Tree, Mobile
Geospatial Quality Lead, Optimal GEO, Athens
Alabama's Real Estate and Urban Planning Outlook
The Alabama Center for Real Estate noted that as of 2018's first quarter, the outlook for the state's real estate industry looked more robust than it had in seven years. This included both the commercial and residential markets. Regions of the state that saw marked improvement included the South Coastal area, the North Huntsville Decatur Florence area, the Huntsville Region and the South Central Montgomery Auburn Wiregrass Dothan area.
The median sales price for a single-family home in Alabama rose from $159,915 in the fourth quarter of 2018 to $180,868 by 2019's third quarter. Metropolitan areas in Alabama that are the most affordable to live in, based upon estimated median family incomes, are Florence/Muscle Shoals, Anniston/Oxford, Decatur, Montgomery and Gadsden. Non-metropolitan areas ranked by affordability include Monroe County, Cullman County and Talladega County.
Alabama's economic outlook suggests that the state's economy will grow by almost two percent in 2019. Combined with the optimistic real estate outlook, the future looks bright for those looking to pursue a career in any type of urban planning in the state of Alabama.
Additional Urban Planning Resources in Alabama