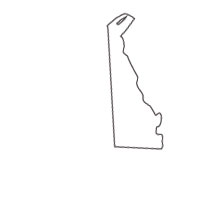 The U.S. Census Bureau states that as of July 1, 2019, the population of Delaware was almost one million people (973,764, to be exact). From April 1, 2010 to July 1, 2019, Delaware's population rose by 8.4 percent. When you consider that Delaware's land area is just under 2000 square miles (it's 1948.54 square miles in area), that's a lot of people packed into a tiny state. The Delaware Population Consortium works with the Office of State Planning to prepare population projections for the state each year. As of October 31, 2019, they are projecting that Delaware's population will increase to over one million residents by the year 2025. This presents unique challenges for urban planners working in the First State.
In December 2019, the U.S. Department of Housing and Urban Development (HUD) and the U.S. Department of Veterans Affairs (VA) announced that they were giving money to public housing agencies in Delaware to help homeless Delaware veterans find permanent homes. Additionally, Delaware has become known as a popular home for corporations due to its corporate-friendly laws.  There are a variety of planning projects in the works in Delaware, with new businesses relocating to the state. Urban planners who wish to work in Delaware should find a wide variety of projects with which they can become involved. If you would like to become one of them, read on.
Urban Planner Salaries in Delaware
The U.S. Department of Labor's Bureau of Labor Statistics (BLS) notes that as of May 2019, urban planners working in the state of Delaware averaged an annual median wage of $62,080. Those in the 75thpercentile made $75,320 annually, while those in the 90thpercentile earned $90,330 per year. Urban planners working in the Dover area averaged $60,030 per year. Salary.com notes the following average yearly salaries for urban planners working within other cities in Delaware:
Bear $51,484
Bethany Beach $51,691
Delaware City $51,504
Lewes $51,591
Middletown $51,385
Milford $51,591
New Castle $51,542
Newark $51,504
Rehoboth Beach $51,691
Seaford $50,527
Smyrna $51,407
Wilmington $51,542
Delaware's Planning Regulations and Laws
Delaware operates under larger Master Plans and local Comprehensive Plan system. Master Plans in Delaware focus on one or more sites in a regional area and identifies general improvements, needed infrastructure, access, and an intended growth guide for that area. They are larger than Comprehensive plans and are often created when one municipality needs the help of another in the planning process.  Examples of Master Plans that have been undertaken in Delaware include:
Georgetown South
Milford Southeast Neighborhood
Southern New Castle County Infrastructure
Eden Hill Farm
Westtown
Churchman's Crossing
Steps in drawing up a Master Plan in Delaware are:
Identify key stakeholders
Get organized
Commit to move forward
Assess existing conditions
Involve the public
Prepare plan draft
Get feedback on plan draft
Adopt plan
Implement plan
Comprehensive Land Use Plans in Delaware
Comprehensive Plans, on the other hand, are land use plans that, by law, must be developed and regularly updated by Delaware's municipal governments. Cities that are larger than 2000 in population must develop Comprehensive Land Use Plans, while those with populations under 2000 must develop a municipal development strategy.
Additionally, each county (New Castle, Sussex and Kent) must develo0p its own County Comprehensive Plan. All plans are reviewed by state agencies through the Preliminary Land Use Service, and certified by Delaware's governor.
Traffic Planning in Delaware
Anyone who lives in or travels through Delaware on a daily basis will tell you that the traffic in the state is a nightmare. The Delaware Department of Transportation works with the Department of Planning  to try to alleviate traffic headaches, but when you consider the number of people living in and driving through the state each day, and the state's small area, traffic is always going to be a problem.
Further development in the state places even more demands on Delaware's transportation system. Traffic impact studies are used as a planning tool to foresee demands on the transportation network and try to find and fix problems before they occur. These studies are seen more as a reactive approach, however, as their focus is on mitigating the transportation effects of single, new developments instead of finding a proactive strategy to fund transportation improvements. Urban planners who choose to work in Delaware will certainly face challenges when it comes to balancing the state's infrastructure with new development.
Delaware's Urban Forest
According to the Delaware Center for Horticulture, the urban forest area in Delaware is below the national average. Since 1990, Delaware's urban land has increased by 14 percent, with only 16 percent tree canopy in the city of Wilmington and 19 percent in the greater New Castle County metropolitan area. The Delaware Center for Horticulture has partnered with the U.S. Forest Service to try to build up Delaware's urban forest through comprehensive planning. Trees are necessary for healthy communities, which is one of the tenets behind their Trees for Wilmington program. They note that benefits of a well-managed urban forest include:
Control of water runoff and flooding
Removing air pollution
Moderating temperatures and reducing energy consumption
Enhancing community economic viability and increasing property values
Improving the quality of life in society by reducing stress levels, reducing crime, and enhancing the cohesion of society
Undergraduate Urban Planning Degree Programs in Delaware
The first step in your journey towards becoming an urban planner in Delaware is to obtain an undergraduate degree in urban planning or a related field, such as:
Bachelor of Science in Energy & Environmental Policy – University of Delaware, Newark
Bachelor of Science in Environmental Science & Policy – Wilmington University, Wilmington
Graduate Urban Planning Degree Programs in Delaware
The ultimate goal for those wanting to become an urban planner in Delaware is to obtain a graduate degree, preferably one accredited by the    Planning Accreditation Board (PAB) of the American Planning Association. As of January 2020, there are no such accredited programs in the state, however. The following programs have been recognized by the Association of Collegiate Schools of Planning (ACSP):
University of Delaware – Master of Arts in Urban Affairs & Public Policy
Joseph R. Biden, Jr. School of Public Policy & Administration
184 Graham Hall
Newark, DE 19716
302.831.1687;bidenschool@udel.edu
Areas of Focus Available:

Urban and regional planning
Historic preservation
Housing and community development
Health services policy
Non-profits and philanthropy
Media and public policy

University of Delaware – Ph.D. in Urban Affairs & Public Policy
Joseph R. Biden, Jr. School of Public Policy & Administration
184 Graham Hall
Newark, DE 19716
302.831.1687;bidenschool@udel.edu
Areas of Specialization:

Governance
Planning and Management
Social and Urban Policy
Technology
Environment and Society
Another interesting option for Delaware students interested in pursuing an accredited Urban Planning graduate degree program is to enroll in the following PAB-accredited program. Students from Delaware are eligible for in-state tuition rates if they enroll in this program:
University of Oklahoma – Master of Regional and City Planning
Division of Regional and City Planning
256 Gould Hall, 830 Van Vleet Oval
Norman, OK 73019-6141
Accreditation through December 31, 2022
Charles Wamken, Director
405.325.3871;cwamken@ou.edu
Areas of Specialization:

Transportation planning
Economic and community development
Urban design
Environmental planning
Becoming a Professionally Certified Urban Planner in Delaware
American Institute of Certified Planners (AICP)
The Delaware Chapter of the American Planning Association encourages state Urban Planners to become professionally certified.  This entails passing an exam given by the  American Institute of Certified Planners (AICP).  It is recommended that you earn your graduate Urban Planning degree and work in the field for two years prior to sitting for the exam.
You may take the AICP exam at these Prometric testing centers in the Delaware area:
100 W Commons Blvd, New Castle, DE
1322 Belmont Ave, Salisbury, MD
1381 Chews Landing Road Bldg. 5, Laurel Springs, NJ
1501 S Clinton St., Baltimore, MD
8601 La Salle Rd, Towson, MD
601 Walnut St., Philadelphia, PA
4301 Garden City Dr., Hyattsville, MD
Maintaining Your AICP Certification in Delaware
In order to maintain your AICP certification, you must take 32 certification maintenance (CM) credits, including 1.5 CMs in Planning Laws and Planning Ethics, every two years. You can find eligible activities and events at the AICP website. Examples of recent and upcoming events in Delaware and the surrounding area are:
Advanced Land Use Law for Local Governments – Dover
Delaware Resilient and Sustainable Community Leagues 2019 Annual Summit – Dover
Delaware APA 2019 Fall Conference – Newark
Planning for Disaster Debris Management – Dover
Land Use and Zoning from Start to Finish – Dover
Commission Assistance and Mentoring Program – New Castle
Hurricane Awareness – Clayton
Other Professional Certifications Available for Urban Planners in Delaware
The AICP is not the only certification agency for urban planners in Delaware. Look into these other certifications you may earn:
Delaware's Career Opportunities for Urban Planners
If you are lucky, your graduate urban planning degree program will offer valuable internship opportunities. These will help you to put what skills and knowledge you have learned in the classroom into practice in the real world. Examples of internships in Delaware have included:
City of Newark Planning Department, Newark
Delaware General Assembly, Dover
State of Delaware Office of State Planning Coordination, Dover
First State Community Loan Fund, Wilmington
Nemours Health and Prevention Services, Newark
New Castle County Emergency Management – Newark
Chemours Company – Wilmington
Recently announced planning projects across Delaware include, but are not limited to:
Building of a 335-apartment complex by DelleDonne in Wilmington
Creation of a mixed-use community in Newark, with shops, restaurants and apartments
Construction of Dickinson apartments and townhome on University of Delaware campus in Newark
Building of DOT Foods Distribution Center in Bear
Building of a dozen hotels in Southern Delaware
Public Sector Jobs for Urban Planners in Delaware
Urban planners may work in a variety of settings, including public sector, private sector and nonprofit. Examples of jobs in Delaware's public sector include:
Director of Planning and Zoning for Sussex County – Georgetown
Planner II, DelDOT Transportation Solutions –Dover
Environmental Administrator, New Castle County Department of Public Works- New Castle
Planner I, II and III, Sussex County – Georgetown
Private Sector Jobs for Urban Planners in Delaware
Examples of private sector jobs urban planners might find in Delaware include:
Senior Development Manager – Wilmington Housing Authority, Wilmington
Executive Director – Housing Alliance Delaware, Wilmington
Global Supplier Diversity and Sustainability Manager- DuPont, Wilmington
Global Enterprise Sustainability Communicator – W.L. Gore, Newark
Real Estate and Urban Planning Outlook for Delaware
Delaware realtors have noted that, since 2018, when homes hit the real estate market in the state, they are selling within days. They point to a lack of inventory and increased demand for affordable single-family homes in the state. Offers above asking price are also commonly heard by these realtors.
Home sales are expected to return to normal levels in Delaware in the coming year. Sales are moderating, prices are normalizing and the new supply of homes are slow to be put on the market. Development statewide is expected to continue, with many projects in the works, planned, or already begun. All of these signs point to maintaining continued development in the state of Delaware, which means continued employment for prospective urban planners.
Additional Urban Planning Resources in Delaware