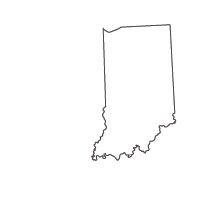 Recently, a bill was proposed in the state of Indiana that would change ownership of land along the shoreline of Lake Michigan. Currently, the state owns the land and holds it in trust for use by all Indiana residents. The new bill would transfer ownership to adjacent property owners whose land extends to Lake Michigan. The public was guaranteed access to Lake Michigan beaches under a 2018 Indiana Supreme Court ruling.
These proposals to law and regulation changes are things that urban planners in Indiana deal with on a daily basis. Urban planners must, according to state laws and regulations, plan spaces in which Indianans can healthily, safely, and happily live. This requires specialized education, experience and know-how. Coursework that you will take in an Indiana accredited urban planning program includes, but is not limited to:
Qualitative Methods and Social justice
Quantitative Analysis
Design and Presentation Techniques
Advanced Planning Theory
Planning Analysis
Urban Land-Use Development
Impact Analysis
Planning Law
Research Methods
Creative Project
As an urban planner in Indiana, you might also want to obtain a certificate in real estate development. This would help you to combine your knowledge and be far more marketable after graduation. Coursework that would be included in this curriculum includes (but is not limited to):
Construction
Housing and Property Management
Public Policy and Facilities
Community Development
Business Administration
Real Estate Law
If you would like to learn how you can become an urban planner and find work in the great state of Indiana, read on.
Remuneration for Urban Planners in Indiana
The U.S. Department of Labor's Bureau of Labor Statistics (BLS) reports that urban planners employed within the state of Indiana brought home an average of $57,390 per year as of May 2019. Those working within the following cities throughout Indiana earned various salaries, as seen below:
Anderson – $59,980
Carmel – $58,980
Fort Wayne – $62,050
Indianapolis – $59,980
Northern IN nonmetro area – $57,650
Legislation and Procedures for Urban Planning in Indiana
Planning helps to create livable communities that offer residents more and better choices. It also assists people in envisioning their future. Urban planners work closely with local, state and federal government officials, as well as with citizens, to receive input on what the people want to see in their communities. Planners in Indiana find themselves concerned with land use, zoning regulations, environmental issues, disaster preparedness, grant administration, economic development, urban redevelopment, transportation planning, planning for parks and other public facilities, preservation of historic structures, neighborhood and comprehensive planning, and much more.
Municipalities in Indiana may plan and zone based upon the state constitution. The state gives municipalities (townships, cities and counties) police power which is the ability to legislate in order to protect public health, safety and welfare within a jurisdiction.
In Indiana, a municipality may exercise powers that are not denied by the state constitution nor given to another entity. For example, a township can't exercise a power that has already been given to the county in which the township is located.
Comprehensive plans may be adopted by municipalities if those municipalities want to exercise zoning powers. Comprehensive plans in Indiana must address:
A statement of objectives for future development of the jurisdiction
A statement of policy for land use development of the jurisdiction
A statement of policy for the development of public ways, places, lands, structures and utilities
Categories of Uses in Zoning Ordinances
In Indiana, zoning ordinances allow some uses of land, prohibit some uses, and allow special exceptions for some uses. Prohibited uses are regulations that are not listed as permitted. Permitted uses are those that are right and allowed. Special exceptions may be applied for by landowners to receive a permit to allow a particular use of land subject to listed conditions.
Dwindling Farmland in Indiana
Some lament that development has occurred at the expense of valuable agricultural lands in Indiana. It is true that from 1950 to 2007, the proportion of Indiana farmland has decreased by 24 percent, while the population of the state during that same time grew by 61 percent. Many say that urban sprawl has harmed Indiana's natural resources, including its farmland. Indiana's agricultural industry contributes $25 billion annually to the state's economy.
"Prime farmland" in Indiana is defined by the U.S. Department of Agriculture as farmland that is best suited to raise oilseed, fiber, forage, feed, and food crops. This prime farmland has enough moisture, a proper growing season and adequate soil quality to produce a sustained high yield of crops. The least amount of energy and economic resources is spent on prime farmland, yielding the greatest results with minimal damage to the environment.
Much of Indiana's prime farmland is also considered to be well-suited for development. This has resulted in the rapid growth of urban and low density development in Indiana's farmland. There are no farmland preservation policies in Indiana at this time. More than 56 percent of Indiana's total land as of 2020 is classified as prime farmland, and contributes to the great agricultural production of the state. If measures are not put into place to preserve this prime farmland, however, many fear that it will be lost, bit by bit, to development.
Training for Urban Planners in Indiana
Indiana requires its urban planners to have a graduate degree. Before you can obtain that, however, you must get an undergraduate degree. Both degrees should be accredited by the Planning Accreditation Board (PAB) of the American Planning Association. One school in Indiana offers an accredited undergraduate urban planning degree as well as an accredited graduate urban planning degree:
Ball State University, Muncie

Master of Urban & Regional Planning
Bachelor of Urban Planning & Development
College of Architecture & Planning, Department of Urban Planning
Architecture Building, 327
Muncie, IN 47306-0315
Accreditation through December 31, 2022
Scott Truex, Chairperson
765.285.1963; struex@bsu.edu
Professional Credentials for Urban Planners in Indiana
American Institute of Certified Planners (AICP)
After obtaining your graduate urban planning degree, you should seek certification to get your AICP credentials. This is achieved when you pass the exam given by the American Institute of Certified Planners (AICP). These Prometric test centers in Indiana offer the exam:
Fort Wayne – Dean Drive, Ivy Tech Community College- North Campus
Indianapolis – 8696 Allisonville Rd.
Lafayette – 4050 Britt Farm Drive
Terre Haute – Ivy Tech Community College – Wabash Valley
AICP Certification Maintenance in Indiana
Every 24 months, you must complete 32 Certification Maintenance (CM) credits in order to maintain your certification. Find out more information on local events at the American Planning Association – Indiana website.
Further Certification Choices in Indiana
Other organizations bestowing professional credentials include:
The Business of Urban Planning in Indiana
Urban Planning Strategies in Indiana
There are some outstanding recently completed or begun urban planning projects throughout Indiana, such as:
Jackson Creek Trail, Phase II – Bloomington
School Zone Enhancements Project- Bloomington
Main Street Improvements- Goshen
Indiana Area School District Expansion – White Township
Urban Planning Internships in Indiana
Most college urban planning programs offer students internships. If yours does not, you can seek out your own, such as:
Urban Landscape Steward Intern – City of West Lafayette
Summer Planning Internship- BSA LifeStructures, Indianapolis
Roadway Intern – WSP USA, Indianapolis
Traffic Intern – WSP USA, Indianapolis
Public Sector Endeavors in Urban Planning in Indiana
Jobs in Indiana's public sector might have titles such as:
Assistant Planner- City of Michigan City, IN
Planner II- City of Elkhart, IN
Planner II- Town of Brownsburg, IN
Legislative Affairs Deputy Director- State of Indiana, Indianapolis
Assistant Community Planner- Dearborn County Planning & Zoning, Lawrenceburg
Private Sector Endeavors in Urban Planning in Indiana
Jobs in Indiana's private sector might sound like:
Environmental Planner- Parsons, Indianapolis
Advanced Planner III – Warrant Technologies, Crane
Transportation Planner- NFI Industries, Greenwood
Occupancy Planner- JLL, West Lafayette
Real Estate and Urban Planning Prospects in Indiana
According to the Indiana Business Research Center, 2020 will continue Indiana's hot housing market. This is a result of strong buyer demand and limited supply. Housing prices appreciated more, and faster, in Indiana in 2019 than the national average. Construction continues to be on the rise in Indiana as well. This spells good news for those seeking positions as urban planners and land use developers in Indiana. If current trends continue, there should be plenty of work in planning and land use in Indiana for the foreseeable future.
Further Resources for Urban Planners in Indiana