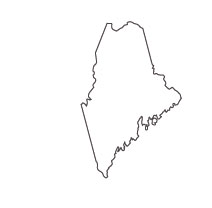 Maine's population is 1.3 million, according to statistics provided by the U.S. Census Bureau circa 2018.
The state has 739,077 housing units. Land use and zoning laws can be quite loose in Maine, as some jurisdictions have them and others do not. This can create unique and frustrating challenges for urban planners working in Maine.
Over 10 million acres of unorganized territory in Maine is controlled by the state's Land Use Planning Commission, which controls land use and regulations in this area. They work closely with the Maine Department of Environmental Protection in deciding to issue permits for development and recreational projects. As of 2020, the agency is also responsible for reviewing regulations of the New England Clean Energy Connect proposal for a high-voltage transmission line through western Maine.
Something that is unique to the state of Maine and not found in all states is the fact that there are native tribes living there. Tribes in Maine operate under state law, unlike tribes in other states that operate under federal Indian law. A bill that would revise this act is currently (as of March 2020) before Maine's state legislature. Under the new bill, tribes in Maine could acquire land anywhere in the state, designating that land as tribal trust land and removing it from state jurisdiction. As state law stands now, however, the state has little authority to enforce Maine laws (including zoning and land use laws) in Indian lands. This could greatly affect land regulation and usage of tribal lands in Maine if any changes are made.
Becoming an urban planner in Maine is an ambitious and accomplishable goal, if you know what to study and how to train. If you would like to take on this lofty goal, please keep reading.
Maine Urban Planning Wages
The Bureau of Labor Statistics of the U.S. Department of Labor states that as of May 2019, urban planners employed in the state of Maine were earning an annual median wage of $68,560. Those working in various parts of the state earned wages that were higher or lower than this average, as noted below (some city salary statistics were provided by Salary.com):
Bangor $56,001
Lewiston $60,707
Portland $75,160
South Portland $75,160
Land Use and Urban Planning Regulations in Maine
Maine is home to 16 counties. They are, ranked by population from greatest to least (per the U.S. Census Bureau info from 2010 to 2018):
Cumberland County
York County
Penobscot County
Kennebec County
Androscoggin County
Aroostook County
Oxford County
Hancock County
Somerset County
Knox County
Waldo County
Sagadahoc County
Lincoln County
Washington County
Franklin County
Piscataquis County
Within Maine's 16 counties, there are 488 incorporated municipalities including cities, towns and plantations. Not every local jurisdiction in Maine has land use ordinances, or comprehensive plans. There are no state mandates or minimum standards that must be included in local land use ordinances, as all communities in Maine are diverse with varied needs and conditions.
In 1988, Maine enacted its Growth Management Act. It stated that comprehensive planning for local jurisdictions is optional and voluntary. If a municipality does create a comprehensive plan, it must submit that plan to the State Planning Office for review. Additionally, under the Act, preparing a town-wide land use ordinance is voluntary. All municipalities must adopt a shore land zoning ordinance, as well as a flood hazard ordinance if they participate in the national flood insurance program. Towns that opt to adopt a land use ordinance must address the following:
Identify growth areas and rural areas
Prepare a capital investment plan
Protect, maintain, and improve water quality
Protect critical resources
Ensure preservation of access to coastal waters
Discourage new development that is incompatible with agriculture and forest resources/industries
Encourage siting and construction of affordable housing
Recognize and protect historical and archaeological resources
Make sure outdoor recreation opportunities remain available and accessible
Development of management goals for great ponds
What is a Great Pond?
Legally in Maine, any lake and pond greater than 10 acres in size is classified as a Great Pond. Impounded water greater than 30 acres in size is also a Great Pond. Impounded water less than 30 acres but greater than 10 acres before damming are known as Great Ponds as well. Great Ponds have special land use laws and regulations that apply to them.
There are 5785 lakes and ponds larger than one acre in Maine. Half of these are classified as Great Ponds (over 10 acres in size). A comprehensive list of them by county can be found here.
Maine Land Use Planning Commission
In Maine, the Land Use Planning Commission (LUPC) under the Department of Agriculture, Conservation and Forestry is the planning and zoning authority for "unorganized and de-organized areas of the state, including townships and plantations." These include areas of the state that have no local government or no land use controls at local levels. These areas cover 10.4 million acres, over half of Maine, and include land across the western mountains to the Canadian border, as well as coastal islands and parts of down east Maine. It is commonly known as Maine's "wildlands."
Some of the projects that the LUPC has done in these areas include:
Comprehensive Land Use Plan for the area- adopted in 1976, revised 2010
FEMA Map Modernization – April 2017
Wind power Projects- 1991 to the present
Laws and regulations surrounding recreational lodging in the area
Urban Planning Instruction in Maine
Urban Planning Undergraduate Instruction in Maine
Maine does not house any urban planning undergraduate programs that are accredited by the Planning Accreditation Board (PAB) of the American Planning Association. Alternatives include:
Bachelor of Science in Ecology and Environmental Sciences- University of Maine
Bachelor of Science in Wildlife, Fisheries and Conservation Biology- University of Maine
Urban Planning Graduate Instruction in Maine
Maine has no graduate urban planning degree programs holding accreditation through the Planning Accreditation Board (PAB) of the American Planning Association. The closest accredited programs would be located in Massachusetts, and include:
Harvard University – Master in Urban Planning
Graduate School of Design, Department of Urban Planning and Design
Gund Hall 312, 48 Quincy St.
Cambridge, MA 02138
Accreditation through December 31, 2026
Ann Forsyth, Program Director
617.496.3587; aforsyth@gsd.harvard.edu
Massachusetts Institute of Technology – Master in City Planning
School of Architecture & Planning, Dept of Urban Studies & Planning
77 Massachusetts Ave. – Room 7-337
Cambridge, MA 02139
Accreditation through December 31, 2020
Eran Ben-Joseph, Department Head
617.253.7305; duspinfo@mit.edu
Tufts University – Master of Arts in Environmental Policy & Planning; Master of Science in Environmental Policy & Planning
Graduate School of Arts & Sciences, Dept of Urban & Environmental Policy & Planning
97 Talbot Ave
Medford, MA 02155
Accreditation through December 31, 2025
Mary Davis, Chair
617.627.3394; mary.davis@tufts.edu
University of Massachusetts at Amherst – Master of Regional Planning
College of Social & Behavioral Sciences, Dept of Landscape Architecture & Regional Planning
210 Design Bldg, 551 N Pleasant St.
Amherst, MA 01003-2901
Accreditation through December 31, 2026
Mark Hamin, Program Director
413.545.6608; mhamin@larp.umass.edu
Becoming a Certified Urban Planner in Maine
American Institute of Certified Planners (AICP)
The American Institute of Certified Planners (AICP) offers urban planners an examination that will give them certification and credentials. You can take the exam at these Maine Prometric test centers:
Bangor 11 Bangor Mall Blvd.
South Portland Atlantic Place, Building B
Maintaining Your AICP Certification in Maine
Every two years, you must complete 32 Certification Maintenance (CM) to maintain AICP certification. The Northern New England Chapter of the American Planning Association provides information on free CM credits you can earn online, as well an in-person events that count towards your CM credit requirement.
Options for Certification for Maine Urban Planners
There are other certification organizations for Maine urban planners, including:
The Business of Urban Planning in Maine
Urban Planning Projects Across Maine
Maine's planning projects include, or have included:
Maine Turnpike Authority 4-Year Capital Investment Plan
Munjoy Hill Neighborhood Conservation Overlay District – Portland
Court Street Improvements – City of Auburn
Village Master Plan- Town of Gray
Route 1 Corridor Study- Town of Scarborough
Urban Planning Internships in Maine
If your college planning program does not offer an internship, you can still pursue one yourself. Examples of planning internships in Maine include:
Environmental Intern – TRC Companies, Inc., Scarborough
Traffic Intern – WSP USA, Yarmouth
Construction Intern – CRH, Fairfield
Maine's Urban Planning Public Sector Professions
Federal, state and local level urban planning jobs exist in Maine's public sector, such as:
Community Planner- Department of Navy, Bangor and Bath
Urban Development Specialist – City of Auburn
Director of Transportation – Southern Maine Planning & Development Commission
Assistant City Planner- City of Sanford
Regional Transportation Planner- Greater Portland Council of Governments
Maine's Urban Planning Private Sector Professions
Jobs in Maine's private sector that may be available for urban planners include:
Farm Bill Pollinator Conservation Planner- Xerces Society, Inc., Bangor
Transportation Planning Consultant – Burns & McDonald, Portland
Planner- Modula, Inc., Lewiston
Foretelling the Real Estate and Urban Planning Industries in Maine
Maine has seen a strong real estate market for the past few years. In 2018, a record number of home sales occurred in the state, increasing 1.31 percent from 2017's figures. Additionally, home prices that year rose 7.5 percent to a statewide average of $215,000. A short supply of available, affordable homes in York and Cumberland Counties largely drove this increase. It is expected that, while Maine's real estate market will cool off a bit, the positive trends will continue.
Urban planners in Maine should have plenty of work available not only from the booming real estate market, but also from the many developments, transportation plans, and conservation efforts going on in the state. If you want to become an urban planner in Maine, this is the time to do so.
Further Urban Planning Resources in Maine