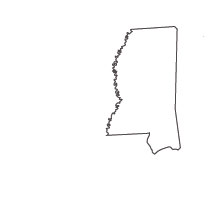 Early cities in Mississippi, as in many parts of the United States, were planned and laid out on a grid street network. In the early 1900s, cities were designed so that everything was in walking distance for residents to access. These early cities were planned and built according to the people's needs at that time.
During the mid-20thcentury, however, a shift occurred in Mississippi and elsewhere. Suburban sprawl, outside of cities, began occurring, ass people moved outside of cities to find work and better living conditions post-Industrial Revolution. At this time, land use was separated, with heavy industry and residential areas being planned through different single-use zones.
In today's Mississippi cities, land uses are mixed, with commercial zones existing next to residential zones without problems. This is known as "mixed-use development," and is becoming the norm not just in Mississippi but across the nation. Appropriate mixes of land uses, however, must be created as single-use zones are phased out. In Mississippi's cities, as in other cities across the country, the most unattractive part of a city is the commercial development that exists along major highways. This pattern of development does not lend itself well to a city's character.
Also, within rural communities in Mississippi, mixed-use development is illegal based upon outdated policies that may still be in place. Many of these policies are in need of updating to reflect modern needs.
If you would like to learn how to become an urban planner in Mississippi and help to shape the future of the state's cities, suburban and rural areas, read on.
What Can I Expect to Earn as an Urban Planner in Mississippi?
The Bureau of Labor Statistics (BLS) of the U.S. Department of Labor quotes the annual median wage for urban planners in Mississippi as of May 2019 at $56,760. Per Salary.com, those working in the following areas of the state earned more or less than this average, as you can see here:
Biloxi $54,311
Gulfport $53,882
Hattiesburg $53,545
Jackson $54,804
Philadelphia $52,973
Southaven $56,701
What Are Mississippi's Laws Regarding Planning and Land Use?
Like most states, Mississippi delegates land use planning to municipalities and to counties in unincorporated parts of counties. The law does not require local governments to develop comprehensive plans, but gives them the power to do so if they choose. Likewise, zoning regulations in a city or county are not required, but local governments are given power under state law to develop such regulations if they choose.
Conservation Easements in Mississippi
Many private landowners in Mississippi own forestland that has been passed down in their families from one generation to the next. A 2012 survey of woodland owners in Mississippi found that 14 percent of Mississippi forestland owners said the most important reason for owning their land was to pass it on to their heirs. Conservation easements have been used to help preserve open space and protect natural habitat in the state. A conservation easement is a legal instrument protecting property for its future, with perpetual easements passing from generation to generation. They have been used in Mississippi since the 1930s and 40s, at which time the National Park Service purchased land parcels for the Blue Ridge Parkway and the Natchez Trace. Landowners in Mississippi today can donate or sell easements to government agencies or private organizations. Whomever holds the easement must monitor and enforce the restricted property rights that protect cultural, productive or natural characteristics of the land for public benefit.
In a conservation easement, the landowner holds the following rights:
Specific development rights compatible with conservation purposes
Continued ownership of the land
Right to access the property
Right to sell, mortgage, and pass on land to heirs
Right to retain the land's status as private property
Rights that are restricted in a conservation easement include:
Limited to no subdivision of the land is allowed
Limited development on additional building on the land
No commercial or industrial uses are permitted other than timber harvesting, farming, ranching and cottage industry
Limited to no separation of water rights from the property
Mississippi Land Trust
The Mississippi Land Trust exists to work with private landowners to preserve natural resources in Mississippi. It helps to educate private landowners about their conservation options, to work with conservation agencies to protect Mississippi's natural resources, to educate the public on conservation, and to acquire and hold title to land and conservation interested in land in Mississippi.
What Sort of Urban Planning Education Can I Pursue in Mississippi?
Select a Mississippi Undergraduate Urban Planning Degree
While a graduate degree in urban planning is your ultimate goal in becoming an urban planner in Mississippi, you must start by obtaining an undergraduate degree. It is recommended that you select a program that has been accredited by the Planning Accreditation Board (PAB) of the American Planning Association. However, there are no PAB-accredited undergraduate programs in Mississippi. A good alternative is:
Bachelor of Arts in Urban Studies – Jackson State University, Jackson
You also might want to consider this PAB-accredited undergraduate program in neighboring Missouri:
Bachelor of Arts in Urban Planning & Design – University of Missouri, Kansas City
Choose a Mississippi Graduate Urban Planning Degree
The graduate urban planning program you choose should be accredited by the Planning Accreditation Board (PAB) of the American Planning Association. In Mississippi, the following program holds such accreditation:
Jackson State University- Master of Arts in Urban and Regional Planning
College of Public Service, Department of Urban and Regional Planning
101 W. Capitol St., Room 321
Jackson, MS 39201
Accreditation through December 31, 2020
Berneece Herbert, Chair
601.979.8732; berneece.herbert@jsums.edu
How Can I Become a Professionally Certified Urban Planner in Mississippi?
American Institute of Certified Planners (AICP)
Upon your graduation with a graduate urban planning degree, and being employed in the field for two years, think about becoming a professionally certified urban planner through the American Institute of Certified Planners (AICP). This involves passing an examination, which you can take at these Prometric test centers in Mississippi:
Ellisville – 72 Technology Blvd.
Flowood – 1080 River Oaks Drive
AICP Certification Maintenance in Mississippi
The AICP offers a Certification Maintenance program to help you to fulfill 32 -credit requirement every two years necessary to maintain your membership. Check out the AICP link for examples of activities and events that qualify for CM credit.
Are There Other Planning Certifications I Can Pursue in Mississippi?
Alternate professional urban planning certifications are also available in Mississippi, such as:
What Types of Jobs Can Mississippi Urban Planners Find?
Examples of Urban Planning Projects in Mississippi
Mississippi's notable urban planning projects have included:
Tuscaloosa Urban Renewal
Capital Street Renaissance, Jackson
Mississippi Department of Transportation Unified Long-Range Transportation Infrastructure Plan
Madison City Center
Sample Urban Planning Internships in Mississippi
Your college urban planning degree program should offer you internship opportunities, in which you can gain valuable professional experience and build your network. Examples include:
Wastewater Internship – Multi-Energy Group, LLC, Jackson
Forestry Technician Internship – Forest Service, Potts Camp
Surveyor Intern – Cooperative Energy, Hattiesburg
Geospatial Data Student Intern – Woolpert, Bay St. Louis
Construction and Engineering Intern – Yates, Philadelphia and Jackson
Jobs in Urban Planning in Mississippi's Public Sector
Mississippi's public sector offers urban planners plenty of opportunities, such as:
Planning Director- City of Horn Lake
Senior Planner- City of Jackson
Deputy District Ranger- U.S. Department of Agriculture, Ackerman
Soil Conservation Technician – U.S. Department of Agriculture, Aberdeen
Soil Conservationist – U.S. Department of Agriculture, Hernando
Jobs in Urban Planning in Mississippi's Private Sector
Mississippi's private sector offers urban planning jobs like:
Surveyor- Sol Engineering Services, LLC, Jackson
Project Engineer- Roadway Design – Waggoner, Jackson
Program Manager, Yazoo City Housing Authority, Yazoo
Civil Engineer, Water Resources – AECOM, Jackson
Assistant Professor- Jackson State University, Jackson
What Can I Expect for the Future of Real Estate and Urban Planning in Mississippi?
The housing market in Mississippi has slowly been heating up, and is expected to continue to do so for the near future. Since 2012, Mississippi's housing market has been increasing each year. Many out-of-state businesses and residents are moving into Mississippi, increasing demand for affordable housing. Although mortgage rates peaked at five percent in 2018, this did not affect the Mississippi housing market. Homes priced under $200,000 sell quickly in Mississippi. Additionally, the home building industry has remained steady, with smaller, more affordable home selling more quickly.
All of this information indicates good fortune for those wishing to work as urban planners in Mississippi. If you want to work as an urban planner in the state of Mississippi, chances are that you will have plenty of work to keep you busy for the foreseeable future.
Ancillary Resources for Urban Planners in Mississippi