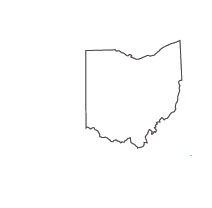 In 2018, the Ohio Chapter of the American Planning Association awarded its first biennial Great Places in Ohio awards. This awards program was designed to honor exceptional physical spaces throughout Ohio that have come about due to planning. The winners included the Commercial District of Downtown Delaware (OH); the Commercial District of Bridge St. in Ashtabula; Wade Oval at University Circle, Cleveland; and Wildwood Metropark, Toledo. These winners celebrated the state's historical context, increased community pride, provided recreational gathering places, and attracted new visitors each year.
The expertise, skills and talents of urban planners in Ohio made the above-mentioned winning planning projects possible. Urban planners are specially trained and educated in planning and designing public living spaces for the good of the community. They must also learn sustainable development techniques to preserve natural, historical and cultural resources.
According to statistics provided by Data USA, from 2017 to 2018 the population of Ohio grew by 0.264 percent, and household income rose 3.87 percent. The economy in Ohio is strong, with the employment rate rising 1.14 percent between 2017 and 2018. As Ohio's population continues to grow, urban planners will be even more necessary statewide. If you would like to learn how to become an urban planner in Ohio, read on.
What Can I Expect to Earn as an Urban Planner in Ohio?
As of May 2019, urban planners working in the state of Ohio earned an annual median wage of $70,650, per statistics provided by the Bureau of Labor Statistics (BLS) of the United States Department of Labor. Urban planners employed within cities across Ohio could expect to earn more or less than this average annual salary, as noted below:
Akron  $76,590
Cincinnati   $71,770
Cleveland  $76,490
Columbus  $70,720
Dayton   $71,060
Elyria $76,490
North Northeastern Nonmetro area  $71,590
Toledo  $58,860
Youngstown  $58,750
What Are Ohio's Laws and Regulations for Urban Planning?
In Ohio, more people live in unincorporated townships than in cities with a population of 50,000 or more. The state of Ohio does not require local governments to adopt a comprehensive plan in order to create and enforce zoning and planning regulations. A comprehensive plan, if adopted, is seen as a policy guide for local government planning. Basically, the Ohio Supreme Court has said that a comprehensive plan is not a requirement in order for a municipality to be able to enforce a zoning ordinance.
There are 1309 townships across the state of Ohio. Townships are smaller than counties, and have the authority to determine their own level of planning when it comes to land use. Counties and townships in Ohio may, in accordance with a comprehensive plan, regulate planning and zoning within their borders. Zoning regulations that are enacted in accordance with comprehensive plans must reflect current land uses, allow for change, promote public health and safety, uniformly classify similar areas, clearly define district boundaries and locations, and identify the uses for each property. As of 2003, 59 percent of Ohio's townships used zoning regulations.
In a nutshell, in Ohio, local governments are self-governing when it comes to planning and regulating land use. They are not controlled at the state level. Such laws are not required in all townships.
Access Ohio 2045
The Ohio Department of Transportation has announced a long-range update of the statewide transportation system, called Access Ohio 2045. The update will take 30 months to complete. In creating this update, the Ohio DOT developed a range of possible outcomes instead of focusing on a single outcome. Using scenario planning, they focused on strategic planning to discuss many "what if" situations and determine possible responses to them.
Access Ohio 2040 was created in 2014, but recently was replaced by Access Ohio 2045, with updated strategies to meet future transportation needs. Access Ohio 2045 does not only deal with the state's transportation, but also things such as:
Active transportation
Aviation
Economic development
Environmental assets
Finance
Highway
Maritime
Multijurisdictional coordination
Population and development patterns
Rail
Safety
System resiliency
Technology
Travel and tourism
Transit
Where Can I Get Urban Planning Degrees in Ohio?
What Schools Offer Undergraduate Urban Planning Degrees in Ohio?
The first challenge that you must meet in your quest to become an urban planner in Ohio is to earn an undergraduate degree. You should look for a program that holds accreditation through the  Planning Accreditation Board of the American Planning Association, such as:
Bachelor of Science in City & Regional Planning- The Ohio State University
Bachelor of Urban Planning – University of Cincinnati
What Schools Offer Graduate Urban Planning Degrees in Ohio?
Your second challenge in becoming an urban planner in Ohio is to earn a graduate degree. Again, make sure the program you choose is accredited by the  Planning Accreditation Board (PAB) of the American Planning Association, like these programs:
Cleveland State University – Master of Urban Planning & Development
Levin College of Urban Affairs, Urban Planning & Development Program
1717 Euclid Ave.
Cleveland, OH 44115
Accreditation through December 31, 2021
Joanna Ganning, Director
216.687.2221; j.ganning@csuohio.edu
The Ohio State University – Master of City & Regional Planning
College of Engineering, Knowlton School of Architecture, City & Regional Planning Program
275 W. Woodruff Ave.
Columbus, OH 43210-1138
Accreditation through December 31, 2023
Jennifer Clark, Section Head
614.292.1790; clark.3550@osu.edu
University of Cincinnati – Master of Community Planning
College of Design, Architecture, Art & Planning, School of Planning
6210 DAAP Building, 2624 Clifton Ave
Cincinnati, OH 45221-0016
Accreditation through December 31, 2021
Danilo Palazzo, School Director
513.556.4943; danilo.palazzo@uc.edu
How Do I Become a Professionally Certified Urban Planner in Ohio?
American Institute of Certified Planners (AICP)
The American Planning Association – Ohio Chapter advocates for professional certification for all Ohio urban planners. This may be accomplished by passing the American Institute of Certified Planners (AICP)examination. This exam is given at these Ohio Prometric testing sites:
Akron – 1000 S. Cleveland Massillon Rd.
Cincinnati – 11353 Reed Hartman Highway
Fairborn – 2600 Paramount Place
Mansfield – 625 Lexington Ave.
Mentor – 8800 Mentor Ave.
Niles – 950 Youngstown Warren Rd.
Toledo – 5151 Monroe St.
Worthington – 450 W. Wilson Bridge Rd.
AICP Certification Maintenance in Ohio
AICP's Certification Maintenance program is concerned with professional development. In order to meet their requirements, you must complete 32 CM credits every two years. Examples of activities in Ohio that count for credit include (but are not limited to):
Urban Universities & Thriving Communities – Columbus
APA Ohio Policy Platform Update – Webcast
Future Cities Book Release & Mariana Mogilevich Lecture – Cleveland Urban Design Collaborative
OKI Regional Planning Forum – Cincinnati
Other Professional Certifications Available to Ohio's Urban Planners
Although the AICP is the most common certification Ohio urban planners seek, there are other professional certifications for urban planners, such as:
Where Can I Find Urban Planning Jobs in Ohio?
Noteworthy Planning Projects Across Ohio
Notable planning projects in the state of Ohio have included:
West Innovation District Plan Master Plan – City of Dublin
Access Ohio 2045 update – Ohio Department of Transportation
Hilltop Neighborhoods Land Use Plan – Columbus
Coughlin's Crossing – mixed-use development in Delaware, OH
Biomedical and Materials Engineering Complex- Ohio State University
Gain Work Experience Through an Ohio Internship
If you are lucky, your college degree program in urban planning in Ohio will include a valuable internship at an employer such as:
Logan-Union-Champaign Regional Planning Commission
Fairfield County Regional Planning Commission
Three Scale Strategy, Columbus
Transit Columbus
City of Columbus Department of Public Service
Public Sector Urban Planner Jobs in Ohio
There are a wide variety of jobs available for urban planners in Ohio's public sector, including titles like:
Planning Technician – City of Cleveland Heights
Code Compliance Officer – City of Reynoldsburg
Director of Planning – Toledo Area Regional Transit Authority
Planning Director – City of Grand Rapids (OH)
Disaster Services Consultant/Mitigation – Ohio Emergency Management Agency
Private Sector Urban Planner Jobs in Ohio
Private sector positions for urban planners in Ohio may include:
Land Conservation Coordinator – Cleveland Metroparks
Trail and Bikeway Coordinator – Green Umbrella, Cincinnati
Research Associate – Team NEO, Cleveland
Hazard Mitigation Planner – Stantec, Columbus
Planning Associate – Michael Baker International, Columbus
What is the Outlook for Urban Planners and the Ohio Real Estate Market?
DataUSA notes that as of 2018, the median property value in Ohio is $151,000, and the rate of homeownership is 65.9 percent. The National Association of Realtors has predicted that in 2020, home price appreciation will grow faster than the national average in the Columbus area. Central Ohio and the Columbus area is expected to remain a hot housing market, as it has been for the past two years. All of this spells good news for aspiring urban planners wishing to work in the state of Ohio.
What Are Some Other Resources for Ohio's Urban Planners?